2017 Ford Edge vs Jeep Grand Cherokee

Ford doesn't go out of its way to rival luxury models; that's what it has Lincoln for. However, some of its models are starting to move decidedly upscale these days, and the 2017 Ford Edge is a good example. So let's see how it measures up to another popular, upscale SUV: the Jeep Grand Cherokee.
2017 Ford Edge vs Jeep Grand Cherokee
Looks and Desirability: Ford Edge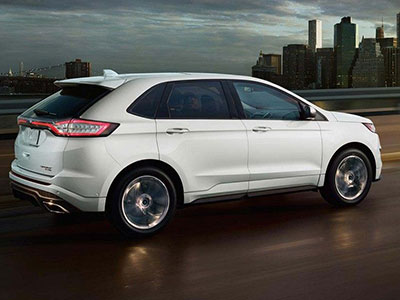 Those of us who buy midsize SUV crossovers might say that we buy them for practicality, versatility, and capability, but how they look and how desirable they are also plays a huge part in any buying decision. The Edge is a very modern, stylish, and attractive crossover that's just aggressive enough to appeal to those who like that sort of thing, but it's not too brutish to limit its appeal.
The Grand Cherokee is also a very good-looking vehicle, but Jeep is definitely softening its look. The design is beginning to lose the standard Jeep power, especially for those who want their vehicle to look like it can handle anything. These two are close, but we think the look of the 2017 Ford Edge has broader appeal.
Driver and Passenger Safety: Ford Edge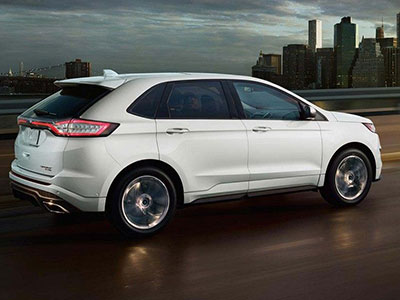 Ford has packed a lot of its latest safety features into the current Edge, with more likely to be added in coming years. Thanks to the inclusion of features such as rear-seat inflatable seat belts, additional cameras, and forward-collision warnings, the Ford Edge has what it takes to keep you and your passengers safe. The NHTSA gives the Ford a full five star rating for overall safety, and only the lack of full autonomous emergency braking prevents it gaining IIHS Top Safety Pick+ status.
Although four-wheel drive versions of the Grand Cherokee also get five stars from the NHTSA, two-wheel drive models only get a four-star rating. Since not everyone in the market for an SUV wants to go off-road, that's worrisome. The Jeep also only earns a "Marginal" in the IIHS small-overlap front test, leaving it entirely out of contention for the Top Safety Pick rating the Ford enjoys.
Fuel Efficiency: Ford Edge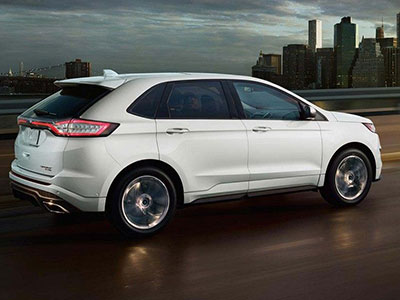 Plenty of SUV buyers will at least be curious about the kind of mileage they're likely to get, even if they know they won't be able to match small car ratings. It's likely not a deal-breaker in either case, but it's definitely one of a long list of attributes recent SUV buyers are naturally concerned about. With the turbocharged inline-four under the hood, the 2017 Ford Edge can deliver EPA-estimated fuel economy ratings as good as 20 mpg in the city, 29 mpg on the highway, and 24 mpg combined in front-wheel drive form.
You'll find a good range of powertrains available for the Grand Cherokee, but the best EPA figures come from the standard V-6 at 19 mpg in the city, 26 mpg on the highway and 21 mpg combined. That's not bad for such a weighty vehicle, but it's still some way short of what the Ford Edges offers.
Family-friendly Interior Space: Ford Edge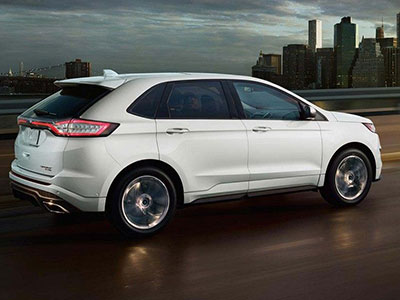 Neither of these SUVs is cramped by any means, but the more space the better, especially for families. If we're going to be honest, the finishes and interior of the Jeep Grand Cherokee is probably a little more luxurious and comfortable. But finishes can't compete with extra space, and that's where the Ford Edge excels.
The Ford has more of what matters, which is leg room and head room in the front and the rear seats and overall passenger volume. It's a similar story with cargo volume. Though we think you might feel like the Grand Cherokee is more luxurious, we think you'll enjoy the extra room in the Edge more.
Learn More about the Ford Edge

With a diverse range of models in its lineup, the Jeep Grand Cherokee can be whatever it needs to be in order to meet the needs of different types of buyers. But when it comes to the bread and butter business of being a great family SUV, the more affordable and family-friendly 2017 Ford Edge is our choice.