2017 Ford Escape vs Kia Sportage

Compact crossovers, like the 2017 Ford Escape and Kia Sportage, rank high on wish lists with their modern creature comforts and spry performance. Which of these models offers the most perks for your money? Our comparison guide lets you know what to expect.
2017 Ford Escape vs Kia Sportage
Passenger Comfort: 2017 Ford Escape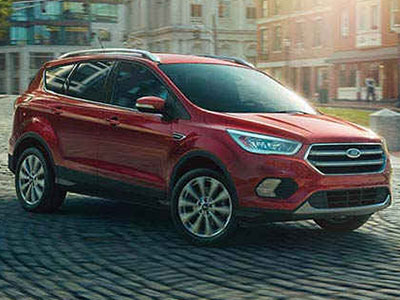 This year, Ford gave the Escape a refresh, and its interior improvements include fresh cabin materials and new storage areas in the center console. Both rows offer impressive head and leg room, and the backseat even reclines for optimal road-trip comfort. The Escape is the crossover with more cargo space; it provides 34.3 cubic feet behind the rear seats for everyday items like groceries. Fold the seats down for 67.8 cubes – more than enough space for all of your IKEA impulse buys.
The Kia Sportage is almost equally well executed, with high-quality materials that give the cabin an upscale vibe. Everything is put together nicely, so you won't have to suffer through squeaks or rattles during your commute. Like the Escape, this crossover is home to a roomy cabin – even your tallest friends have space to spread out in the rear seats. The Sportage does fall short of the Escape in terms of cargo space, however, with only 30.7 cubes behind the rear seats and 60.1 cubes with the rear seats folded.
Tech Features: 2017 Ford Escape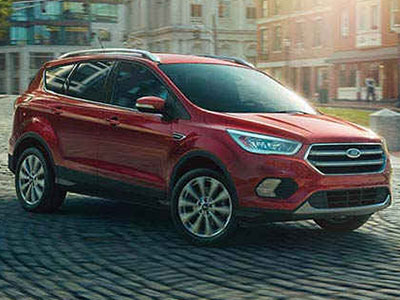 The 2017 Ford Escape introduces new tech features to please even the most sophisticated technophiles. The new FordPass ownership app lets you interact with your Escape via smartphone. Use it to schedule maintenance at your friendly dealership or pay for parking, hassle-free. We're also big fans of the Sync 3 infotainment system, which includes all the latest smartphone integration features via Apple CarPlay and Android Auto technology. Interact with apps like Maps, Phone, and Messages directly from the Escape's touchscreen.
With its Uvo infotainment system -including a 7-inch touchscreen and voice controls – the Kia Sportage is also adept at keeping you connected. It, too, provides complete smartphone integration with Apple CarPlay/Android Auto, features that let you use your phone's voice controls to check your messages or alter the navigation destination. The Sportage doesn't include an ownership app that lets you interact with this crossover from afar, however.
Safety: 2017 Kia Sportage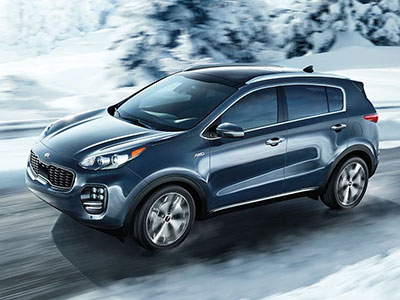 In the safety department, the Uvo emergency telematics system gives the Sportage the edge. It includes wide-ranging features designed to keep you safe, from emergency roadside assistance to stolen vehicle tracking. Parents can use its geo-fencing and speed tracking features to monitor teen drivers.
Like the Sportage, the 2017 Ford Escape comes standard with the safety features you need to maintain control over sticky road conditions – including anti-lock disc brakes and traction and stability control. It, too, gives parents the means to set limitations for teens via the MyKey system. Like the Sportage, the Escape offers high-tech driver aids – including forward collision alert – to help you avoid danger. The only thing it's missing is the emergency telematics system.
Power & Performance: 2017 Ford Escape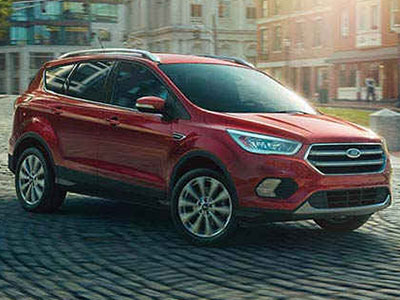 For a crossover with sharp reflexes – including precise steering and agile handling – you can't go wrong with the 2017 Ford Escape. In fact, the Escape is one of the segment's top performers. Around turns, it feels more like a sporty hatchback than a substantial crossover. The Escape also offers all-wheel drive, giving you maximum traction, and therefore safety, on wet or icy roads.
The Kia Sportage also offers all-wheel drive for a sportier performance on winding roads and increased safety during a snowstorm. Its six-speed automatic transmission is one of the most refined in the segment, adding to this crossover's smooth ride. However, the Sportage isn't as quick to accelerate as the Escape, which feels more athletic overall.
Learn More about the Ford Escape

Both of these compact crossovers have their high points, including generous passenger space and streetwise safety features. Still, the 2017 Ford Escape can't be beat. It's got all the space, features, and technology offerings buyers want, making the Escape the all-around best option for buyers.