2017 Ford Explorer vs Honda Pilot

Family-friendly SUVs, like the 2017 Ford Explorer and the Honda Pilot, have the passenger space and versatility to transport a family of five in style and comfort – on-road or off. Which three-row SUV is your type? Check out our comparison guide to find out.
2017 Ford Explorer vs Honda Pilot
Creature Comforts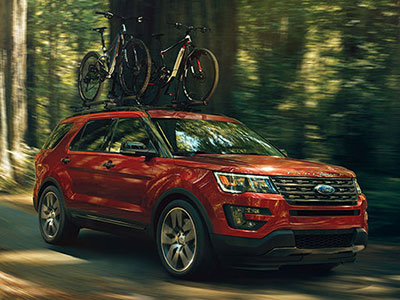 The Explorer's ride comfort and passenger space are at the top of the class. The cabin consists of attractive, quality materials that are soft to touch. But, more than that, the Explorer has the cabin space you came for. Up to seven passengers can spread out over three rows. The second row slides and reclines so your growing kids can increase leg room when they needed it. Driver-seat comfort is another huge draw – you can travel for hours on end in the Explorer without getting tired of its plush, supportive cushions.
The Honda Pilot's smooth ride feels super comfortable, even if you're headed into rush-hour traffic or a day of errands. Seating is equally impressive; the Pilot's wide cushions and power lumbar support are ideal for a variety of shapes and sizes. There's only one flaw – the narrow passage to the third row compromises passengers' ability to get back there.
Technology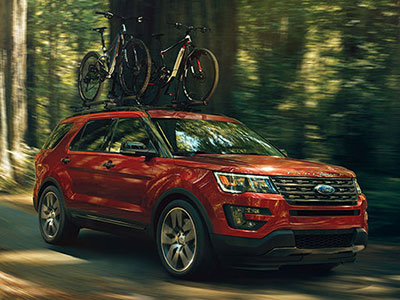 The Explorer's smartphone integration lets you have your cake and eat it, too – and all without taking your eyes off the road. The Sync 3 infotainment system will read your text messages out loud and help you locate the nearest place to get a martini. And you can even use voice controls to change your current music selection.
The Pilot's Apple CarPlay and Android Auto features are extremely handy. They project oft-used smartphone apps, like Google Maps and Pandora, onto your central touchscreen for easy access. Unlike in the Explorer, the Pilot touchscreen can be less than intuitive. You may find yourself searching a little too long for the app you want.
Performance and Fuel Economy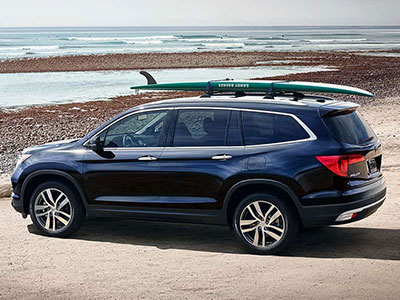 The Pilot wins the fuel-efficiency race by a hair, earning up to 20 city/27 highway mpg. This sporty crossover can also take you away from the pavement for a little off-road adventure – just add all-wheel drive. The Pilot is surprisingly capable in sand, snow, and muddy terrain.
The Explorer offers above-average towing capabilities for the segment. Properly equipped, it can tow up to 5,000 pounds. Depending on which powertrain you select, the Explorer earns up to 19/27 mpg. The Explorer's all-wheel drive system includes terrain management, so you can alter suspension settings for the best ride in your current environment.
Safety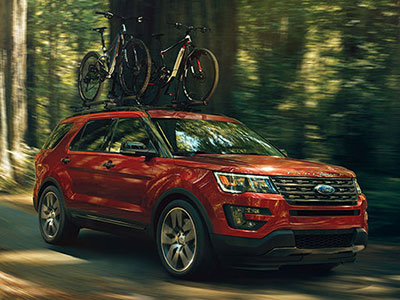 For worried new parents or road-trip enthusiasts, the Explorer's excellent safety scores are the icing on the cake. In government crash tests, the Explorer earned a perfect five-star rating for overall protection. High-tech safety features play an important role as well. The 180-degree front camera can actually see around corners, expanding your visibility in a tight spot. Ford's Curve Control technology monitors speed carried into a corner, automatically slowing the Explorer when it senses a potential accident.
The Honda Pilot also earned a perfect five-star rating in government crash tests. Unfortunately, its collision warning system can be a bit too sensitive. You'll find that the Explorer's anti-crash technology does a better job of detecting actual danger.
Learn More about the Ford Explorer

The 2017 Ford Explorer and the Honda Pilot have a lot in common – like off-road potential and three roomy rows of passenger space. However, the Explorer has an edge over the competition, with benefits in every category that quickly add up. You won't be disappointed when you choose the all-over winner, the 2017 Ford Explorer.