2017 Ford Fusion vs Hyundai Sonata

Mid-size sedans, like the 2017 Ford Fusion and Hyundai Sonata, make an excellent choice for shoppers who crave both athletic performance and road-trip-friendly comfort. Which is the best fit for your driveway?
2017 Ford Fusion vs Hyundai Sonata
Interior Comfort: 2017 Ford Fusion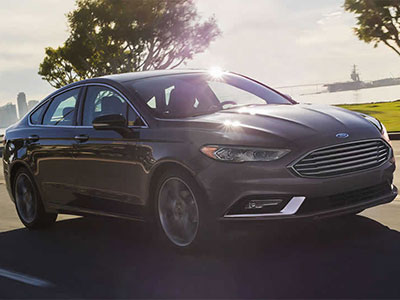 When the Fusion debuted in 2013, its attractive interior is part of what made it an instant hit. As you settle in for a long ride, you can't help but appreciate this sedan's supportive seats, which are made even more luxurious with options like heating and ventilation. The trunk offers 16 cubic feet of cargo space for all of your carry-on items and weekend getaway bags.
The Hyundai Sonata does slightly better in terms of cargo space, with 16.3 cubes for all of your shopping bags and work portfolios. It's also quiet and refined on the road, with a cabin so hushed you may confuse it for a luxury car. The Sonata isn't as flashy as the Fusion, but the cabin is clean-cut and ergonomic, so you always feel comfy during your commute.
Safety: 2017 Ford Fusion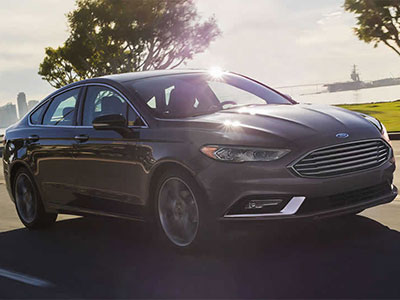 The Fusion's safety record is impressive. In government crash tests, it earned a five-star rating for overall protection. This mid-size sedan also comes standard with Ford's emergency crash-notification feature, which uses your phone to automatically dial 9-1-1 after a collision. MyKey technology is a favorite among parents, who can use it to set speed limitations for teenage drivers.
Like the Fusion, the Hyundai Sonata offers a range of advanced driver aids, such as blind-spot monitoring and forward collision emergency braking, to help you keep tabs on your surroundings. The Sonata also earned a perfect five-star rating in government crash tests. However, unlike the Fusion, the Sonata does not offer all-wheel drive for enhanced traction – and therefore increased safety – on wet or icy roads.
Fuel Economy: 2017 Hyundai Sonata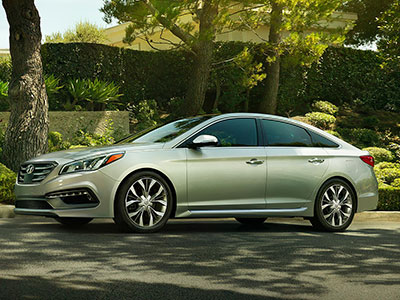 Pinch a few pennies at the pump with the Hyundai Sonata. Depending on which powertrain you select, this peppy sedan earns up to 28 city/36 highway mpg. And, as we mentioned, the Sonata impresses with its smooth, quiet ride, giving you the luxury treatment all the way to work.
The 2017 Ford Fusion offers your choice of four powertrains, earning up to 23/34 mpg. That's not bad, especially when you consider the Fusion's quick acceleration. And, as we mentioned, the Fusion also offers all-wheel drive, increasing athleticism when you hit winding roads and sharp corners.
Technology: 2017 Ford Fusion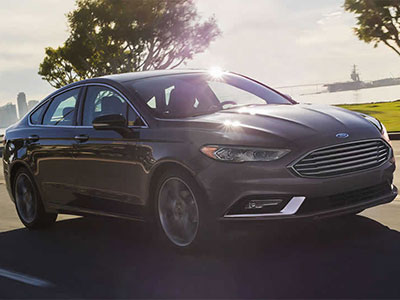 When it comes to keeping you connected, the Fusion's Sync 3 infotainment system wins the day. It includes an 8-inch central LCD touchscreen, and its sharp graphics mean you won't be distracted from the road ahead. In especially heavy traffic, you can use the voice controls to change the navigation route or check your text messages.
As in the Fusion, the Sonata's Blue Link system includes Apple CarPlay and Android Auto to display smartphone apps on your central touchscreen. Especially helpful for smartphone addicts (that is, most of us), this system allows you to stay connected without actually looking away from the road. Still, we think Ford's Sync 3 is the better system – simple, intuitive menus are easy to operate as you make your way down the road.
Learn More about the Ford Fusion

Both the 2017 Ford Fusion and the Hyundai Sonata offer a smooth ride and impressive fuel economy, but the Fusion is our overall choice. Not only does the Fusion let you choose from a range of turbocharged engine options, but you can also add all-wheel drive for extra stickiness in a snowstorm. This mid-size sedan treats passengers to roomy comfort and high-tech infotainment features – it's the perfect companion on a long trip up the highway. Finally, safety features bring peace of mind, and they even help you mind your surroundings.