2017 Ford Fusion vs Kia Optima

Mid-size sedans like the 2017 Ford Fusion and Kia Optima have major crossover appeal – everyone from carpooling commuters to families on the go will find something to like. Which model gives you the best bang for your buck? Read our comparison guide to learn more.
2017 Ford Fusion vs Kia Optima
Modern Style and Comfort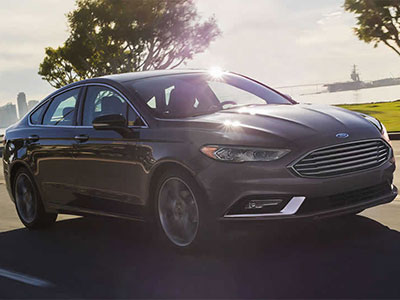 To compete with your coworkers for the best carpool ride, you can't go wrong with the new Fusion. It's got the head and leg room you need to transport a gang of adults – and, with the Fusion's sleek exterior style and handsome wrap-around dash, you're going to look good doing it.
The Optima's cabin keeps things simple, with clean-cut style and plenty of functionality. It's got the cargo space you need for family-size grocery hauls, with 15.8 cubic feet in the trunk (though the Fusion has slightly more, with 16 cubes). If there's one thing that puts a damper on our enthusiasm, it's the Optima's limited rear visibility. You may find yourself checking the rear view camera display a little more than you'd like.
Technology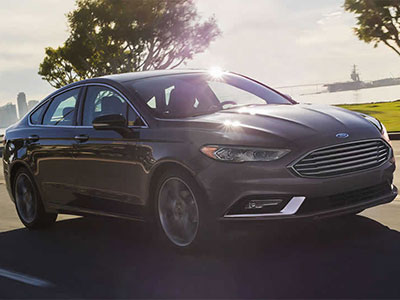 In the Fusion, you're never far from the action. That's thanks in part to the Sync 3 infotainment system – next-generation technology that reads your text messages to you so you don't have to look away from traffic. You can use voice controls to do just about anything, keeping you safer as you shuffle through your music collection or update your navigation route.
The Kia Optima puts smartphone integration at the forefront of its tech lineup. If you're an addict, you'll appreciate the Apple CarPlay and Android Auto features, which display smartphone apps on the Optima's central touchscreen. Your Phone and Messages apps are always directly in your line of sight – making for a safer way to stay in touch on the go.
Safety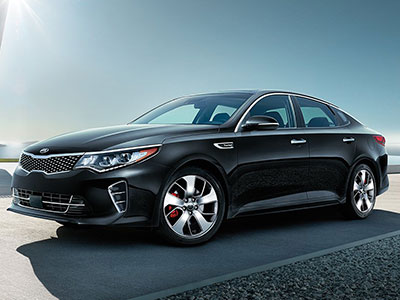 Safety is a major high point for the Optima. Just ask the Insurance Institute for Highway Safety, which named the Optima a 2017 Top Safety Pick+ after it earned the top score of "Good" in every single crash test. The Optima is also notable for its front crash prevention system – technology that is quick to apply the brakes when it senses danger up ahead.
In government crash tests, the 2017 Ford Fusion earned a perfect five-star rating for overall protection. The Fusion also did sufficiently well in crash tests to become an IIHS 2017 Top Safety Pick (but not a Top Safety Pick+ – it only differs from the Optima in headlight safety ratings).
Performance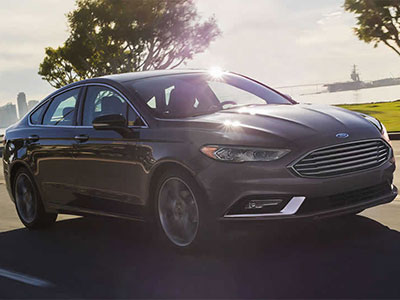 With the Fusion powertrain lineup, you can make your ride as swift or as fuel-efficient as you like. We like the Fusion's EcoBoost engine options. They use a turbocharger to maximize performance without wasting a drop of gas. Depending on configuration, the Fusion earns up to 23 city/34 highway mpg. If you cruise through a lot of summer rain or winter ice, you can add all-wheel drive to your Fusion for greater control over slick pavement.
With a thrifty engine lineup of its own, the Kia Optima is another great bet for on-road thriftiness. It earns up to 28/37 mpg. The turbocharged engine option can be slow to respond, so, if it's a swift, smooth daily ride you want, the Fusion is a better option.
Learn More about the Ford Fusion

The new Kia Optima puts a solid spin on safety, but the 2017 Ford Fusion is what everyone's after – a medley of comfort, technology, and fuel-efficient power. It's also got the safety front covered, with post-crash alert and teen safety features, and a comfortable ride that will keep you happy no matter the traffic report. The Ford Fusion is an outstanding option for drivers looking for the best of all possible sedan worlds.