2018 Ford EcoSport vs Chevrolet Trax
2018 Ford EcoSport vs Chevrolet Trax
The 2018 Ford EcoSport and Chevrolet Trax are two of the savviest small crossovers on the road, but which is right for you? Both are new to the streets, with the Trax dating back to only 2015 and the EcoSport making its debut in 2018. That means both models provide modern tech and safety features. They also supply commute-friendly mileage. If you're left wondering which crossover is your best bet, check out our comparison guide.
Greatest Value: 2018 Ford EcoSport
Simply put, the 2018 Ford EcoSport gives you the biggest bang for your buck. For one thing, it's got a lower MSRP than the Trax, starting at $19,995. Shoppers who want to stick to a strict budget will find the entry-level EcoSport S model more than accommodating. Inside, the height-adjustable front seats and tilt-and-telescoping steering wheel make sure you find that perfect driving position.
Modern conveniences – including full power accessories, remote locking and unlocking, and a rearview camera to help you back up – come standard in the EcoSport. Smartphone integration features, like two USB ports and Bluetooth connectivity, are also on hand for hands-free calling and audio streaming capabilities.
Back on the Chevrolet Trax, you'll find an MSRP of $21,000. That's still pretty low – though the EcoSport is slightly more affordable. The Trax is also pretty forthcoming with the standard supplies. Conveniences, like keyless entry and a 60/40-split folding rear seat to expand cargo space, help your day go by smoothly.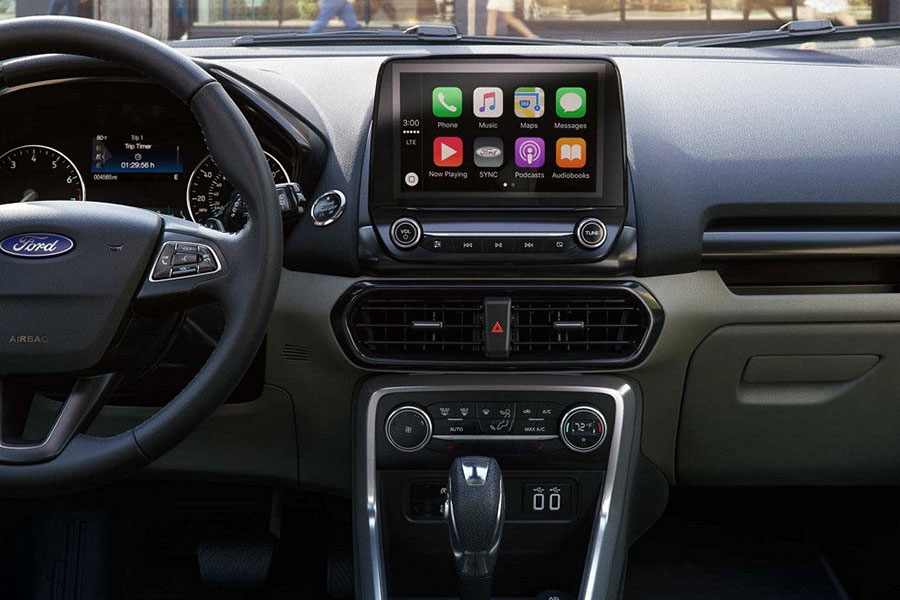 Smartest Tech Lineup: 2018 Ford EcoSport
Here, the EcoSport wins by a hair. We love its Sync 3 infotainment interface, which includes an 8-inch touchscreen and intuitive voice controls. Both are easy to figure out, even without previous infotainment experience. Sync 3 also includes Apple CarPlay and Android Auto capabilities, so you can do everything from making hands-free calls to playing your favorite music services over the EcoSport's speakers.
The EcoSport also offers a wide range of high-tech conveniences. The keyless entry and ignition systems, for example, get you off to a carefree start. The dual-zone automatic climate control means that driver and front passenger can set two very different temperatures for maximum comfort on long trips.
The Trax's MyLink infotainment system also features complete smartphone integration with Apple CarPlay and Android Auto. The central touchscreen is slightly smaller, however, coming in at 7 inches. As long as you don't have oversized fingers, this shouldn't be too much of an issue.
Savviest Safety Features: 2018 Chevrolet Trax
Here, the Trax takes the reins. This subcompact crossover features Chevrolet's OnStar telematics system, which can call for help after a catastrophe. Optional safety aids, like forward collision alert and lane departure warning, help you steer clear of danger.
The 2018 Ford EcoSport comes standard with a rearview camera, which makes backing out of a narrow lane or unfamiliar parking garage that much safer. The EcoSport also offers optional blind-spot warning, technology that advises drivers when there's a vehicle cruising beside you, just out of sight.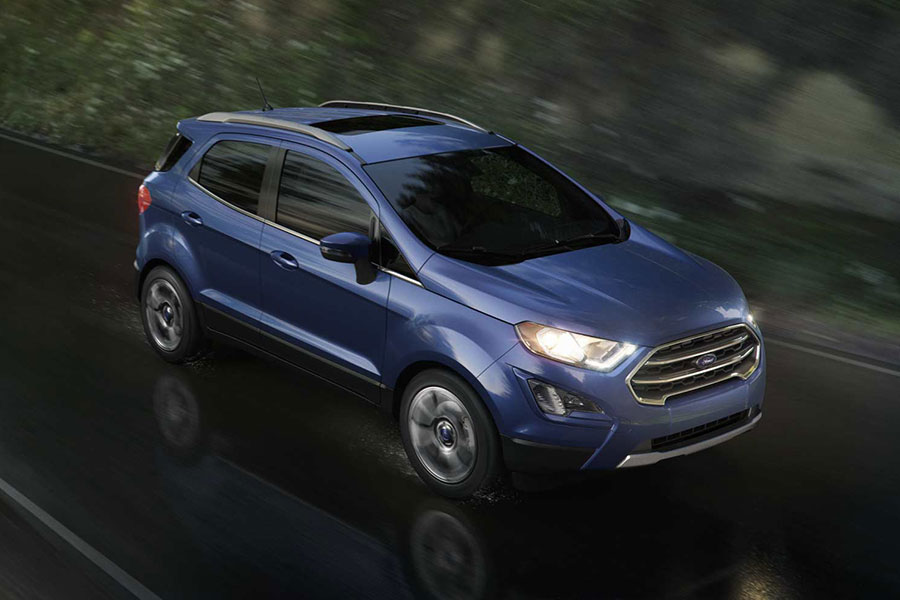 Best Fuel Mileage: It's a Tie!
Both the 2018 Ford EcoSport and the Chevrolet Trax earn up to 28 mpg combined. Technically, the EcoSport earns 27 city/29 highway, giving you a thriftier ride around town. The Trax earns 25 city/33 highway mpg, making it the better choice for highway driving. If you're the type of driver who balances around-town driving with highway excursions, you're unlikely to notice much of a difference between the two.
We appreciate the Trax's thrifty ride and excellent safety lineup, but we think the 2018 Ford EcoSport is the better crossover. The EcoSport, too, delivers an affordable commute, but it also adds roomy comfort and street-smart tech features. Best of all, the EcoSport gives you all of this at a great price.