2018 Ford EcoSport vs Honda HR-V

Versatility is the name of the subcompact crossover game, especially when we're talking about the 2018 Ford EcoSport and Honda HR-V. These punchy utility vehicles blend sporty capabilities with a smooth, city-friendly performance. Inside, you'll find rich comfort and all the latest in infotainment technology. Which of these crossovers has the edge? Read our comparison guide to learn more.
2018 Ford EcoSport vs. Honda HR-V
Most Comfortable Cabin: 2018 Ford EcoSport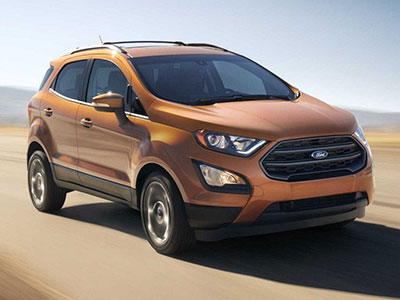 The EcoSport's outer dimensions might be perfect for parallel parking, but, inside, you'll never feel like you're missing a thing. This subcompact crossover was definitely designed for family hauling. In addition to plentiful head- and legroom, seats are nicely bolstered for long-term comfort. The 2018 Ford EcoSport also supplies one of the largest cargo areas in the segment, with 20.9 cubic feet for school supplies and sports gear.
The 2018 Honda HR-V offers one of the best rides in the segment, smoothing over rough pavement. However, seat comfort doesn't match that of the EcoSport. If you plan to spend hours on the road, you'll wish the HR-V was a bit more supportive. However, we have to give Honda its due for the rear Magic Seat, which can be rearranged to expand cargo space or create a rear-seat lounger. Behind the rear seats, the HR-V has an impressive 24.5 cubes for your stuff.
Smartest Technology: 2018 Ford EcoSport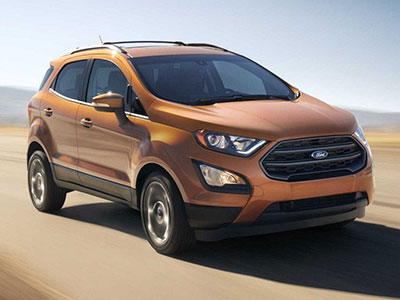 The EcoSport's infotainment technology puts this Ford ahead of the curve. The Sync 3 interface includes an 8-inch touchscreen and intuitive voice controls, both of which are easy to handle with only a fraction of your attention. Sync 3 also includes Apple CarPlay and Android Auto, smartphone integration technology that displays apps on your central touchscreen. That way, your phone won't distract you from traffic.
Like the EcoSport, the HR-V enhances day-to-day convenience with options like keyless entry and ignition. The rearview camera displays dynamic guidelines to help you back into a parking space with precision. However, the HondaLink infotainment interface does not offer Apple CarPlay or Android Auto, so you won't enjoy all the perks of complete smartphone integration.
Thriftiest Fuel Economy: 2018 Honda HR-V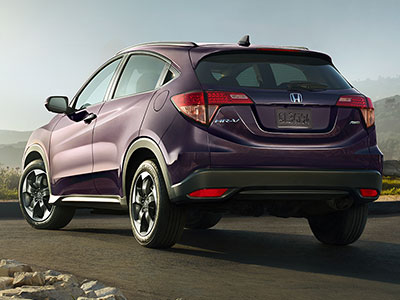 Squeeze the most out of your fuel budget with the brand new HR-V. This Honda's thriftiest powertrain earns up to 28 city/34 highway mpg.
The 2018 Ford EcoSport follows close behind, with max EPA ratings of 27/29 mpg. If you regularly drive on open roads, you'll notice a difference. If your commute is stop-and-go, fuel costs might be about the same.
Sportiest Performance: 2018 Ford EcoSport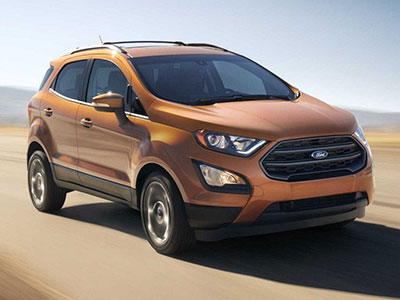 The EcoSport is the punchier of the pair. Both of this Ford's engine options are quick to respond to your input for a satisfying performance when you need merging or passing power. This crossover's subcompact size, combined with precise steering and handling, helps you navigate tight spots like parking garages.
The Honda HR-V also delivers sporty handling, which means the HR-V's great company on winding roads and around sharp city corners. Thanks to the EcoSport's two engine options, you can tailor performance to suit your need for speed or fuel economy. However, all HR-V models come with the same four-cylinder engine. The HR-V is thrifty, but doesn't pack much of a punch when you need to get up to speed.
Learn More about the Ford EcoSport

The Honda HR-V impresses with a roomy cabin and thrifty performance, but we're sticking with team EcoSport. The 2018 Ford EcoSport is the right choice for families who want to travel in comfort. The cabin is also home to the latest infotainment technology, including complete smartphone integration, so you can make hands-free calls to your heart's content. The EcoSport's sporty ride inspires confidence in any setting, whether you're merging onto a highway during rush hour or navigating winding roads after dark.