2018 Ford F-250 vs GMC Sierra 2500
2018 Ford F-250 vs GMC Sierra 2500
When a full-size truck won't cut it, heavy-duty models like the 2018 Ford F-250 and GMC Sierra 2500HD step in to get the job done. If you know you've got major weight to move, but still aren't sure about which truck is more your type, our comparison guide is here to help.
Best Comfort Features: 2018 GMC Sierra 2500
Mechanically, the GMC Sierra 2500HD is strikingly similar to its sister truck, the Chevrolet Silverado 2500HD. The main difference between the two is the Sierra's affinity for luxury. The base model is very work-truck-like. However, from the mid-grade SLE and up, you'll find world-class style with tinted rear windows, a leather-wrapped steering wheel, and a remote locking EZ Lift and Lower tailgate. Moving up the trim levels means increasing comfort. Dual-zone climate controls maintain the perfect temperature. Rich leather upholstery is available to impress big clients.
Like the Sierra, the F-250 trims supply everything from the basic work truck to all-out luxury. You can choose between regular, extended, and crew cabins to create the necessary passenger space to transport your work crew. On the top trim models, you'll also find upscale items, like your favorite color of leather upholstery, a panoramic sunroof, and heated, ventilated front seats. However, this Ford truck doesn't put quite as much emphasis on an upscale ride to work as it does on doing the work itself.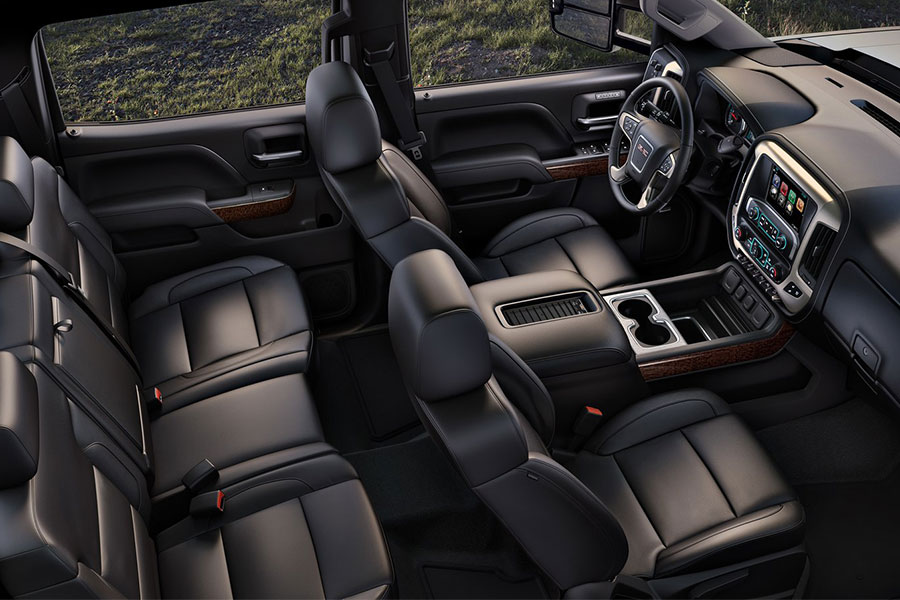 Most Work-Friendly Features: 2018 Ford F-250
The F-250 supplies an impressive amount of tech features to help you get the job done. The Ultimate Trailer Tow Camera System includes seven cameras to maximize visibility when you've got a gargantuan trailer in tow. You can even mount a separate camera on the back of your trailer for a safer highway ride. The adaptive cruise control system does a good job of maintaining the appropriate cruising speed, which comes in handy when you want to stay beneath the tow-speed limit.
The GMC Sierra 2500HD comes standard with a rearview camera. That camera helps you line up the truck with a trailer hitch, but it won't help you see what's behind your trailer. As with the F-250, you can add a spray-in bedliner to protect the bed from your heavy-duty supplies.
Max Towing: 2018 Ford F-250
Here, the Ford F-250 blows the competition out of the water. With a conventional tow hitch, this heavy-duty truck can tow up to 18,000 pounds. When the F-250 is equipped for gooseneck trailering, that tow capacity increases to 18,500 pounds. If you've got sizable machinery or a giant toy-hauler to tow, the F-250 is the truck for you.
Of course, the Sierra 2500HD isn't exactly a slouch. Depending on configuration, this heavy-duty model can tow 14,500 pounds worth of conventional trailer. Outfit it for a gooseneck trailer and you can tow up to 18,100 pounds.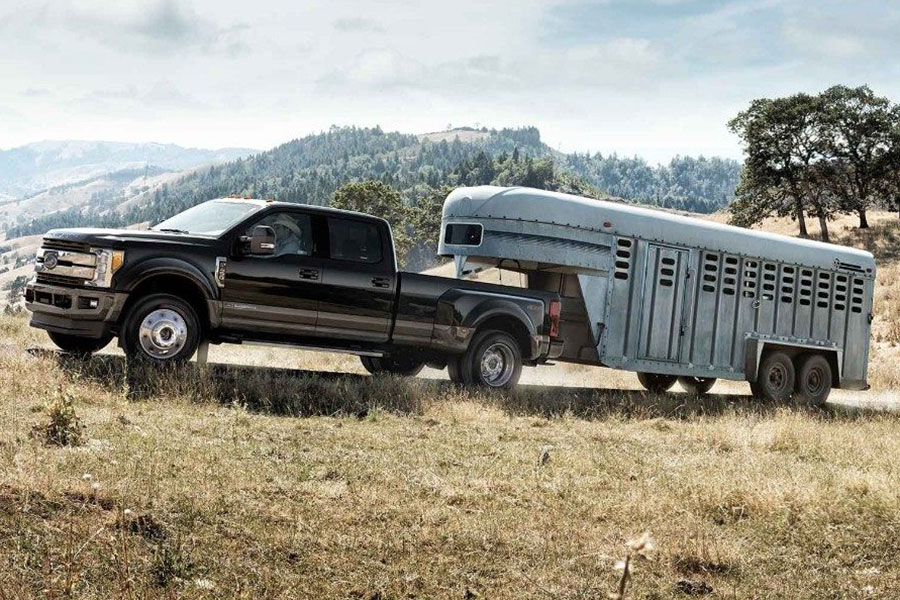 Max Hauling: 2018 Ford F-250
The performance-oriented F-250 also hauls the biggest payloads. Depending on configuration, this Ford truck hauls up to 4,270 pounds of company supplies. You'll be hauling major loads of sheetrock without a care in the world.
The Sierra 2500HD trails behind, moving max payloads of 3,559 lbs. Once again, max hauling figures depend upon truck configuration, including cabin and bed size. This heavy-duty truck impresses with its capabilities, but some drivers may find they need to make two trips to haul all of their supplies.
These trucks have much in common, but there's really only one heavy-duty model that can tackle the biggest jobs: the 2018 Ford F-250. If you've got major weight to tow and haul, the diesel-powered 2018 Ford F-250 is the right truck for you. It also offers a long list of modern features to help you on the job, including tow-friendly cruise control. Inside, you can tailor the cabin to be as luxurious as you please.