2018 Ford Focus vs Honda Accord
2018 Ford Focus vs Honda Accord
Why buy a Honda Accord when you could have a 2018 Ford Focus instead for less? In this comparison guide, let's see whether the Honda is really worth paying so much more for.
Desirability
Some people will say the Honda badge is a little more prestigious than Ford's blue oval, but for every buyer who might think that way there's probably one who prefers Ford for being domestic. The Honda is a midsize sedan whereas the Ford is a compact, making Honda more desirable if extra space is needed. An entry level Honda Accord is better model than a Focus S, but at the other end of the spectrum a Focus ST or RS is sportier and more desirable than a top-spec Accord. This opening contest is a draw.
Exterior Styling
Credit must be given to Honda for really upping its game with the exterior styling of this new Accord. Even in this sedan form, it's sportier, more athletic and more upscale-looking than a Honda has ever been. The front fascia is still slightly awkward though, and looks like it could have been made up from various bits and pieces from a Honda parts bin.

If the Honda has the styling edge in terms of presence and prestige, the Focus tramples all over it in sportiness. The Focus ST looks as good as it goes, and the Focus RS is every bit as rowdy as it looks. Of course, it depends on if sporty is your thing, but for us it gives the Focus something the Honda cannot answer.
Performance
The Accord now offers two gas engines and a hybrid, and the base four-cylinder is a 1.5-liter turbo producing 192 horsepower. If that's not enough for you, there's now a 2.0-liter turbo-four that's replaced the dropped V-6 and puts a healthy 252 horsepower at your disposal.

The Ford's standard four-cylinder is 32 horsepower down on the Accord, but the 2.0-liter EcoBoost in the ST is an even match and the 350 horsepower 2.3-liter EcoBoost in the RS leaves the Honda for dead and gives the Ford the honors here.
Interior Comfort and Quality
We've already covered how the Accord is more sensible while the Focus is more fun, so it shouldn't come as a shock that the same holds true in the interior. There's more style than substance inside the Focus, especially where the space-robbing dash is concerned. It delivers a cool fighter cockpit feel, but does take up a lot of room. It wouldn't be a surprise to see that styling dropped when the Focus gets redesigned. By way of complete contrast, the interior of the Honda Accord is extremely upscale, comfortable and stylish. It might lack a little flair but it more than makes up with it with levels of comfort and quality normally reserved from something more expensive and wearing a luxury car brand.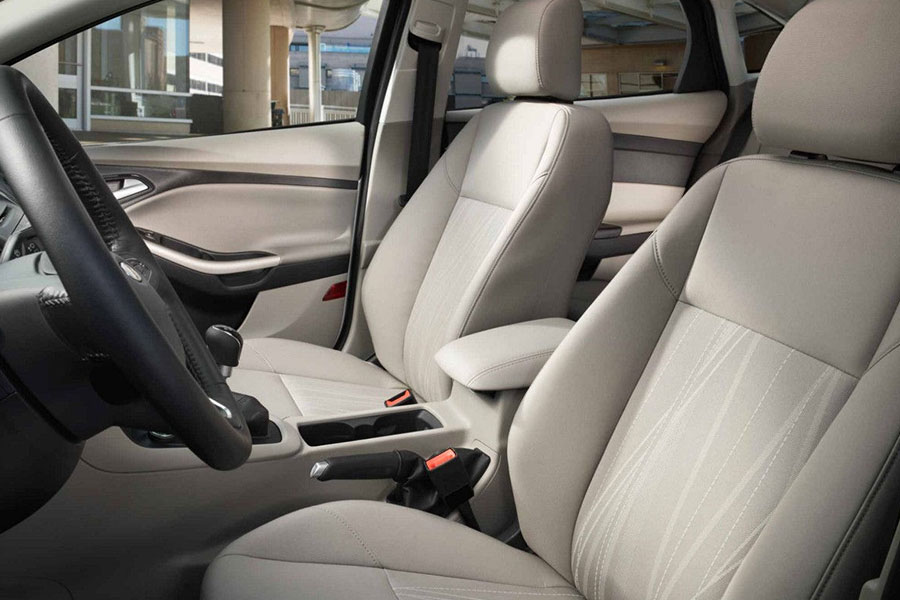 Verdict
These two are very different cars, but you have to wonder if Honda Accord is trying to be something it's not. It might have the interior of a luxury car and its prices is high, but it's hard to justify such expense. The 2018 Ford Focus doesn't try to be anything other than what it is, which is a stylish, practical, capable, and fun car that's also affordable and definitely our favorite here.