2018 Ford Mustang vs Chevrolet Camaro
2018 Ford Mustang vs Chevrolet Camaro
Perhaps the only icons more American than apple pie are the 2018 Ford Mustang and the Chevrolet Camaro, two muscle cars with ever-increasing speed and style. If you're wondering which model will win the race or keep you comfortable for the long haul, you've come to the right place. Our comparison guide will help you sort out the pros and cons of these pony cars.
Power & Performance: 2018 Ford Mustang
Every year, Ford and Chevrolet duel it out to deliver the pony car with the most muscle. This year, the Mustang takes the lead. The standard engine is a turbocharged 2.3-liter four-cylinder, which generates 310 horsepower and 350 pound-feet of torque for thrilling speed. If you're looking for classic V8 power, upgrade to the Mustang GT. Its 5.0-liter V8 engine produces 460 horses and 420 pound-feet of torque for true tire-burning speed.
Driving enthusiasts will be pleased to note that the 2018 Ford Mustang comes standard with a long list of performance-oriented gear. Mustangs with the manual transmission also include launch control for generous speed from a standing start. The electric line-lock means you can facilitate burnouts whenever you please.
Back in the Chevrolet Camaro, the standard engine is a turbocharged 2.0-liter four-cylinder. The Camaro's engine produces 275 horsepower and 295 pound-feet of torque. The Camaro is certainly no slouch, but it's not as powerful as the standard Mustang EcoBoost engine. Choose the Camaro 1SS for heart-stopping V8 power. Its 6.2-liter V8 engine upgrades your ride with 455 horses and 455 pound-feet of torque.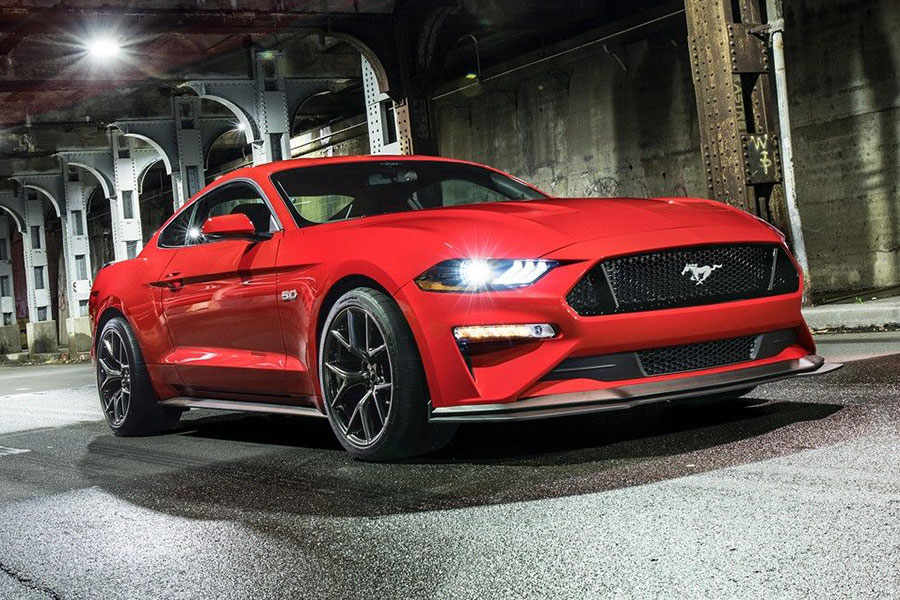 Most Iconic Silhouette: 2018 Ford Mustang
When it comes to exterior style, the Mustang is our overall favorite. We have a soft spot for the Mustang's fastback roofline, which is just one of its many retro flourishes. In front, the distinctive, muscular grille is the fastest way to tell this modern Mustang apart from the generation that came before it. Of course, the Camaro also has its own unique appeal. Its roofline is not quite as sleek as that of the Mustang, but its angular frontend is nothing but brawny.
Classiest Cabin: 2018 Ford Mustang
The modern Mustang has a practical side. Front seats are surprisingly spacious, so long rides never feel claustrophobic. Choose the EcoBoost Premium or GT Premium, and you'll experience muscle car luxury at its finest. Comfort features include dual-zone automatic climate control and classy leather upholstery.
With so many trims on offer, the Chevrolet Camaro has a level of comfort and style for every budget. It, too, creates cozy comfort with optional leather upholstery and heated and ventilated front seats. Although neither car has a huge cabin, the Camaro front seats do feel a bit tighter than the Mustang's.
Best Safety Features: 2018 Chevrolet Camaro
Like its fellow Chevys, the Camaro comes standard with an impressive array of safety technology. OnStar emergency communications help you call for assistance when you break down on the side of the road and automatically send for help after and accident.
The Mustang doesn't offer an emergency telematics system, but, like the Camaro, it does come standard with a rearview camera. The extra visibility comes in handy as you back out of a tight spot.
The 2018 Ford Mustang is our first choice overall. Although both pony cars turn heads on the road, only one gives you both extra horsepower and interior comfort. We think you'll love its supportive seating and upscale options. And every model comes standard with a long list of performance features. Who could ask for more?