2021 Ford Bronco
2021 Ford Bronco
LaFayette Ford has all the info you need for the 2021 Ford Bronco: the adventure-ready SUV you've been waiting for. With best-in-class available ground clearance, departure angles, and water fording capabilities, Ford's SUV is willing and able to take you deep into rugged terrain. After a 20-year hiatus, Ford is reintroducing its go-anywhere SUV to modern drivers, with never-before-seen off-roading technology and all the comfort features you crave.
The 2021 Ford Bronco is a body-on-frame SUV that's specially designed to plow through the wilderness. Two body styles are available: two-door and four-door. Two-door Broncos offer seating for four passengers, while the four-door models have seating for five. Then there are seven trim models, leaving drivers to choose the Bronco that has the right amount of off-road gear, tech features, and interior creature comforts to suit their personal tastes.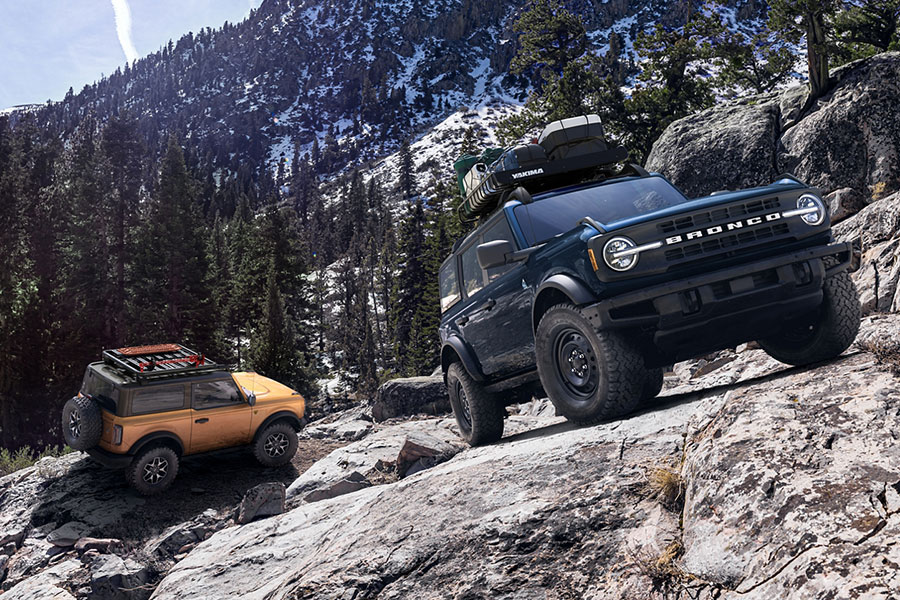 There's also a Bronco Sport model that's coming out later this year, in the fall of 2020. However, instead of a rugged, body-on-frame SUV, the Bronco Sport is based on the Ford Escape crossover. The Bronco Sport will combine modern creature comforts with sporty utility, but it won't be the same off-road beast as the 2021 Ford Bronco. Just keep in mind that the Bronco and the Bronco Sport are two different models designed for two different kinds of drivers!
What's special about the 2021 Ford Bronco?
Every 2021 Ford Bronco is equipped for a rollicking good time in off-road territory. But it also has some exclusive features that you won't find anywhere else.
An optional seven-speed manual transmission with a dedicated crawl gear: Not only can you shift your own gears for optimal performance, but a dedicated crawl gear also enhances performance when the terrain gets especially rough.

Standard two-speed transfer case or optional electro-mechanical transfer case: Every Bronco allows for a lower gear ratio, thereby giving you extra torque and a slower, more precise performance on rocky trails.

Optional floor drains and marine-grade vinyl seats: After a day of exploring, optional floor drains mean you can hose off the Bronco interior without flooding the cabin. More to the point, switches and knobs are sealed to prevent any short circuiting, and you can add marine-grade vinyl seats to prevent water damage.

Removable doors: Not only are the doors easy to remove, but there's also a special place to stow them in the back of the Bronco.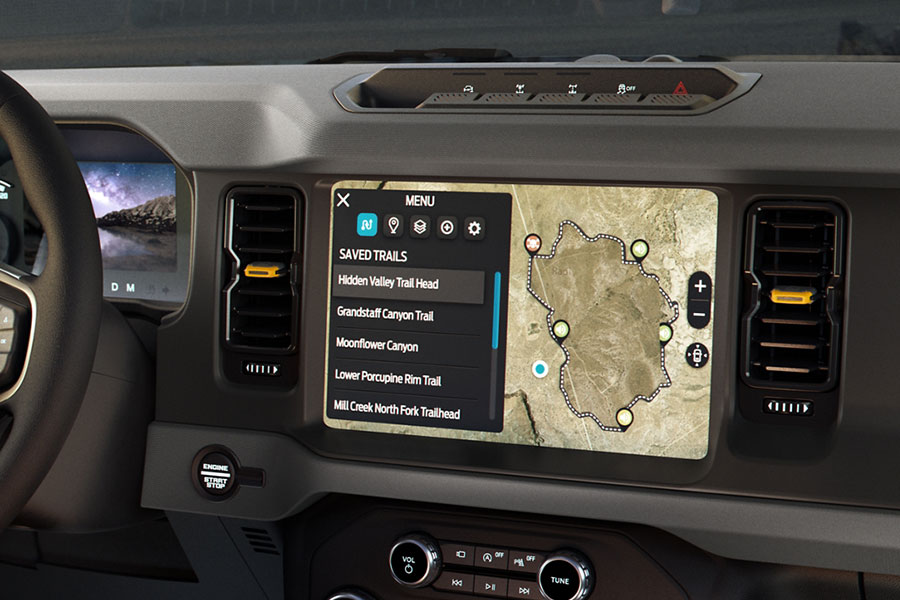 Which 2021 Ford Bronco should I choose?
Of the seven trim models —Base, Big Bend, Black Diamond, Outer Banks, Badlands, Wildtrak, and First Edition —the Bronco you should choose is the one that suits both your off-road needs and your desire for modern creature comforts.
The Base is loaded with rugged essentials – including four-wheel drive and removable doors – designed to take you into the great outdoors. The Big Bend adds mainstream comforts, like heated seats and remote start, for an increasingly modern ride.The Black Diamond steps up your off-road potential with a longer list of rugged features, including a rear-locking differential and rock rails.
Next up is the Outer Banks, a stylish Bronco with LED headlamps and taillamps and body-colored fender flares. Inside, infotainment upgrades include a 12-inch touchscreen and premium B&O sound system.
For extreme off-roading, there's the Bronco Badlands. Its bigger tires automatically supply extra ground clearance. This model also comes standard with Bilstein shocks and front and rear locking differentials to help you travel deeper into the wilderness.
Looking for a desert racer? The Wildtrak was specially designed for high-speed off-roading. This Bronco also comes standard with the line's engine upgrade for a stronger, faster performance.
Finally, there's the Bronco First Edition. No longer available for pre-order, all 3,500 of these limited-edition models are already claimed. For those lucky few, the First Edition brings its A-game with the mechanical underpinnings of the Badlands, the exterior style of the Wildtrak, and swanky interior of the OuterBanks.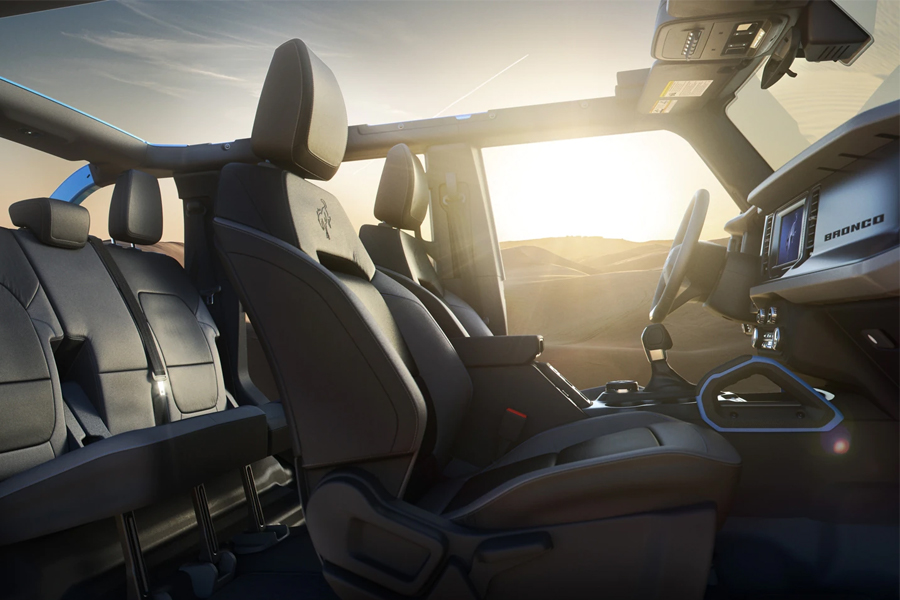 Can I buy a 2021 Ford Bronco right now?
Not just yet, but the all-new Ford Bronco will be here soon, in spring of 2021. In the meantime, you can direct any questions you have our way, at Lafayette Ford in Fayetteville, North Carolina.