2021 Ford Mustang Mach E
2021 Ford Mustang Mach E

Reserve Now
Stylish, sophisticated, and sporty, the 2021 Ford Mustang Mach-E is destined to electrify competitors. With its quick performance and long-lasting battery, the Mach-E is a crossover EV with mass appeal. It also rolls out some all-new features, including Ford's autopilot technology, Active Drive Assist, and the Sync 4 infotainment system. At LaFayette Ford, we're here to tell you all about it.
What is the 2021 Ford Mustang Mach-E?
Although it's named after the iconic Ford sports coupe, the all-new Ford Mustang Mach-E is a different beast altogether. Indeed, this upcoming electric vehicle is actually a four-door crossover SUV. It blends all-electric power with roomy, family-style comfort and iconic Mustang styling. Fans of the pony car will instantly recognize the Mach-E's tri-bar tail lights and muscular exterior lines.
Unlike the old-fashioned Mustang, however, this all-new crossover runs on all-electric power alone. Two battery sizes are available – a 288-cell, 75.7 kWh battery and a larger, 376 cell 98.9 kWh battery. Both feature extensive warranty coverage that lasts 8 years or 100,000 miles – whichever comes first. According to Ford, the larger, extended-range battery should last around 300 miles.
Just like the Mustang coupe, the Mustang Mach-E offers a variety of trim models and sporty powertrain options. With all-wheel drive and the extended-range battery, this crossover should deliver 332 horsepower and 417 pound-feet of torque. The Mustang Mach-E GT and GT Performance models will pack even more heat, with about 459 horses and 612 pound-feet of torque. These models were designed for speed freaks. Indeed, Ford estimates that the GT Performance model will go from zero to 60 miles per hour in the mid-3-second range.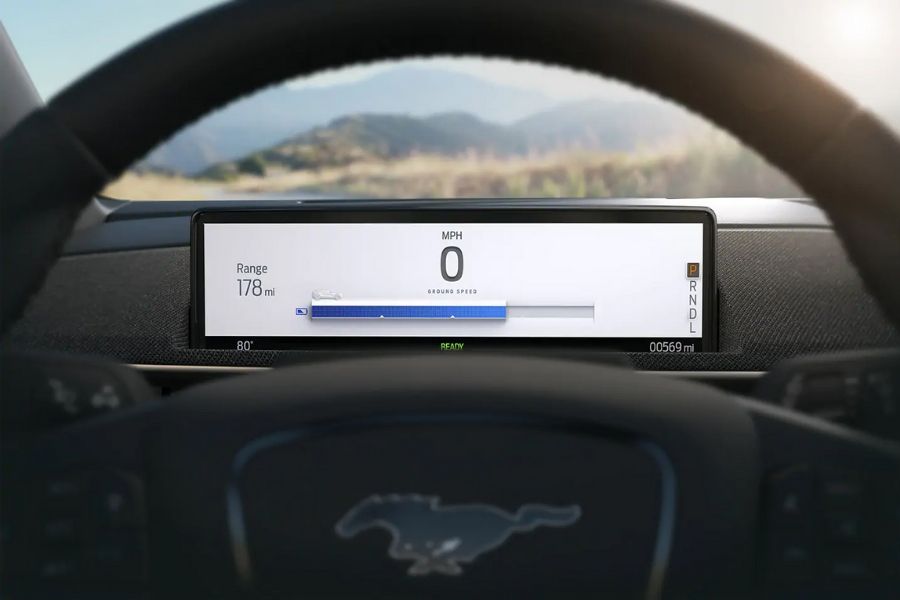 Why choose the 2021 Ford Mustang Mach-E?
This isn't your average electric vehicle. Unlike rival EVs – many of which are goofy-looking hatchbacks – the Ford Mustang Mach-E was destined to turn heads with its sleek, muscular style. And, while it gives you long-lasting battery life, this crossover EV also puts a fun-loving spin on performance. Sporty options include all-wheel drive (or standard rear-wheel drive) and high-output, all-electric engines.
Although Ford already has a rep for producing sporty crossovers, the Mach-E should be its sportiest yet, thanks in part to its low center of gravity and near perfect 50-50 distribution. And we can't forget about the Mach-E's new hands-free automated driving system, Active Drive Assist. This technology can take over for drivers, using a combination of radar, camera, and digital sensors to keep the Mach-E cruising down the center of the lane on pre-mapped highways.
Compared to EV rivals, the Mach-E is also very roomy and high-tech. Passengers can count on modern comfort and a bevy of infotainment options. Inside, the Mach-E's gigantic, 15.5-inch touchscreen infotainment interface is impossible to miss. It will house the next iteration of the Ford infotainment system, Sync 4. Drivers will also get a kick out of the customizable digital gauge cluster.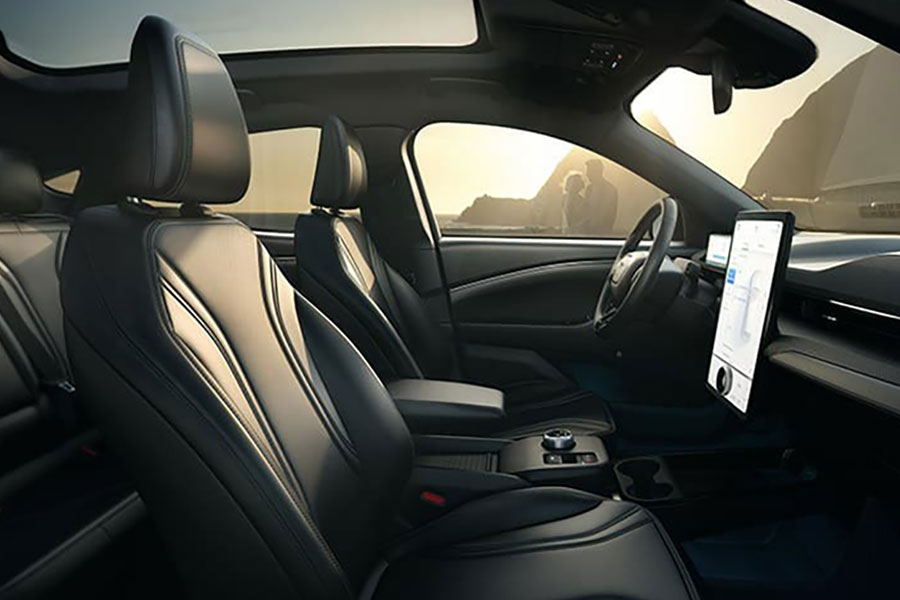 When will the Ford Mustang Mach-E be released?
Drivers-in-waiting have been able to reserve this all-new EV for some time now, but order books officially opened at the end of June. If you already had a reservation, you can now convert it into an official order. All orders require a $500 refundable deposit.
The 2021 Mustang Mach-E First Edition and Premium trim models are set for official release in December 2020. The Mustang Mach-E GT is expected to hit the streets for the first time in spring of 2021.
To learn more about this upcoming crossover EV, give us a call. At Lafayette Ford, your friendly North Carolina Ford dealer, we're here to answer any lingering questions you might have.