USED 2014 FORD C-MAX

The Used 2014 Ford C-Max is a compact multi-purpose vehicle or MPV for short. In Japan the MPV is often refer to as a "Space Wagon." The C-Max has impressive gas mileage, a refined ride, quick acceleration, responsive handling, and a stylish space-efficient interior to make it the Hybrid MPV to beat.
Used 2014 Ford C-Max
The C-Max line is divided between the C-Max Hybrid which comes in both SE or SEL trim levels and the premium C-Max Energi model, the "plug-in hybrid." Both models will comfortably seat 5 passengers and have 52.6 cubic feet of cargo space to store your stuff.
Standard features such as interior leather accents, the ever popular Ford MySync infotainment system, and dual-zone climate control are of course present on all trim levels. Stepping up a level unveils such luxuries as power turn signal mirrors, a folding 60/40 split rear seat, and to charge your gadgets and techno-goodies the completely necessary USB input jack.
The big draw for the C-Max Hybrid is what everyone looks for in a Hybrid, fuel economy. The EPA says you can get 45 MPG for city, 40 for the highway, and a combined 43 if you pick this hybrid. If you decide to go premium and plug in the Energi model the "miles-per-gallon-equivalent rating" otherwise known as MPGe lists as 108 MPGe for city, 92 MPGe for the highway, and a combined 100 MPGe. This is impressive for the savings at the pump.
The interior cabin for the C-Max is similar to that found in a Ford Escape or Focus, which is all to the good, since those vehicles use high quality materials, have a nice design sense, and solid strong construction. With 52.6 cubic feet of cargo space and optional 60/40 folding seats to increase storage even further the C-Max ends up with more cargo capacity than a compact hatchback or sedan. Some of the cargo space is taken up by the Hybrid's battery pack mounted below the cargo area.
C-Max Energi
The Premium C-Max Energi has a slightly larger battery than the regular Hybrid model. This 7.6 kilowatt lithium ion battery pack feeds into the electric motor which assists a 4-cylinder 2.0 liter gasoline engine in generating 141 horsepower and 129 pound-feet of torque, in comparison the engine for the Hybrid puts out 121 lb-ft. The larger battery also allows the Energi to travel further on electric power alone, up to 19 miles and with a 240-Volt charging station the pack can be fully charge in about 2.5 hours. As more hybrids and plug-in models appear on the roads the available charging areas in parking lots for restaurants and entertainment venues will likely appear more often as well.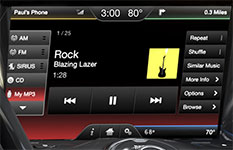 Sync
Available voice-activated SYNC® pairs to smart phones and various downloaded apps to keep the drive safe without a lot of fussing with your phone.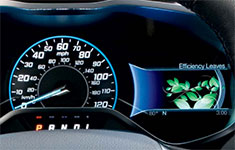 SmartGauge
Provides real-time information to help get the most efficiency from the Hybrid and Energi via the customizable MyView screen.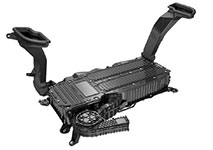 Lithium-Ion Battery
The lithium-ion battery used in the Hybrid and Energi Plug-In Hybrid stores power for all-electric mode of up to 19 miles.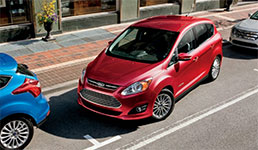 Active Park Assist
Simplify tricky parallel parking situations by activating the APA so it can make the correct adjustments to park itself.
Conclusion
In the final analysis, what's good for the environment is good for all of us. But you shouldn't buy a Used C-Max Hybrid or Energi just because you're afraid of the hole in the Ozone or Acid Rain.You should buy it because it makes economic sense with its hard to beat gas mileage and space-efficient interior design. This is a vehicle that makes you look good, while feeling good about doing something to help protect the future of the planet.