2015 Ford Explorer

The 2015 Ford Explorer is a powerhouse SUV with a unique blend of reliability, versatility, and solid styling. The Explorer features generous interior passenger and cargo space, ample power for nearly any imaginable use, and rugged but classic styling to stand out. Additionally the Explorer has a strong history, having received the Best New Technology award for seatbelt innovation as well as North American Truck of the Year award.
2015 Ford Explorer
The 2015 Ford Explorer has a strong name and history, and the newest incarnation builds upon that tradition. The new Ford Explorer has become more comfortable and features improved mileage and handling. It has enough room for the whole family, the dog, and all the camping gear for a week-long getaway.
The Ford Explorer has noticeably evolved from its former F-150 truck base and now bears a base more suitable to everyday use. The athletic body, while maintaining size, is more streamlined and less bulky, with axle positioning and frame setup specifically designed for SUV use that maximizes the Explorer's potential.
One of the most favorable aspects is the spacious interior, especially for passengers. Ford has added inches of legroom by changing up seat configurations and designs, as well as tweaking storage spaces to be used as needed opposed to constantly taking up space. The 2015 Explorer's interior is tailored to family use, with accessible climate controls in multiple passenger areas and easy to adjust seating for up to seven people. Sticking with being space friendly, the seating is more versatile than ever, allowing chairs to adjusted to fit all sizes, as well as fold away for cargo use.
The 2015 Ford Explorer leads the way in safety with a 5-star rating courtesy of several innovations, including inflatable rear seat belts, rear-view drive-assist cameras, blind-spot detectors and a host of other award-winning technologies to keep you safe on the road, no matter what happens. While Ford has put a lot of efforts into reactive safety measures, their efforts at preventative safety particularly stands out.

Explorer Sport
The 2015 Explorer features the premier Sport model. This special model includes leather steering wheels and trimmed seating, 20-inch sparkle nickel painted wheels, a 12 speaker Sony audio system, Push Start technology, Intelligent 4WD, as well as engine upgrades that either offer improved horsepower up to 365.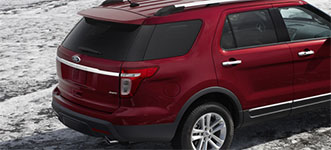 Strong and Lightweight Structure
Ford has used a combination of advanced materials and manufacturing processes to create a lighter, stronger, safer, and more mileage friendly body.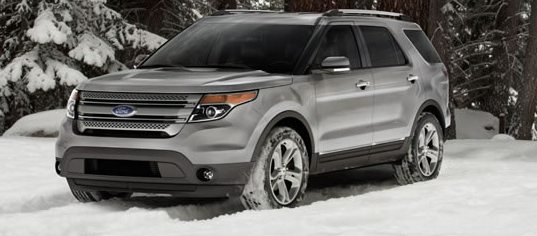 Intelligent 4WD
Intelligent 4WD continuously monitors throttle, wheel speed, and steering angles to determine road and car conditions, as well as driver intent, making keeping you safe.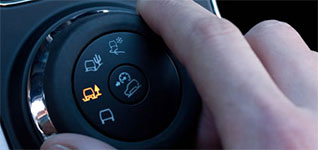 Terrain Management System
This system let's the driver adjust the car's preset controls for specific terrain, automatically tightening or loosening suspension and steering.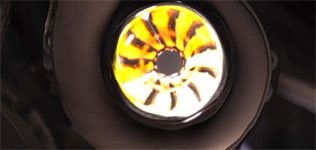 EcoBoost Engine
Ford's EcoBoost engine option is a 4-cylinder 240 horsepower, direct injection and turbocharged. Sporting 20/ 28 city/hwy mileage.
Conclusion
The Explorer continues its steady evolution in dependable fashion. With its incredible interior room, available engine options, elegant and functional styling, as well as industry leading class safety, the 2015 Ford Explorer is an easy and excellent option, no matter what use you intend to put it to.