2015 Ford F-150 King Ranch Review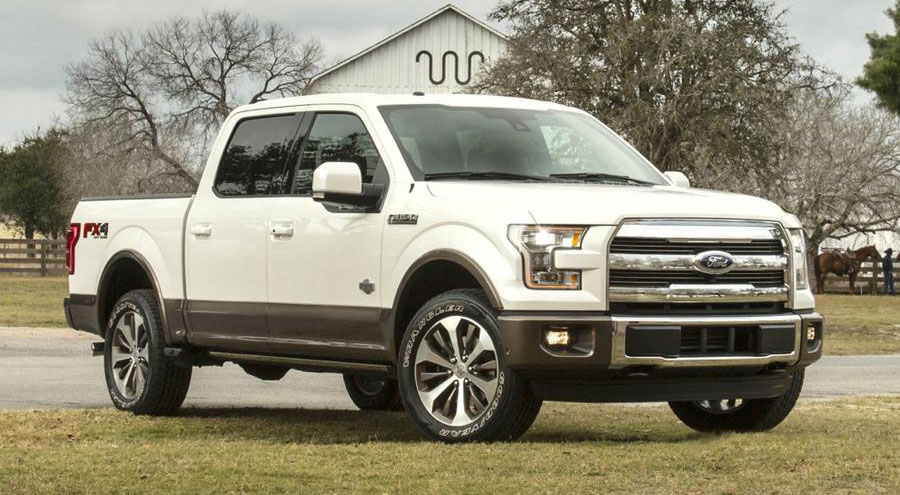 The newly redesigned 2015 Ford F-150 King Ranch is a luxury take on Ford's most popular work truck. Outside, the King Ranch is designed to haul heavy loads and power over rough terrain. Inside, it offers well-earned luxury via premium materials and modern technological features. The 2015 King Ranch goes on sale this fall; check back with us for updates on specs and buying suggestions.
2015 Ford F-150 King Ranch
Outside, the 2015 Ford F-150 King Ranch is an entirely new beast. Inside, this workhorse proves to be incredibly refined. The redesigned premium trim equipment, unique wheels, and color lineup were created to reflect conditions on the King Ranch – the world-famous ranch in Texas's Wild Horse Desert.
Drivers can choose either a monotone or two-tone exterior color scheme that includes shades like Caribou, Guard, Bronze Fire, and Ruby Red Metallic. Two-tone vehicles have Caribou-accented bumpers, grille, and running boards. The 20-inch aluminum wheels with painted trim feature King Ranch center caps.
Inside, big changes abound. A premium Brown Mesa leather interior is specially tailored to suit the King Ranch F-150, making the cabin comfortable for driver and passengers alike. The leather-wrapped steering wheel compliments the cabin's leather trim.
Ford has made big changes to the entire F-150 lineup. In addition to its new look, a new lightweight body means overall improved performance and fuel efficiency. The loss of about 700 pounds doesn't, however, mean that the F-150 is somehow less safe. An all-new high strength steel frame and aluminum body panels give the F-150 plenty of muscle and backbone.

F-150 King Ranch Features
Ford hasn't announced many of the details surrounding the upcoming King Ranch F-150. The current 2014 model sports a SuperCrew cabin (the 2015 version of which will feature improved passenger access and the choice between a 5-foot 7-inch bed or a 6-foot 7-inch bed). Current drivers can choose one of two engine options: the 3.5-liter EcoBoost and the 5.0-liter V8. Both options will be available for the 2015 F-150 lineup. An optional panoramic sunroof will be available with the 2015 SuperCrew cabin.
Future King Ranch drivers can expect plenty of new features. The 2015 F-150's standard power-locking rear tailgate with remote opening makes loading and unloading simpler. New 100-volt, 400-watt outlets allow drivers to charge both power tools and batteries on the job. Depending on trim level, LED headlights and taillights are a handy option for drivers who like to stay out late. Available safety options include a 360-degree rearview camera and lane-keeping assist.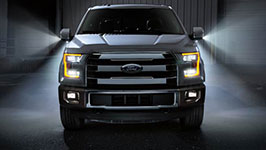 LED box lighting & LED spotlight mirrors
LED box lighting and LED spotlight mirrors allow drivers to keep working long after dark.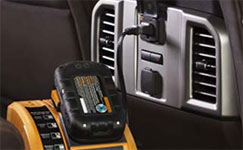 110V/400W Power Plugs
Access plenty of power to charge power tools and batteries.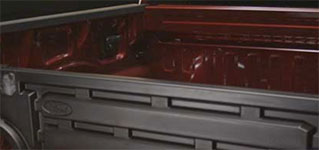 Ford BoxLink
The universal pickup-box is configurable for easy organization and access.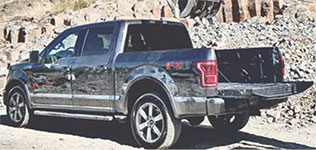 Remote Tailgate Release
Release the tailgate from a distance to easily access cargo.
Conclusion
The 2015 Ford-150 King Ranch is an excellent choice for drivers who appreciate a lot of on-the-job luxury. The upcoming F-150 is expected to haul its heaviest-ever loads and, at the same time, boost fuel economy. New aluminum body panels and a high-strength steel frame lighten the F-150's load and keep passengers safe.