2015 Ford F-150 vs Dodge Ram

When you're looking for the best work trucks, the Ford F-150 and Dodge Ram are two of the top picks. The new 2015 Ford F-150 and 2014 Dodge Ram are both powerful vehicles. They're also equipped with new technology, luxurious interiors and are highly maneuverable. Let's take a side-by-side look at these two trucks to see how they compare.
2015 Ford F-150 vs Dodge Ram
Power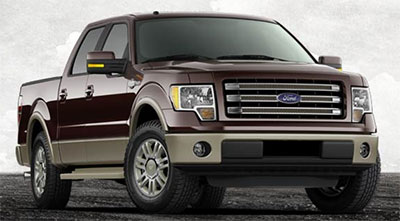 The all-new 2015 Ford F-150 comes with a compelling engine lineup, making it our pick in this all-important category. Its standard engine is a 3.5-liter V6 that produces 283 horsepower and 255 pound-feet of torque. It can tow an impressive 7,600 pounds. A new turbocharged engine, the 2.7-liter EcoBoost V6, generates 325 horsepower and 255 pound-feet of torque. It's equipped with start-stop technology designed to improve fuel economy. With this engine, the F-150 can tow a maximum load of 8,500 pounds. Rear-wheel-drive models with the EcoBoost can haul a payload of up to 2,250 pounds. Drivers can also choose a 5.0-liter V8 (that makes 360 horsepower and 380 pound-feet of torque) or a turbocharged EcoBoost version of the base V6. The latter offers increased towing capacity and fuel efficiency.
The 2014 Ram offers a standard 3.6-liter gasoline V6 that generates 305 horsepower and 269 pound-feet of torque. Higher trim models are equipped with a 5.7-liter V8 that puts out 395 horses and 410 pound-feet of torque. A new 3.0-liter turbocharged diesel V6 makes 240 horses and 420 pound-feet of torque.
Body and Configurations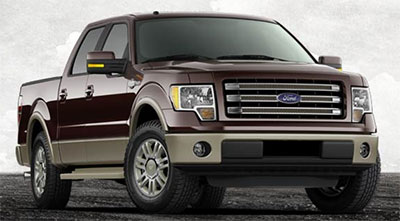 It was difficult to pick a winner in this category, since the two models are so similar. The all-new F-150 has the edge, thanks to its fresh redesign. Both trucks offer three different cabin configurations and three different bed lengths. Drivers can choose between Ford's Regular, SuperCab, and SuperCrew cabins. Dodge offers the Ram in similar regular, extended Quad, and Crew cab configurations.
Drivers who plan on making big hauls will want the F-150's longest bed, an 8-foot, 1-inch space. Ford offers two more options: a 5-foot, 7inch and a 6-foot, 7-inch bed. The Ram also offers three bed sizes. The only one that differs from the F-150 lineup is the longest, which comes in at 8 feet.
Fuel Efficiency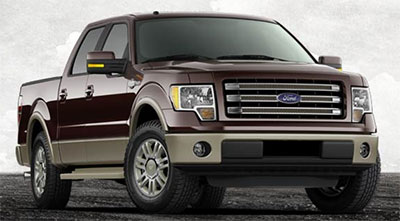 The Ford F-150's game-changing new aluminum body panels and high-strength steel frame help it win this category. By dropping around 700 pounds between this model and the previous one, the F-150 improves overall performance and fuel efficiency. When the 2015 F-150 is released this fall, its EcoBoost engines are widely expected to offer impressive fuel efficiency.
The 2014 Ram can't beat the F-150's new engine lineup and its sleek new body. However, its standard V6 achieves 20 mpg combined, which is pretty impressive in the full-size truck segment.
Features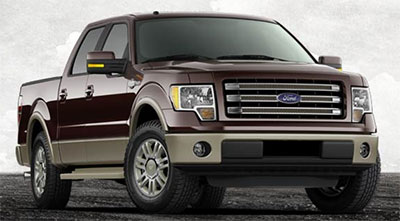 The redesigned F-150 is modern and luxurious, edging out the Ram with its convenience features. LED headlights and taillights are now standard, maximizing both nighttime visibility and exterior style. Drivers can add a wealth of safety options, including a 360-degree camera to help safely reverse this full-size truck. Blind-spot monitoring and rear cross-traffic alert helps drivers stay vigilant. The SuperCrew cab models even get an optional sunroof.
The Ram isn't too shabby, either. Higher trim models offer high-tech standard equipment like heated mirrors to help maintain rear visibility in cold weather. Many upper trim features are available as options for lower trims, so drivers can configure the cabin to suit individual needs.
Learn More about the Ford F-150

Both of these full-size trucks have much to recommend them, but the 2015 Ford F-150 beats out the Dodge Ram. Its recent redesign has made it more luxurious than ever before, offering drivers a vehicle that gets the job done in style. Thanks to a wide variety of cabin and bed configurations, buyers can choose the exact F-150 they require. The new engine lineup furnishes improved fuel efficiency and power.