2015 Ford F-150 vs Toyota Tacoma

The 2015 Ford F-150 and the Toyota Tacoma are among the nation's most popular pickup trucks. The Ford F-150 is a full-size truck that delivers a strong engine lineup, roomy cabin configurations, and luxurious modern features. With the Tacoma, shoppers get a midsize truck designed to generate fuel-efficient power and a smooth ride. If you're having trouble deciding which model is for you, read our four-category comparison.
2015 Ford F-150 vs Toyota Tacoma
Power and Performance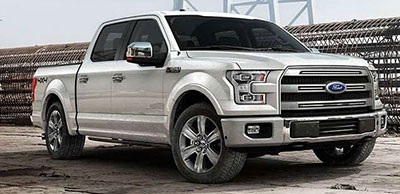 The 2015 Ford F-150 delivers top-notch power and performance, making it our pick in this important category. Drivers can choose between two- and four-wheel drive. The base 3.5-liter V6 engine makes a generous 283 horsepower and 255 pound-feet of torque. For even greater output, shoppers can choose the available turbocharged 2.7-liter V6, which produces 325 horses and 375 pound-feet of torque. Drivers who haul heavy payloads on a regular basis will want the F-150's optional 5.0-liter V8, which makes 385 horses and 387 pound-feet of torque. Finally, the available turbocharged 3.5-liter EcoBoost V6 makes an outstanding 365 horses and 420 pound-feet of torque. With this engine, a properly equipped F-150 tows its maximum load of 12,200 pounds.
2015 Toyota Tacoma shoppers can choose between rear- and four-wheel drive. They can also select one of two engines. The base 2.7-liter four-cylinder engine delivers 159 horses and 180 pound-feet of torque. The available V6 engine makes 236 horses and 266 pound-feet of torque. Properly equipped, the Tacoma can tow up to 6,500 pounds.
Safety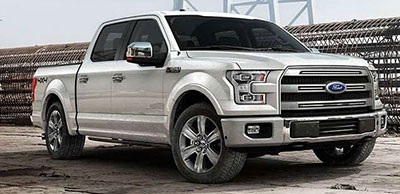 The Ford F-150's wide range of high-tech safety items makes it our pick in this category. Ford's Sync technology includes an emergency function that, when paired with a compatible cell phone, automatically dials 9-1-1 after an accident. Shoppers can add a single rearview or 360-degree multi-view camera to make backing in and out of tight spaces simple. They can also choose from a wide range of high-tech safety systems to enhance driver vigilance, including lane departure warning and blind-spot monitoring systems.
Like the F-150, the Toyota Tacoma comes with standard safety features designed to give drivers maximum control over road conditions, including antilock brakes and an array of airbags.
Configurations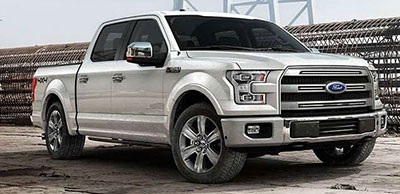 Once again, the Ford F-150 takes the lead. It's available in three different cabin configurations: the regular, extended cab, and crew cab. There are also three available bed lengths: 5.5 feet, 6.5 feet, and 8 feet. Finally, shoppers can choose from five trim models – XL, XLT, Lariat, King Ranch, and Platinum – each of which is more luxurious than the last.
The Toyota Tacoma offers two cabin configurations, an extended cab (called the Access Cab) and a crew cab (known as the Double Cab). The Access Cab automatically gets a 6-foot bed. The Double Cab is paired with either the 5-foot short bed or the standard 6-foot bed.
Features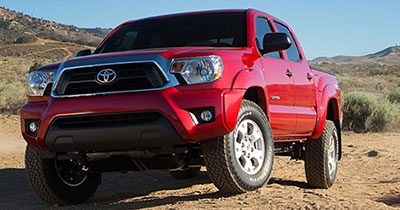 The 2015 Ford F-150 delivers a strong standard features lineup, and the top trim models are nothing less than luxurious. The entry-level F-150 XL comes with everything drivers need for a comfortable, modern ride. The XLT adds quite a few high-tech features, including Ford's Sync voice control system, which lets drivers browse infotainment options without looking away from the road. The upscale Lariat comes with leather upholstery to maximize passenger comfort. The King Ranch and Platinum models rival luxury vehicles with their high-quality cabin materials and classy styling.
The 2015 Toyota Tacoma isn't divided into trim models. Features depend upon cabin type. The Access Cab with rear-wheel drive comes with a strong features lineup. Its Entune infotainment system is accessible via a 6.1-inch touchscreen display. The Double Cab with two-wheel drive adds to those features with conveniences like power mirrors and a 60/40-split rear bench seat. All four-wheel drive models add increased ride height for greater visibility.
Learn More about the Ford F-150

Both models have their high points, but the 2015 Ford F-150 is our pick in every category. Shoppers can choose from a wide range of body configurations and trim models for the F-150 that suits their individual requirements and personal style. The F-150 puts a high standard on safety, protecting passengers with high-tech equipment. A variety of engines deliver incredible hauling and towing power.