2015 Ford F-150 vs Toyota Tundra

The popular Ford F-150 and Toyota Tundra are full-size trucks that are more than mere workhorses. The new 2015 models are equipped with interior luxury and modern convenience features. These vehicles also offer a wide range of configurations to suit individual needs in terms of passenger space and bed size. Read on to see how these two trucks compare to one another.
2015 Ford F-150 vs Toyota Tundra
Power and Performance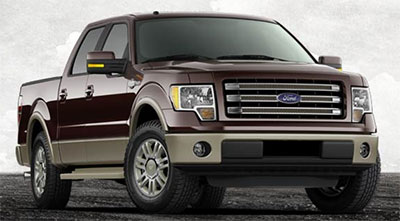 The 2015 F-150 is newly redesigned for greater power and fuel efficiency, making it our pick in this category. Its standard engine, a 3.5-liter V6, makes 283 horsepower and 255 pound-feet of torque. Properly equipped, this F-150 can tow up to 7,600 pounds. An all-new turbocharged 2.7-liter EcoBoost V6 produces 325 horsepower and 375 pound-feet of torque. It can tow up to 8,500 pounds. This option gets an automatic start-stop feature designed to make the F-150 more fuel-efficient. With rear-wheel-drive, an F-150 with this engine can haul a payload of up to 2,250 pounds. There's also a turbocharged 3.5-liter V6 that increases towing capacity and promises even greater fuel economy. A 5.0-liter V8 carries over from the previous generation, with 360 horsepower and 380 pound-feet.
The Tundra offers only two engines, a 4.6-liter V8 and a 5.7-liter V8. The former makes 310 horsepower and 327 pound-feet of torque. In the Tundra SR5, with a double cab, standard bed and two-wheel-drive, it can tow up to 6,800 pounds. The 5.7-liter V8 generates 401 pound-feet of torque. It comes with the standard Tow Package to increase heavy-duty towing capacity. In the base Tundra SR with two-wheel-drive, this engine can tow up to 10,500 pounds.
Design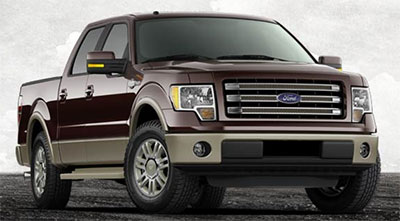 The Ford F-150 is our pick in this category, thanks to its groundbreaking new design. In addition to a stronger frame, it's equipped with new aluminum siding. Together, the high-strength steel frame and aluminum body panels make the truck 700 pounds lighter.
The Tundra remains a strong contender, but it lacks the innovation that Ford employs in this category. Of course, its 32-inch tires are designed for off-roading and its prominent grille lends to its sharp exterior style.
Configurations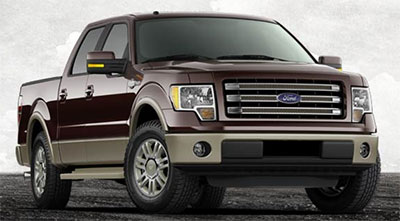 Because it's become the norm for heavy-duty work trucks to offer a wide yet similar range of bed and cabin configurations, it's difficult to pick a winner in this category. However, the F-150 has the advantage with its slightly larger bed sizes. The F-150 can be equipped with a Regular, SuperCab, or SuperCrew cabin. Similarly, the Tundra offers a regular, double, or CrewMax cabin. Ford's Regular cab models can only be paired with the standard bed, a 6-foot, 7-inch-long space. Other models can also be had with a 5-foot, 7-inch or an 8-foot, 1-inch bed.
The Tundra's standard bed is a 6-foot, 5-inch space. Drivers can also choose either the 5-foot, 5-inch short bed or the 8-foot, 1-inch long bed.
Features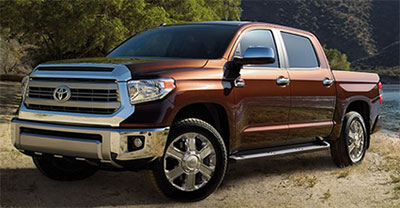 Both models offer long lists of luxury features, but we really like the Tundra's lineup. The base Tundra SR has advanced technology that includes Toyota's Entune infotainment system and Bluetooth. The upper trim models like the Limited and Platinum are impressively appointed, with premium offerings like navigation and leather-trimmed seats.
The F-150's new lineup is more luxurious than ever before, with new features that include a power-locking rear tailgate that can be opened by remote. Drivers can use 115-volt outlets to recharge power tool batteries. An available 360-degree rearview camera makes it easy to back this truck up.
Learn More about the Ford F-150

Although both trucks have plenty to recommend them, the newly redesigned F-150 has the edge over its competitor. Its new engine lineup is both powerful and fuel-efficient. The cab and bed configuration options make it easy for buyers to get the exact vehicle they require. Its exceptional new design makes it one of the most unique full-size trucks on the road.