2015 Ford F-250 vs Chevrolet Silverado 2500HD

The 2015 Ford F-250 and the Silverado 2500HD are two of the most capable heavy-duty pickup trucks on the road. Both deliver massive towing and hauling abilities, advanced safety features, and luxurious cabins. Check out our side-by-side comparison guide to decide on the best truck for you!
2015 Ford F-250 vs Chevrolet Silverado 2500HD
Power and Performance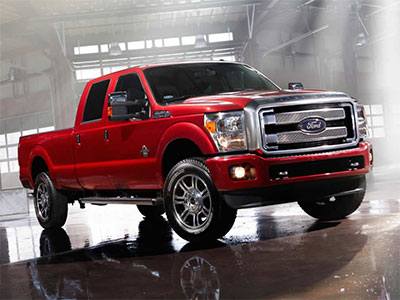 The 2015 Ford F-250 is our pick for power, thanks to its beefy engine options and immense towing capabilities. The standard 6.2-liter V8 engine makes 385 horsepower and 405 pound-feet of torque. Choose the 6.7-liter turbocharged diesel V8 engine for increased on-road capabilities. It produces 440 horses and 860 pound-feet of torque. Properly equipped, the F-250 can tow up to 14,000 pounds using the conventional trailer setup. Configured for fifth-wheel towing, the F-250 can tow up to 16,800 pounds. You can haul maximum payloads of up to 4,130 pounds.
The 2015 Chevrolet Silverado 2500HD also provides impressive engine options. The standard 6.0-liter V8 engine is rated for 360 horses and 380 pound-feet of torque. With the available bi-fuel option, this engine can run on both gas and compressed natural gas (CNG), optimizing fuel economy. Choose the 6.6-liter turbocharged diesel V8 for greater hauling needs, as it increases the output to 397 horses and 765 pound-feet of torque. As with the F-250, shoppers can choose between rear- and four-wheel drive. Properly equipped, the Silverado hauls up to 3,760 pounds. With a fifth-wheel hitch, the Silverado can tow max loads of 17,900 pounds.
Driving Dynamics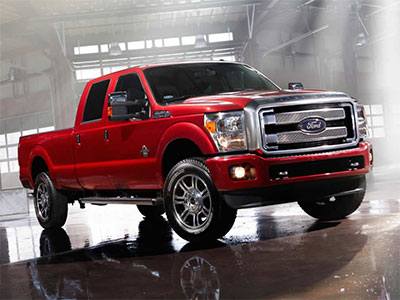 On the road, the 2015 Ford F-250 delivers a strong, capable ride, making it our pick in this category. The cabin remains impressively quiet, even at high speeds. The suspension maintains a smooth ride, even when roads get rough. When towing heavy loads, the Tow/Haul mode lets you selectively lock out higher gears to create the best possible performance.
With its light, precise steering, the Chevrolet Silverado 2500HD is a close second place. Its cabin is also quiet, giving passengers peace of mind during long commutes. Like the F-250, the 1500HD remains composed and stable when towing heavy loads.
Safety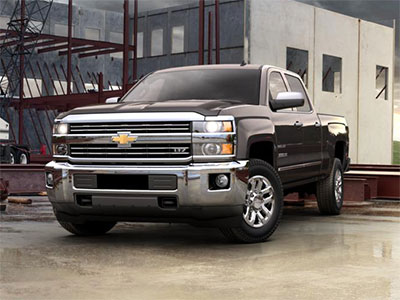 Both of these heavy-duty pickups are big on safety, but the Chevrolet Silverado 2500HD stands out. Its high-tech standard items do all they can to help you solve unexpected problems. OnStar telematics delivers features like on-demand roadside assistance and automatic crash notification. Advanced systems, including forward-collision alert and lane-departure assist, are available to increase driver vigilance.
The 2015 Ford F-250 impresses with high-tech safety features like the standard SOS post-crash alert system. Hill start assist keeps this heavy-duty truck from rolling backward at stops. The available integrated trailer brake controller maximizes performance when towing heavy loads. The available rearview camera makes backing up a snap.
Interior Comfort and Convenience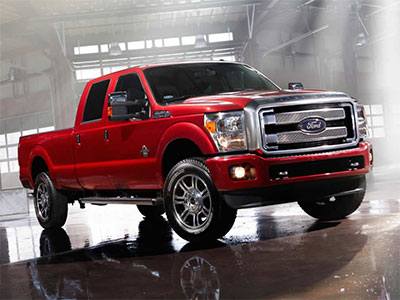 With the 2015 Ford F-250 you can expect interior luxury and plush, supportive seating. The cabin is stocked with storage and utility options, including a lockable bin under the available front bench seat, allowing passengers to secure and organize carryon items. The F-250 also sports impressive high-tech convenience features. The available 110-volt power outlet keeps power tools charged on the go. With the optional MyFord Touch infotainment system, you can stay connected from anywhere.
Inside, the Silverado 2500HD cabin is constructed using high-quality materials. Passengers will love the spacious, supportive seating. The crew cab's backseat delivers impressive legroom, maximizing comfort during long road trips.
Learn More about the Ford F-250

Both the 2015 Ford F-250 and Chevrolet Silverado 2500HD pickup trucks meet drivers' heavy-duty requirements, but we like the Ford F-250 overall. Its strong, capable engines maximize towing and hauling capabilities. On the road, you can count on a smooth, responsive ride. Inside, the F-250 delivers high levels of luxury, with supportive seating and high-tech convenience features. Its safety lineup aims to keep you protected. Come in and drive an F-250 today!