Used 2015 FORD FUSION

The Used 2015 Ford Fusion is a midsize family sedan that offers fuel efficiency, advanced safety features, and a comfortable, quiet cabin. The Fusion's eye-catching exterior makes it one of the most stylish vehicles in its class. Drivers can choose from a wide variety of high-tech features to create an ultra-modern cabin. With this model, a rearview camera is now standard equipment, helping drivers reverse in safety.
Used 2015 Ford Fusion
Even in this highly competitive, family-friendly class, the Used 2015 Ford Fusion is a big standout. It's a four-door, five-passenger vehicle that is sporty, spacious, and fuel-efficient. It's high on the list of midsize sedans that offer sharp handling and a variety of configurations. Drivers can choose between three models, four engines, and front- or all-wheel drive. They can also add enough convenience features to compete with luxury vehicles.
The Used 2015 base S model comes stocked with plenty of convenience features. A standard rearview camera makes backing up easy and safe. Integrated blind-spot mirrors increase rear visibility. Automatic headlights turn on whenever necessary. The voice-activated Sync system allows users to interact, hands-free, with audio and phone options.
The mid-level SE adds to these features with an even more luxury lineup. Heated mirrors maintain visibility in cold weather. A six-speaker sound system with satellite radio enhances entertainment options. The SE is also eligible for a wide range of optional features. The available Luxury package includes an auto-dimming rearview mirror that reduces nighttime glare and comfort-enhancing leather upholstery, among other features.
The top-trim Used 2015 Titanium comes standard with a turbocharged 2.0-liter for optimal acceleration. Its sports-tuned suspension creates a highly responsive, smooth ride. Convenience features like keyless ignition and entry save time. The premium 12-speaker Sony sound system provides excellent entertainment for long trips.
Both the S and SE come with the Fusion's standard 2.5-liter four-cylinder engine. It generates 175 horsepower and 175 pound-feet of torque. A six-speed automatic transmission powers the front wheels. Drivers can expect excellent fuel economy, with an EPA rating of 22 city/34 highway mpg.
SE drivers can choose between three engine options. An available turbocharged 1.6-liter four-cylinder makes 182 horsepower and 184 pound-feet of torque; it's paired with a six-speed manual transmission. EPA ratings for this engine are 25/37 mpg.
There's also an optional turbocharged 1.5-liter four-cylinder that generates 181 horsepower and 185 pound-feet of torque. It's paired with a six-speed automatic transmission. With the available start-stop functionality, this engine achieves 25/37 mpg. Without it, drivers can expect 23/36 mpg.
The Ford Fusion's most powerful engine is a 2.0-liter four-cylinder that generates up to 240 horsepower and 270 pound-feet of torque. It's standard for the top-trim Titanium. It works seamlessly with a six-speed automatic with paddle shifters.
All-wheel drive is optional for both the Used 2015 SE and Titanium, but it's only available with the 2.0-liter engine. With front-wheel-drive, the 2.0-liter four-cylinder achieves 22/33 mpg. With all-wheel-drive, those numbers drop only slightly to 22/31 mpg.
The Ford Fusion's roomy cabin is one of its major attractions. Inside, high-quality materials offer safety, comfort and style. It's easy for drivers to find the exact right position behind the wheel, and front visibility is excellent. The trunk's 16 cubic feet of cargo space is generous, even for a sedan.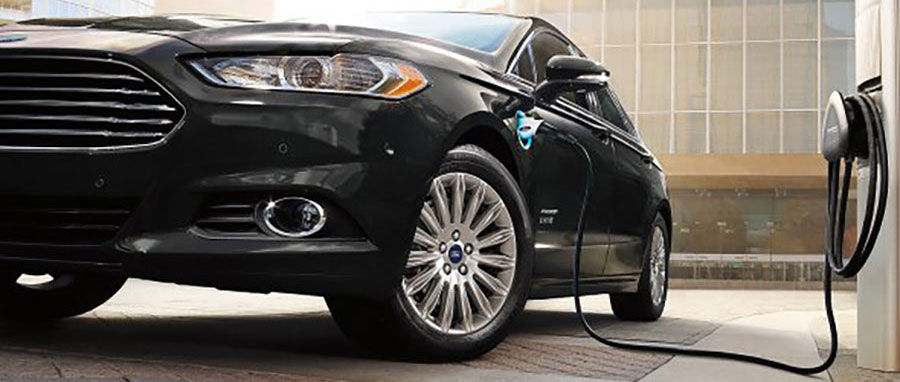 Fusion Fusion Hybrid
Like the rest of the Fusion lineup, the Used 2015 Ford Fusion Hybrid offers a well-rounded performance and a variety of high-tech convenience features. This top-of-the-line family sedan delivers high fuel economy with its 2.0-liter four-cylinder engine, which works in concert with a lithium-ion battery-powered electric motor to achieve 44/41 mpg.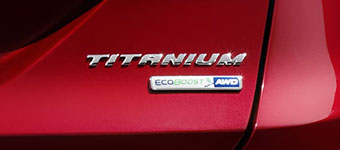 Engine Options
Choose the right fuel-efficient engine for you.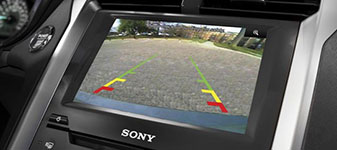 Standard Rear View Camera
Put the Fusion in reverse and images automatically display on-screen.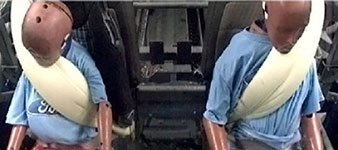 Available Inflatable Second-Row Safety Belts
Class-exclusive inflatable seat belts reduce the risk of injury.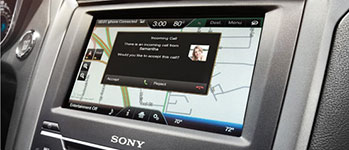 SYNC Voice-Activated Technology
Stay connected with Ford's multifunction infotainment system.
Conclusion
The Used 2015 Ford Fusion is the best-in-class option for anyone with a need for space, comfort, and great fuel economy. Cabin materials are high quality and convenience features are high tech and modern. The Fusion was built with safety in mind, a fact backed up by its excellent safety ratings.