2015 FORD FUSION

The 2015 Ford Focus is a fuel efficient sedan with a luxury car feel at an affordable price. The latest Focus features a refreshed interior and exterior design, as well as a new engine and innovative Ford technologies.
2015 Ford Focus
The 2015 Ford Focus is a reimagining of the historically strong-performing sedan. At a glance the Focus has evolved with a stylish new hexagonal grille, sporty chrome-accented LED lights, and designer headlamps. The 2015 body profile has been widened and lowered, making it sleeker as well as offering a sportier profile with improved functionality.
Ford gave the Focus a new engine option with a 1.0 liter 3-cylinder turbocharged EcoBoost motor designed with a careful blend of power to make the Focus functional while giving it the absolute best mileage possible. This engine option comes on top of the 2.0 liter, 160 horsepower base engine. For those looking to do a lot of traditional city driving, this engine is ideal. Part of the EcoBoost package is an auto turnoff option that seamlessly turns off the engine off when it's not needed, saving gas, and turns the engine back on the moment the gas is touched.
While the outside has changed at a glance, the inside has been reimagined to look sportier and more tech-friendly than ever. Ford has included many new electronic offerings, including their MyKey system which allows the owner to set driving and operational limitations for other drivers. There's an updated MyFord Touch screen that manages the Bluetooth, navigation, and entertainment controls, which works with not only the touchscreen but with voice commands too. The voice commands allow you to keep your eyes on the road and still able to easily access most controls. The Bluetooth system can be used for hands-free phone use or connecting to a variety of other devices, again keeping you able to focus on driving safely while performing the little details of everyday life. The Touchscreen itself has a built in GPS system for easy navigation as well as DVD options and the ability to hook up to your MP3 devices. A SecuriCode keypad allows owners to conveniently unlock their vehicle without a remote or key.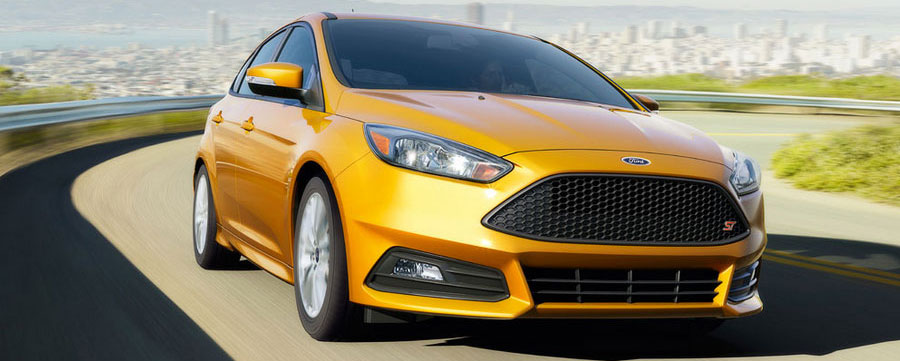 Focus ST
The Ford Focus ST is a premium performance model. The ST comes with a turbo-charged direct-injection 2.0 liter EcoBoost engine that features impressive mileage while offering almost 100 more horsepower at 252, taking the already spritely Focus and giving it some additional oomph for race-like performance. To go along with the horsepower boost, the ST features a tightened sports suspension for racer handling and a 6-speed manual transmission, helps this premier model keep mileage down while also adding to the track-born feel.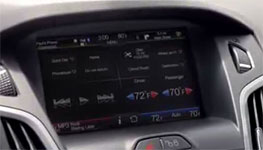 Sync
Voice-activated technology that manages hands-free calling and voice control of entertainment and apps readily and safely available.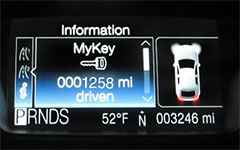 MyKey
A system that allows you to set max driving speeds and audio levels, among others, so your car is taken care of no matter who's using it.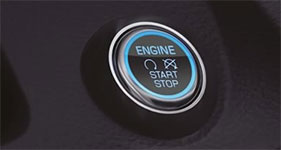 Push-Button Start
With the key fob in your pocket or in your bag, simply open the driver's door by touching the inside of the front exterior door handle – no key is needed.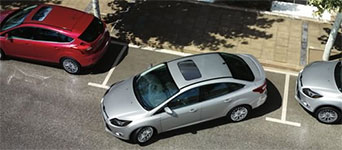 Active Park Assist
Active park assist is designed to help make parallel parking a breeze.