Used 2015 FORD MUSTANG

The Used 2015 Ford Mustang is a classic 2-door performance muscle car in its 50th anniversary model year.
Used 2015 Ford Mustang
To help celebrate the landmark year of 2015, Ford announced a complete redesign for the 2015 Ford Mustang and is introducing its turbo-4 engine to the American market. The model is 1.5 inches wider and 1.4 inches lower. The fastback roof design, shark-nose trapezoidal grille, and lower, wider bodywork are examples of fresh styling intended to spark desire in potential customers and those who are passed by the Mustang on the highway. The passenger volume has also been increased to 84.5 cubic feet.
Three engines are available a 2.3 Liter 300+ Horsepower EcoBoost four-cylinder, 3.7 Liter 305 Horsepower V6, or 5.0 Liter 440+ Horsepower Coyote V8, with either a Getrag six-speed manual or six-speed automatic transmission with paddle shifters. The 2015 Mustang also features a specifically developed independent rear suspension (IRS) system. The total weight of the vehicle has been reduced by approximately 200 lbs due, in part, to the use of aluminum for the hood and front fenders.
The cabin has been redesigned with a mind towards appealing to a modern and discerning customer. To this end Ford took inspiration from fighter plane cockpits and sought to strike a balance between analog dials and digital feedback via a dual-cowl dashboard design, aluminum trim panels, round gauges, and a thick-rimmed, 3-spoke, tilt-and-telescoping steering wheel.

Mustang Shelby Mustang GT350
The Shelby Mustang GT350 (Gran Turismo) is the high performance version. Unlike the normal Mustang adorned with the synonymous Pony in mid-leap, the Shelby features a Cobra set to strike. And its power and features are certainly worthy of the comparison to that deadly reptile in both performance and ability to inspire awe. Full details of the premium engine and specs are not yet available however it is expected that it will be equipped with a 5.0-liter V-8 engine capable of delivering a minimum of 420 horsepower and 390 pound feet of torque. The GT will be offered with an optional Launch Control system.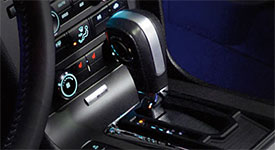 Select Shift
This allows the driver to enjoy the control of a manual transmission without the hassle of a clutch and SelectShift allows gear changing with the push of a button.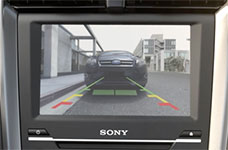 Rear Camera
Get a clear view behind your vehicle when you are backing up slowly with the available rear view camera.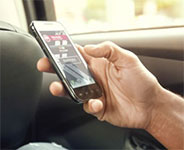 Ford MyLink
Available voice-activated technology that helps you keep your eyes on the road and stay connected to your world.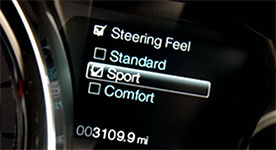 EPAS
The selectable electronic power assist steering (EPAS) gives you the option of 3 different driving experiences.
Conclusion
The Used 2015 Ford Mustang is truly a powerful beast whose hooves will churn the highways and byways of America for years to come. The name Mustang is synonymous with quality and power and this 50th Anniversary edition looks to be a benchmark which it will be hard to improve upon.