Used 2015 FORD TRANSIT WAGON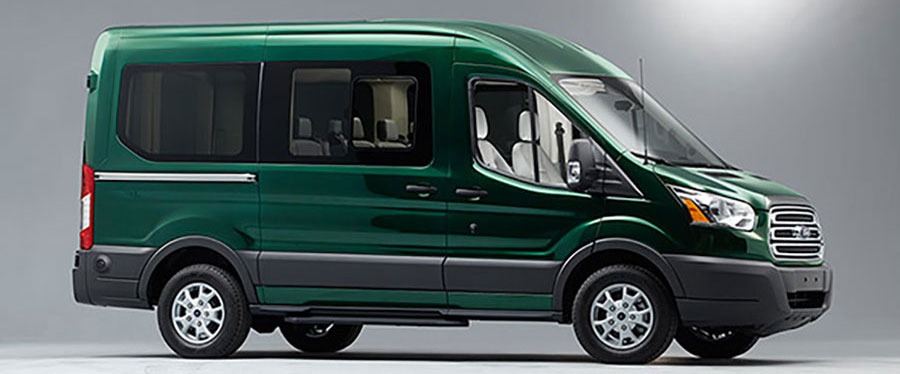 The Used 2015 Ford Transit Wagon is a modern take on the large passenger carrier. A range of configurations ensures that buyers get the exact vehicle they require. Inside, the Transit Wagon supplies a modern refinement never before seen in a commercial van. Its modern frame is highly mobile, improving on old school vans with a crossover-like driving experience.
Used 2015 Ford Transit Wagon
The Used 2015 Ford Transit Wagon is bringing fuel economy, interior refinement, and highly maneuverable driving dynamics to a vehicle class that has seen little, if any, of these things. Drivers can chose between three roof heights and three different body lengths to own the passenger wagon that best suits their business needs.
All three engine options offer excellent fuel economy. There are also three different load ratings, from the standard Transit 150 to the heavy-duty Transit 350. The largest heavy-duty Wagon can haul a maximum payload of 4,650 pounds and tow up to 7,000 pounds.
The Transit Wagon comes standard with a 3.7-liter V6 engine that makes 275 horsepower and 260 pound-feet of torque. Drivers who require additional power can choose the optional turbocharged 3.5-liter V6 for 310 horsepower and 400 pound-feet of torque. There's also an available turbocharged 3.2-liter diesel-powered inline five-cylinder.
The standard Used 2015 Transit Wagon seats eight passengers, but drivers can optionally add seating for up to 10. An optional long-wheelbase model seats up to 15 passengers. It's easy for passengers to board even the last rows, thanks to an aisle that cuts between rows, much like one usually sees on a bus.
With its cutting-edge unibody design, the Transit Wagon is incredibly space-efficient. In the tallest model, people over six feet tall can stand comfortably. It's also lighter than the average passenger van, which boosts both fuel economy and weight ratings.
Inside, supportive seats allow drivers to maintain comfort levels throughout the workday. The roomy cockpit provides excellent visibility, so it's easy to maneuver the Transit Wagon in traffic. Buyers can choose to add a range of high-tech options to the cabin, including the MyFord Touch infotainment system. A rearview camera helps drivers back the Transit Wagon up safely.
This passenger van has passenger safety in mind. Side curtain airbags cover the entire length of the passenger space, helping to keep collision damage to a minimum. All rear seats also have integral three-point seatbelts, so there's no awkward equipment hanging from the ceiling. Standard stability control and antilock brakes help drivers avoid potential collisions. Frontal and front side-impact airbags help front row passengers avoid injury should an accident occur.
On the road, the Transit Wagon is one of a kind. This passenger van has unexpectedly responsive steering and an impressively tight turning circle. It's among the most maneuverable passenger vans available.

Transit Wagon XLT
The top tier Used 2015 Transit Wagon is more luxurious than the base model, offering a wider range of convenience features. It comes with rain-sensing wipers that adjust themselves to the weather accordingly. Cloth upholstery allows passengers to sit back in greater comfort. Rear air conditioning helps maintain the perfect temperature. Cruise control is great for drivers who spend a lot of time on the highway.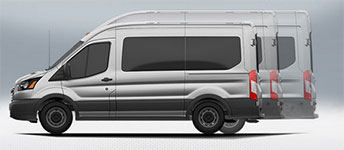 Highly Configurable
Choose between three heights, three body lengths, and three payload configurations.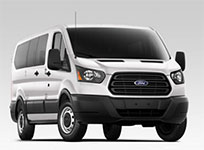 Impressive Fuel Economy
These powerful engines save money at the pump.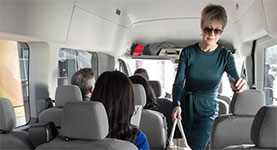 Modern Gallery
An aisle between the seats provides easy access to each row.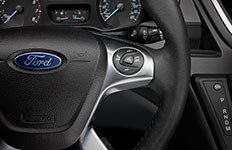 SYNC
Voice-activated technology keeps drivers safety connected.
Conclusion
The Used 2015 Ford Transit Wagon is the last word among large passenger vans. This series offers a crossover-like driving experience with its responsive steering and mobility. The largest model can seat up to 15 passengers, and all rows are easily accessible in the roomy cabin. Drivers can choose the fuel-efficient engine they require.