2016 Ford Fusion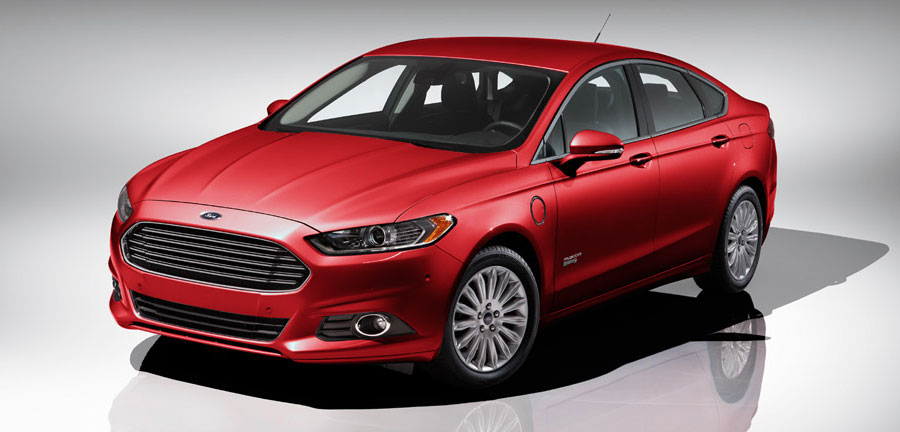 The 2016 Ford Fusion is a mid-size sedan that's known for its premium fuel economy, modern tech features, and sleek uptown style. On the road, this family-friendly sedan can really move. The Fusion's all-wheel drive feature adds to its best-in-class appeal. It's also big on passenger protection, offering both excellent crash test scores and a wealth of advanced driver aids. The cabin is stocked with all the latest infotainment options, so you can keep up with friends from the road.
2016 Ford Fusion
Inside, the 2016 Ford Fusion shines with its clean-cut and modern cabin. Both rows of seating provide ample head- and legroom. Supportive seating delivers long-term comfort, making the Fusion a great pick for daily commutes and road trips alike. The trunk is comparably sizeable, with 16.0 cubic feet of cargo space for your favorite sporting goods. Luxury features – like leather upholstery and heated and ventilated front seats – maximize your on-road experience.
If you crave convenience, you've come to the right place. The 2016 Ford Fusion is stocked with all the latest gadget-friendly features. The MyFord Touch system links with your smartphone, making it easy to keep in contact with friends and family on the go. Its 8-inch LCD touchscreen offers crisp, clear graphics and intuitive menus. Keep devices charged via the in-car USB port. Use the keyless entry and ignition features to save time in the parking lot. The premium, 12-speaker Sony sound system puts the finishing touches on this high-tech cabin.
When it comes to safety, the 2016 Ford Fusion is on your side. In government crash tests, it earned a perfect five-star rating for overall protection. The Insurance Institute for Highway Safety gave the Fusion its top score of "Good." In addition to top-notch crash test scores, the Fusion is stocked with all the latest in passenger protection gear. Advanced systems – think lane-keeping assist and frontal collision warning – scan your surroundings and alert you to danger. The Ford Sync system offers an emergency assistance feature, automatically dialing 9-1-1 after a collision. Inflatable rear seatbelts mitigate passenger injury during a crash.
On the road, the Fusion is truly impressive. Choose from a range of powertrain options for the performance that suits your needs. We highly recommend the turbocharged options, which balance a powerful ride with excellent fuel economy. Test-drive the turbocharged, 1.5-liter four-cylinder engine to experience 181 horsepower and 185 pound-feet of torque. Use this engine to earn the Fusion's top EPA ratings: 25 city/37 highway mpg. The stop-start feature powers the engine off when you're stopped in traffic, effectively cutting down on fuel costs. When the light turns green, the engine seamlessly powers back on.

Fusion Titanium
The high-end 2016 Ford Fusion Titanium puts a premium on comfort, convenience, and on-road power. Choose this model for timesaving features like keyless entry and ignition. Inside, leather seating sets a stylish tone. On the road, the Titanium's turbocharged, 2.0-liter four-cylinder engine provides a sporty ride, with 240 horses and 270 pound-feet of torque.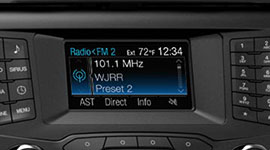 SYNC with MyFord Touch
Smartphone integration features keep you connected from anywhere.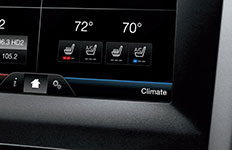 Heated and Cooled Seats
Enjoy maximum comfort in any weather.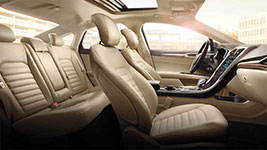 Interior Refinement
Spacious accommodations and high-quality materials provide an upscale experience.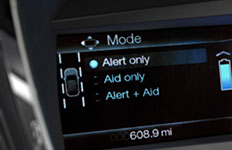 Lane-Keeping Assist
This system lets you know if you've strayed outside the proper lines.
Conclusion
For families on the go, the 2016 Ford Fusion is a best-in-class option. Performance features, including all-wheel drive and turbocharged engine options, guarantee a sporty, refined ride. Inside, the Titanium is big on modern comfort and convenience. Plush, supportive seating treats you to an excellent on-road experience. Contemporary safety gear greatly enhances driver peace of mind. Take the Fusion for a test drive today!