2016 Ford Transit Wagon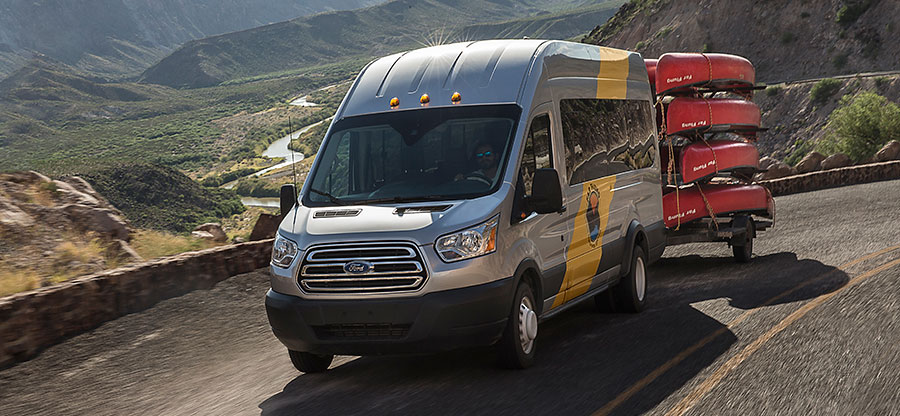 The 2016 Ford Transit Wagon is an excellent commercial passenger van that provides passenger comfort, optimal safety, and a wide range of configuration options. On the road, the Transit impresses with its responsive handling and composed steering. Engine options deliver smooth, fuel-efficient power. Inside, between eight and 15 passengers enjoy ample space and plush, supportive seating. Come down and test drive a Ford today!
2016 Ford Transit Wagon
Under the hood, the 2016 Ford Transit Wagon uses a 3.7-liter V6 engine to produce 275 horsepower and 260 pound-feet of torque. It's paired with a six-speed automatic transmission for a smooth, comfortable ride. If you prefer diesel power, test-drive the 3.2-liter turbodiesel five-cylinder engine. It generates 185 horses and 350 pound-feet of torque. Increase performance with the 3.5-liter V6 engine. Its 310 horses and 400 pound-feet of torque help you move the line's max payloads.
Tow and payload ratings vary depending on model. Properly equipped, the Transit Wagon can haul max payloads of 4,560 pounds. Tow ratings are even more impressive, maxing out at 7,500 pounds. In addition to these heavyweight capabilities, the Transit Wagon offers modern driving dynamics. Instead of a truck-like demeanor, the Transit Wagon's handling is responsive and capable. All engine options deliver the necessary heft for swift acceleration and highway merging.
Choose from a wide range of configurations for the model that speaks to your needs. Three different payload ratings – 150, 250, and 350 – increase payload ratings. The Transit Wagon comes with one of two different wheelbases – standard or long. You can also select the low, medium or high roof. High-roof models are especially impressive. Passengers up to 6'5" tall can stand comfortably inside. For optimal interior space, choose the extended-length, long-wheelbase model.
Inside, the 2016 Ford Transit Wagon is sleek and modern. Passengers will appreciate this commercial van's cloth upholstery and carpeted flooring. Up front, drivers will find important controls within easy reach. The Sync 3 infotainment system is all-new for 2016. It offers an intuitive design and crisp graphics. Smartphone integration features let you stream your favorite apps over the Transit's speakers.
Finally, the 2016 Ford Transit Wagon provides excellent standards in safety. In government crash tests, it earned four out of five stars for overall protection. The Transit Wagon earned a perfect five stars for side crash protection. High-tech systems, such as lane-departure warning, scan the surrounding road and alert you to potential danger. The rearview camera makes backing up a snap. A wide range of airbags protect passengers during a collision. Items like stability control and antilock brakes ensure authority over problematic road conditions.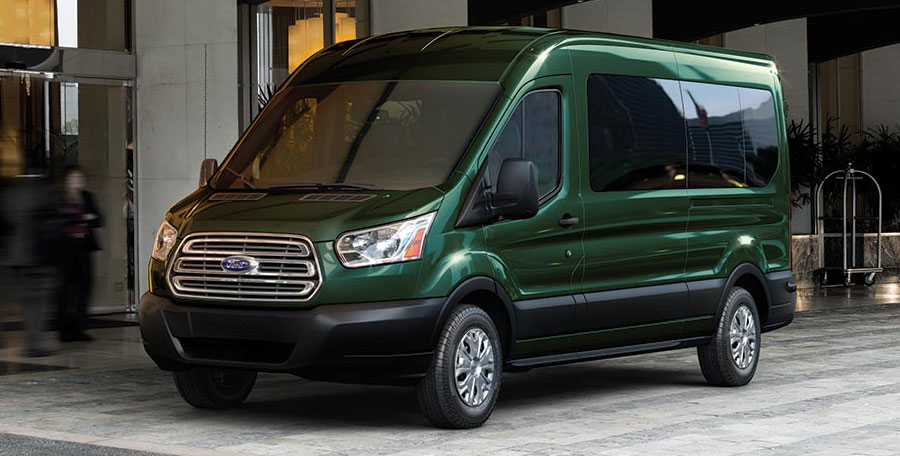 Transit Wagon XLT
For maximum passenger comfort, choose the Transit Wagon XLT. Standard cloth upholstery and carpeting give this commercial van mainstream appeal. Cruise control optimizes performance on the highway. Rear air-conditioning keeps passengers cool and content.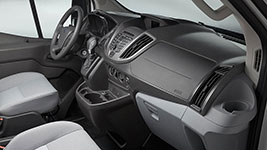 Comfortable, Stylish Cabin
In the Transit, everyone travels in total comfort.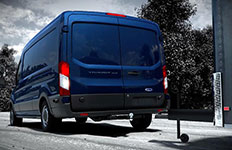 Premium Safety
Protect passengers with features like side airbags and stability control.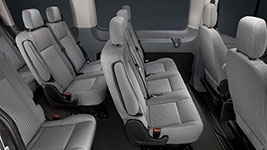 Configuration Options
Choose from a variety of models for the best company fit.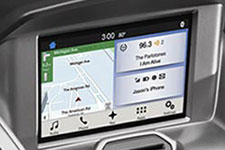 Sync 3
This brand new system keeps you informed, entertained, and connected.
Conclusion
The 2016 Ford Transit Wagon is among the best vehicles in its class. It transports up to 15 passengers in comfort and style. Infotainment technology delivers helpful information and endless entertainment. Modern safety features help you maintain top-notch passenger protection. On the road, engine options provide ample hauling power and modern fuel economy. Take a Transit Wagon for a test drive today.