2017 Ford C-Max vs Chevrolet Volt

The 2017 Ford C-Max and the Chevrolet Volt are two of the most impressive plug-in hybrid cars on the road today. Both deliver superb all-electric performance and revert to hybrid power when the battery expires. If you have a short commute to work, you can forgo gasoline altogether. Still wondering which model is right for you? Check out our side-by-side comparison to learn more.
2017 Ford C-Max vs Chevrolet Volt
Passenger Comfort & Support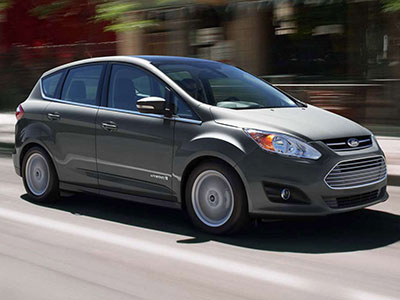 The 2017 Ford C-Max is our pick for interior refinement. The C-Max provides a tall, wagon-style body, with crossover-like height and premium passenger space. Luxuries, like lustrous leather upholstery and ambient lighting, give your C-Max an upscale vibe. Fill 19.2 cubic feet of cargo space with your daily necessities.
The Chevrolet Volt is a tasteful hatchback sedan that provides impressive support and comfort throughout your daily commute. The Volt can also be had with stylish leather upholstery and heated seats for increased comfort. Behind the rear seats, the Volt offers 10.6 cubic feet of cargo space.
All-Electric Range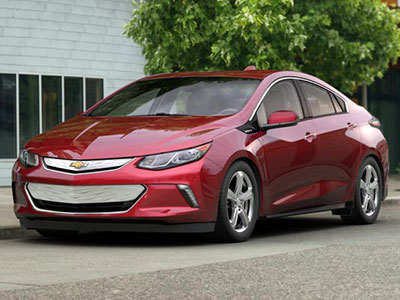 The Chevrolet Volt impresses with its plug-in power and overall driving range. It's all-electric range reaches 53 miles, which can cover your commute and then some. When the battery runs low on juice, the Volt switches to hybrid power, earning 43 city/42 highway mpg.
Of course, the 2017 Ford C-Max proved tough to beat. The C-Max Energi offers a 19-mile electric-only driving range, saving you big bucks at the pump. When the battery runs low, the C-Max Energi switches to hybrid power, earning 42/38 mpg.
Modern Tech Gear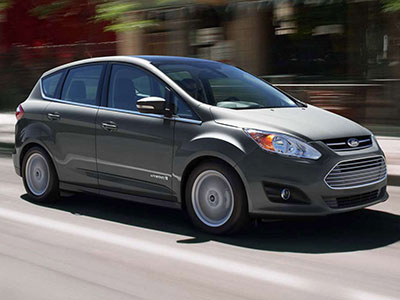 The 2017 Ford C-Max cabin is stocked with savvy gear designed to keep you connected on the go. The Sync 3 infotainment system supplies modern smartphone integration, so you can send voice-to-text messages or keep up with your favorite podcasts. The cabin's 110-volt, household-style power outlet really comes in handy when you need to charge your laptop from the highway.
When it comes to technology, the Chevrolet Volt isn't far behind. Its MyLink central infotainment system may not be quite as up-to-date as the newer Sync 3 system, but it keeps you connected with handy apps like navigation and satellite radio. As with the C-Max Energi, you can recharge the Volt battery via a 120-volt outlet or a dedicated 240-volt charging station.
Safety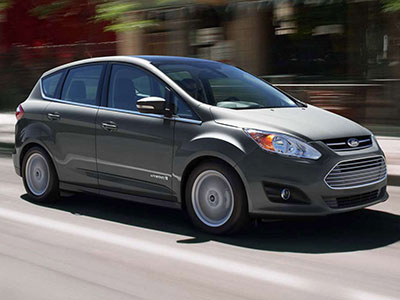 The 2017 Ford C-Max is our top pick for safety, because it offers a range of innovative features. Ford's MyKey technology gives you the power to set speed and stereo volume limitations for secondary drivers, like valets. The 911 Assist feature pairs with your smartphone to automatically call emergency services after a collision.
In terms of passenger protection, the Volt offers its own impressive lineup. OnStar emergency telematics helps you solve unexpected problems, thanks to features like on-demand roadside assistance. A wealth of airbags reduces passenger injury during a collision.
Learn More about the Ford C-Max

Both models are impressive in their own right, but the 2017 Ford C-Max is our overall favorite. Its plug-in power and performance helps you save plenty of money on gas. However, when you run out of battery power, there's no need to stop – the C-Max Energi simply switches over to hybrid power. Inside, the cabin is modern and comfortable, with everything you need to stay connected on the go. It also supplies all the latest safety gear for peace of mind on the highway. Take the C-Max on a test drive today!