2017 Ford Escape vs Hyundai Santa-Fe Sport

The popular 2017 Ford Escape and the Hyundai Santa Fe Sport compete for your attention with their family-friendly space and modern tech gear. Both are excellent on safety, too, giving you one less thing to worry about. Let's put them side by side to see which one comes out on top.
2017 Ford Escape vs Hyundai Santa-Fe Sport
Long-Haul Comfort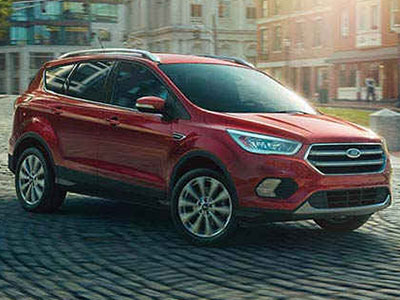 With roomy digs for up to five passengers, the Escape is ready to treat you to the family-friendly comfort you deserve. In addition to supportive front seats, the Escape supplies excellent visibility, which is a boon in rush-hour traffic. At night, the cabin's ambient interior lighting gives it a cool glow – and helps you locate nearly anything (including runaway toys) with minimal effort.
The Hyundai Santa-Fe Sport impresses in this category with an especially spacious backseat. However, its wide rear roof pillars can limit visibility, especially when you want to switch lanes on a busy highway.
Smartphone Integration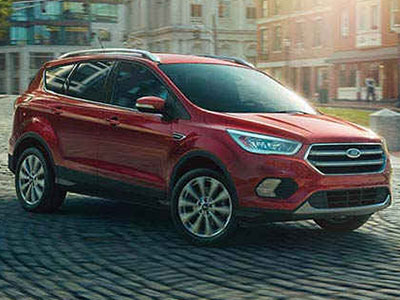 The Escape is the modern driver's choice. Apple CarPlay and Android Auto capabilities provide full-on smartphone integration, giving you the power to sift through phone apps on the Escape's central touchscreen. Though there's never an excuse to text and drive, the Escape takes the stress out of feeling disconnected by giving you the power to send texts via voice controls. And, naturally, you can stream all your favorite audio options, including Pandora radio stations, from anywhere.
When you upgrade to the Santa-Fe Sport's 7-inch touchscreen, you'll enjoy increased smartphone integration options. These also come with the optional 8-inch touchscreen with navigation, which enhances your ride with turn-by-turn directions. However, this technology costs extra. The premium 8-inch system comes with the top-tier 2.0T Ultimate model, and not everyone wants to go all-in on their family crossover. Choosing the Escape is an effective way to stay connected without breaking the bank.
Gas-Pump Thrift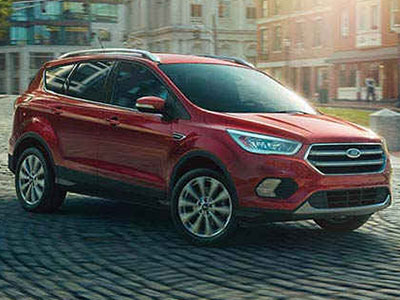 For extra savings at the gas pump, check out the Escape. It earns up to 23 city/30 highway mpg, effectively giving you the chance to spend more money on Sunday Funday outings.
The Hyundai Santa-Fe Sport's thriftiest engine option earns 21/27 mpg. Although that's pretty impressive for a sporty crossover, it won't save you quite as much money as the Escape.
Driver Safety Aids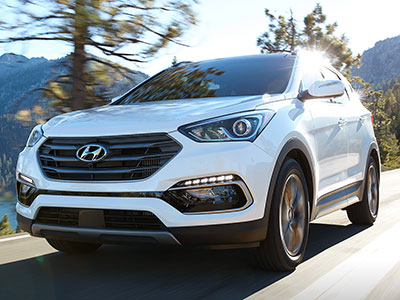 If parking isn't a high point on your resume, you're going to love the Santa-Fe Sport's 360-degre parking camera system. Its bird's-eye-view lets you ease this crossover into parallel spaces without a scratch. In crash tests, the Santa-Fe Sport's forward collision warning won a rare score of "Superior" from the Insurance Institute for Highway Safety. When it senses an impending crash, it can automatically apply the brakes to maximize safety for you and your family.
Still, the 2017 Ford Escape equips you with all the usual driver aids to help you avoid danger. The lane-departure warning system can intervene on your behalf, keeping you securely in between the proper lines. The rearview camera offers an expansive view of what's directly behind the Escape, so you don't run over any random obstacles, but you won't see all the way around you the way you can in the Santa Fe Sport.
Learn More about the Ford Escape

With its family-friendly accommodation and smartphone integration, the 2017 Ford Escape leaves the competition in the dust. Throughout your travels, you'll make the most of what you spend at the pump. This crossover is also big on advanced safety, helping you keep your family protected on the go. There's a reason why the Escape is so popular-it offers the full package at an affordable crossover SUV price.