2017 Ford Explorer vs Dodge Durango

Family-friendly classics like the 2017 Ford Explorer and the Dodge Durango double down with off-road capabilities and impressive towing performance. These models offer the means to get through the daily grind in absolute comfort and hit your favorite trails on the weekends. Which model is right for you? Check out our comparison guide to learn more.
2017 Ford Explorer vs Dodge Durango
Utility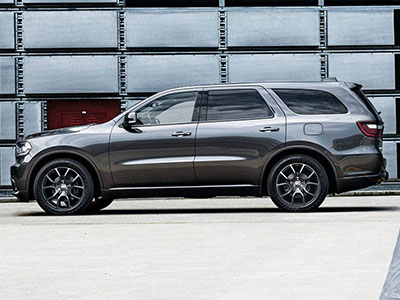 In this segment, the Durango is the top choice for towing performance. Properly equipped, it tows up to 7,400 pounds – making it a great pick for hauling your four-wheelers into the great outdoors. Add all-wheel drive to your Durango for increased performance in off-road settings.
Still, the Explorer holds its own here. Its all-wheel-drive system is an excellent companion as you make your way down dirt paths or up sandy hills. Properly equipped, the Explorer can tow up to 5,000 pounds – which is still plenty of heft for fishing boats and Jet Skis.
Family-Friendly Accommodations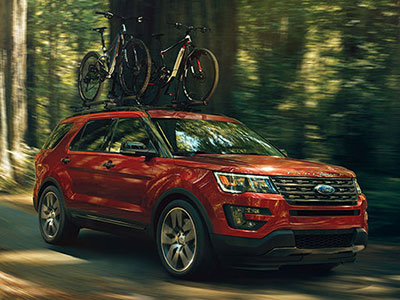 Here, the Ford Explorer turns up the charm. With roomy digs for up to seven passengers, it's an excellent choice for family outings of all shapes and sizes. If you crave a little extra panache, the Explorer delivers in a big way with upscale leather upholstery and modern creature comforts, like ventilated front seats.
The Durango's cabin also has its high points. Like the Explorer, it supplies comfy space for seven passengers. However, the cabin build isn't quite up to par with that of the Explorer, which sports a soft-touch dash and high-quality materials.
Passenger Protection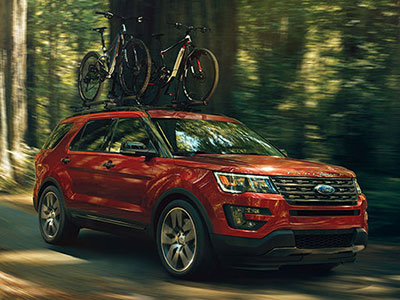 After you strap your kids into their car seats, you want to know that your vehicle is going to deliver the best in passenger safety. That's why you should opt for the Explorer, which earned a perfect five-star rating for overall protection in government crash tests. The Explorer also supplies a bevy of innovative driver aids to help you avoid danger. The Curve Control feature, for example, monitors speed carried into a corner and automatically slows the Explorer down whenever necessary.
Like the Explorer, the Durango offers the industry standard safety gear. Its rearview camera comes in handy when you're backing out of – or into – unfamiliar spaces. However, it only earned four stars in government crash tests. If you're worried about safety equipment, the Ford is your better bet.
Fuel Economy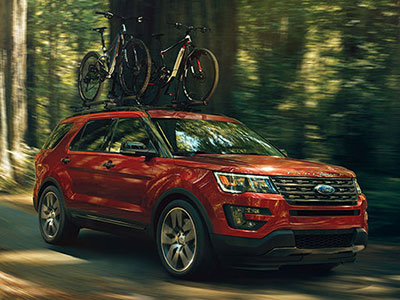 When you want to save a few bucks on gas, the Explorer aims to please. It earns up to 19 city/27 highway mpg, but it's also big on power, so you can surge into highway traffic with complete ease.
The Durango is highly competitive here, earning up to 19/26 mpg. Still, it trails behind the Explorer's best figures. If you want to tow maximum loads, however, EPA ratings sink to 14/22 mpg.
Learn More about the Ford Explorer

Both of these SUVs are exceptional in their own way, but the 2017 Ford Explorer is the all-around winner, giving families everything they need in a sports utility vehicle. To start, the Explorer tows your favorite toys with ease. High-tech safety gear helps you maintain strong standards in passenger protection. The Explorer's cabin comfort is part of its continuing appeal, supplying big families the kind of spread-out space they crave.