2017 Ford F-150 Raptor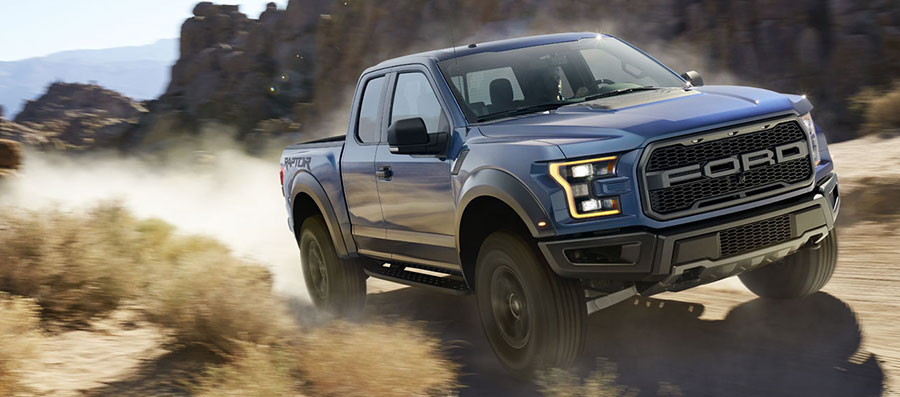 The 2017 Ford F-150 Raptor is set to be the last word in off-roading pickup trucks. At its release, it'll offer a new V6 engine that's even more powerful than the latest model's V8. Ford has also upgraded everything that makes this pickup one of the greatest off-roading vehicles of all time, including the suspension. A new terrain management system boosts performance in any ecosystem. The Raptor has been completely redesigned and will also introduce a new frame and a wide range of new features.
2017 Ford F-150 Raptor
The Ford F-150 has long been America's best-selling pickup truck, thanks to its impressive towing and hauling capabilities. Recent years have also seen rich interior improvements, with upscale features to rival luxury SUVs. The 2017 Ford F-150 Raptor delivers these features plus some of the most rugged off-road capabilities ever seen. The Raptor tackles mountain terrain as easily as it skims over desert sands.
As you might expect, the Raptor's extreme talents are paired with some impressive hardware. The 2017 model's all-new frame includes aluminum body panels to make the F-150 lighter – but still strong – on its feet. The special off-road-ready frame will be the toughest in Ford's F-150 lineup.
The 2017 Ford F-150 Raptor's unique suspension comes with a shiny new terrain management system, giving you the power to enhance performance over a variety of landscapes. Choose "Weather" for the best ride over rain, snow, and ice. Select "Baja" for high-speed desert cruising and cacti-trampling. In addition to terrain management, a new revised transfer case delivers greater traction at both high and low speeds, effectively increasing safety. Raptor-specific Fox shocks utilize larger remote reservoirs to increase suspension travel.
The F-150 Raptor also gets a unique turbocharged engine that will give the competition something to aspire to in terms of capability and fuel efficiency. Although we know it will use a 3.5-liter V6, Ford has not yet released exact output ranges. However, this V6 is expected to produce greater power than the current model's top-notch V8 engine. As with many of its other features, the Raptor's engine will be exclusive for the model. The V6 engine will be paired with a 10-speed automatic transmission designed to handle heavy loads of torque. A new dual-exhaust system maximizes horsepower.
Finally, the 2017 Ford F-150 Raptor comes standard with 17-inch wheels and upgraded off-road tires to deliver both impressive style and top-notch off-road performance.
Ford has debuted its 2017 extended cab Raptor at a number of auto shows. Although the spacious SuperCrew model has yet to be seen, it's widely expected as a Raptor option
The 2017 Ford F-150 Raptor is expected to go on sale in fall of 2016. Pricing information is not yet available, but this off-road-ready pickup is estimated to cost around $46,000.
2017 Ford F-150 Raptor Revealed at 2015 Detroit Auto Show
2017 Raport Spied High Altitude Emission Testing

Footage of the 2017 Ford F-150 Raptor begins at 0:37.
Conclusion
The 2017 Ford F-150 Raptor is designed to appeal to off-road aficionados. Adventurous drivers can head down just about any trail, thanks to a rugged range of Raptor-specific features, including terrain management. The upcoming V6 engine will outperform the current V8. Inside, passengers can expect high levels of comfort and convenience with high-tech infotainment features and spacious seating.