2017 Ford F-250 SRW

For exclusive heavy-duty utility and the kind of torque that only a turbocharged diesel engine can provide, sign up for the newly redesigned Ford F-250 SRW. The new high-strength aluminum-alloy design means a lighter ride, which leads to increased maneuverability in a tight spot. Moreover, it means the F-250 SRW takes towing and hauling capabilities to a new level. The upgraded model also includes a wealth of class-exclusive tech features specially designed to maximize workday productivity.
2017 Ford F-250 SRW
The newly redesigned 2017 Ford F-250 SRW is much more than a heavy-duty workhorse. This year, Ford dreamt up some class-exclusive features designed to get you through your day with less stress. The Ultimate Trailer Tow Camera System, for example, includes seven cameras, and it can be used to easily line up a trailer with the F-250 hitch. The system also provides a top-down look at the F-250, so you can make your way through crowded work sites without scratching your paint job – or anyone else's. Use the front camera's 180-degree perspective to look around corners and spot any traffic headed your way. When you choose the long-bed 2017 Ford F-250 SRW, you also get the new 48-gallon fuel tank, which gets you farther down the highway with less time-consuming stops.
When you're shopping for your 2017 Ford F-250 SRW, you'll enjoy wide-ranging options – like whether you want the roomy two-row crew cabin or the cargo-friendly long bed. Then there's engine power. Under the hood, the F-250 comes standard with the 6.2-liter gas-powered V8. This year, Ford ups the ante with 385 horsepower and 430 pound-feet of torque. However, if you want a colossal heavy-duty experience – like the ability to tow up to 18,000 pounds – choose the 6.7-liter turbodiesel V8. Like its gasoline-powered contemporary, this engine is newly tweaked for increased power: 440 horses and an incredible 430 pound-feet of torque. With it, towing super heavy construction supplies or mechanical equipment is a breeze.
In addition to heavy-duty towing and hauling, the 2017 Ford F-250 SRW is an excellent pick for off-road adventures – especially when you add four-wheel drive into the mix. With its solid handling and impressive maneuverability, it's easy to roll your F-250 through rocky terrain. Back on the pavement, the F-250 feels superbly confident. That's thanks in part to its new aluminum-alloy body panels, which increase your ability to take on tight corners and traverse crowded alleys.
Finally, the 2017 Ford F-250 SRW puts your comfort and support on top. Whether you prefer a work-friendly ride – think easy-to-clean, comfortable cloth upholstery and vinyl floor covers – or a more upscale option, this heavy-duty truck has you covered. Those who want to perform rugged tasks and, at the end of the day, revel in luxury, will love the F-250's multi-contour front seats. These offer ventilation on hot days, heaters for cool ones, and a massage feature for when you feel like the last thing you want to do is drive home in rush-hour traffic.
F-250 SRW Platinum
Your 2017 Ford F-250 SRW Platinum does much more than tow and haul heavy-duty loads – it gets you around in style. It stands apart from other models, with LED headlights, foglights and taillights that will attract envious looks on the highway. Settle into the multi-contour front seats for sublime comfort and support – they'll even give you a massage when you're stuck in traffic.

Rugged Towing & Hauling
Tow and haul pallets, construction supplies, and even your family camper.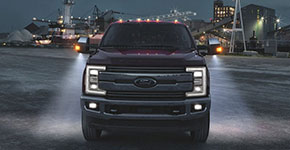 Shining LED Style
Upgrade your night-vision with LED headlights, taillights, and foglights.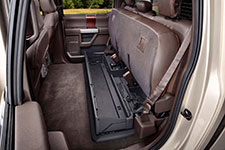 Lockable Under-Seat Compartment
Crew cabins keep your personal items safely out of sight.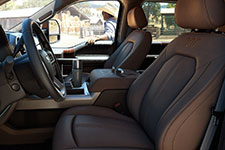 Refined Interior
Your spacious leather seats are more than comfortable – they'll give you a massage, a feature normally limited to top-of-the-line luxury vehicles.
Conclusion
Your 2017 Ford F-250 SRW is the ultimate heavy-duty transporter. Its all-new design combines a lightweight body with high-strength underpinnings, giving you the ability to tow and haul more than ever before. The newly redesigned F-250 SRW is also your pick for off-road adventure. With four-wheel drive, the F-250 is all about exploring mountain terrain and sandy dunes. Inside, the F-250 SRW is as work-friendly or luxurious as you want it to be – with easy-to-clean vinyl floor coverings or plush leather upholstery. Tech features, like the Ultimate Trailer Tow Camera System, make your workday go by like the breeze.