2017 Ford F-250 vs Chevrolet Silverado 2500 HD

The 2017 Ford F-250 and the Chevrolet Silverado 2500HD are among the most popular heavy-duty pickup trucks on the road. Both provide world-class towing and hauling capabilities. They also deliver a variety of cabin and bed configurations and ample passenger comfort. Before you decide which heavy-duty truck speaks to your needs, check out our comparison guide.
2017 Ford F-250 vs Chevrolet Silverado 2500
Power & Performance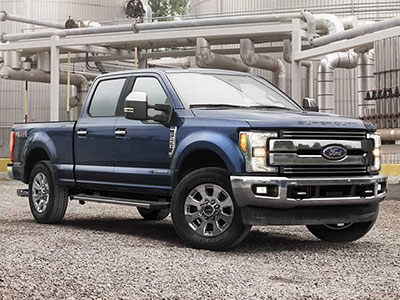 The 2017 Ford F-250 takes the lead here. When you choose the 6.7-liter V8 diesel engine, the F-250 generates 440 horsepower and 925 pound-feet of torque. Properly equipped, an F-250 with this engine can tow up to 18,600 pounds.
The Chevrolet Silverado 2500HD was also designed to maximize your workday. Under the hood, a 6.0-liter turbodiesel V8 engine churns out 445 horses and 910 pound-feet of torque. With a fifth-wheel setup, this model can tow up to 15,900 pounds.
Utility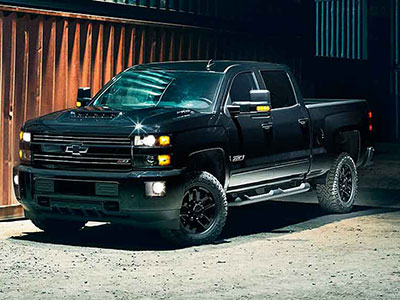 This race was a close call, but the Chevrolet Silverado 2500HD got our attention with its many work-friendly features. Use the 110-volt AC power outlet to charge power tools and laptops from remote worksites. Fog lamps and a rear-window defogger give you a crisper outlook on damp mornings.
Of course, the 2017 Ford F-250 proved itself a tough competitor. Add fifth-wheel or gooseneck towing equipment to maximize performance. The dual-rear-wheel setup comes in handy when you need to tow and haul substantial loads on a regular basis.
Interior Comfort & Tech Features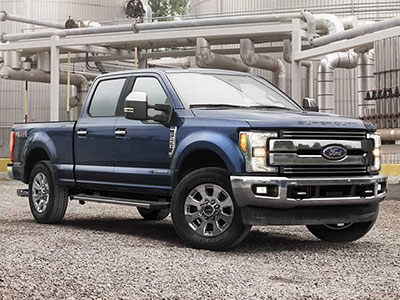 In terms of passenger comfort, the 2017 Ford F-250 stands apart from competitors. Choose between a two-door regular, four-door extended, and four-door crew cabin for the passenger accommodations you prefer. This year, all cabin options are longer, offering increased legroom. A brand new interior design treats you to new levels of style and luxury. With the Sync 3 infotainment interface, smartphone integration is a snap.
The Chevrolet Silverado 2500HD provides similar cabin options, so you can tailor space to suit your needs. Head- and legroom is abundant, even when you've got a full passenger load. Use the central MyLink infotainment center for everything from weather updates to turn-by-turn navigation.
Safety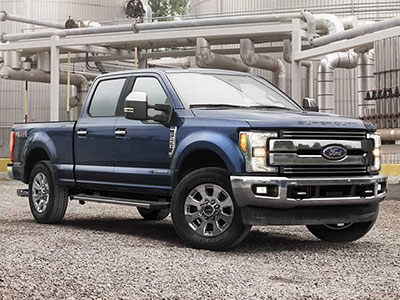 Once again, the 2017 Ford F-250 is our first choice. Driver aids, such as forward collision mitigation, monitor your surroundings to help you avoid dangerous situations. The new adaptive steering technology provides greater steering assistance at lower speeds, helping you maintain sharp control over performance.
With its own range of high-tech safety gear, the Chevrolet Silverado 2500HD isn't far behind. Front and rear parking sensors helps you navigate tight spots. The rearview camera enhances your ability to avoid any obstacles in your path. Set speed limitations with the new Teen Driver feature.
Learn More about the Ford F-250

Both heavy-duty models supply the wherewithal to tackle major workloads, but the 2017 Ford F-250 is the real star here. Choose between gas and diesel power for the performance you crave. No matter which cabin and bed combination you choose, you can count on generous head- and legroom. Innovative tech features, like the Sync 3 infotainment system, keep you connected throughout your workday. The F-250's robust safety gear means maximum passenger protection. Take the F-250 out for a test drive today!