2017 Ford F-250 vs Ram 2500

The 2017 Ford F-250 and the Dodge Ram 2500 are among the most impressive heavy-duty pickup trucks available today. They provide the kind of towing and hauling capabilities that lesser trucks simply can't handle. Moreover, these models are also big on modern passenger comfort and high-tech infotainment gear. If you're wondering which truck is right for you, check out our comparison guide.
2017 Ford F-250 vs Ram 2500
Power & Performance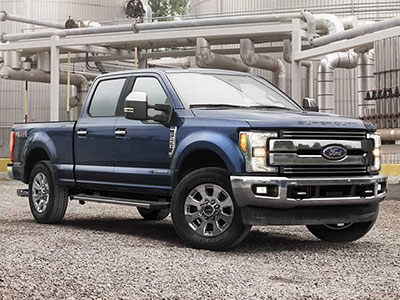 This race was a close one, but the 2017 Ford F-250 is the better choice for towing and hauling capabilities. Choose the 6.7-liter diesel V8 for maximum performance. It generates 440 horsepower and 925 pound-feet of torque, giving you the power to tow up to 18,600 pounds.
With the Dodge Ram 2500, you can choose the 6.7-liter turbodiesel V8 engine for up to 370 horses and 800 pound-feet of torque. Depending on configuration, the Ram 2500 tows up to 17,980 pounds. As with the F-250, you can add four-wheel drive to the Ram 2500 to enhance performance over rugged terrain.
Passenger Accommodations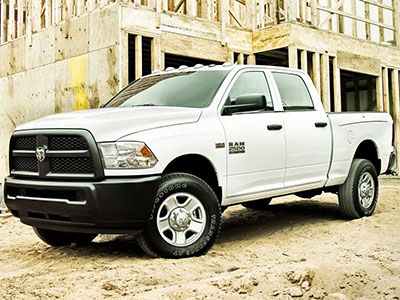 Inside, the Dodge Ram 2500 cabin treats you to high levels of style and substance. With upscale leather upholstery, you'll enjoy maximum comfort on your way to work. Choose between regular, extended, and crew cabins for the passenger space you require
Of course, the 2017 Ford F-250 follows close behind. This year, it offers larger cabin options, so everyone enjoys enhanced legroom and overall comfort. The F-250 also supplies plenty of luxury features, such as heated seats, so you'll never feel like you're missing out on modern creature comforts.
Utility & Convenience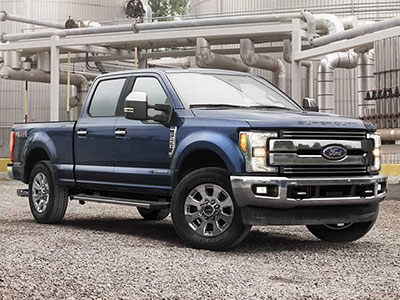 The 2017 Ford F-250 is stocked with innovative features designed to help you tackle modern issues. Plug power tools and laptops into the 110-volt, household style power outlet to keep them charged and ready for action. LED cargo box lighting means you can finish the job, day or night.
Of course, the Dodge Ram 2500 also has a few tricks up its sleeve. The heated steering wheel keeps your hands warm on frosty days. Crack the rear-sliding window open for a little extra air.
Safety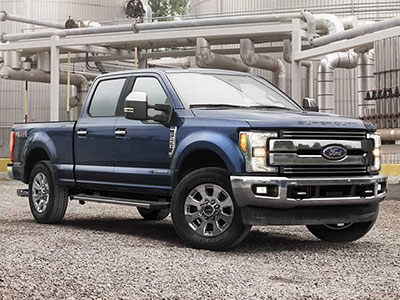 Here we like the 2017 Ford F-250. Advanced driver aids, such as the lane departure warning, monitor the road around you and alert you to danger. The forward collision mitigation system can prime the brakes for maximum stopping power when you need it most.
Like the Ford F-250, the Dodge Ram 2500 is outfitted with a variety of airbags to protect against passenger injury during a collision. Hill descent control helps you maintain a controlled ride as you move heavy loads down steep grades. The tire pressure monitoring display helps you keep an eye on your current psi, thereby helping you maintain ideal performance.
Learn More about the Ford F-250

Both models are big on heavy-duty power, but the 2017 Ford F-250 has the overall edge. Use your F-250 to tow and haul serious weight without a hitch. Its modern, work-friendly features are just what you need on a remote worksite. The cabin supplies plenty of space and support, making your daily commute a snap. High-tech features, like the Sync 3 infotainment system, supply the smartphone integration options you crave. Modern safety gear provides substantial protection. Take the F-250 on a test drive today!