2017 Ford F-450 DRW

To move loads that lesser vehicles balk at, you need the 2017 Ford F-450 DRW pickup truck. This dual-rear-wheel, heavy-duty model brings the heat with best-in-class tow ratings. And that's not all – the F-450 Super Duty supplies revolutionary equipment that makes it the most attractive heavy-duty truck on the road.
2017 Ford F-450 DRW
The ways in which the 2017 Ford F-450 DRW stands apart from other heavy-duty trucks are almost too many to count. That's even truer this year – because this newly redesigned heavy-duty truck is pulling out all the stops. In addition to best-in-class tow ratings, the brand-new aluminum body panels make the F-450 lighter, and therefore easier to maneuver through crowded parking lots or busy city streets. Add the adaptive steering system, and you've got an incredibly composed ride on your hands. The adaptive steering system is specially designed to tighten steering responses at low speeds, increasing precision when you need it most. However, it eases up on the highway, offering greater stability as you tow heavy loads at high speeds.
In addition, Ford has retooled the 2017 Ford F-450 DRW power supply to deliver superlative performance. Under the hood, the turbocharged 6.7-liter diesel V8 engine whips up 440 horsepower and a colossal 925 pound-feet of torque. With a conventional trailer setup – to move, say, your family camper – you can tow up to 21,000 pounds. If your trailer is configured with a fifth wheel, tow ratings max out at an incredible 27,500 pounds. For increased stability and best-in-class figures, add a gooseneck trailer into the mix. Properly equipped, your F-450 can tow up to 32,500 pounds – more than any other heavy-duty truck. If you've got heavy construction equipment or farm animals to move, there's no better option.
Besides offering class-leading power and performance, the 2017 Ford F-450 DRW sets the tone for interior comfort. This year, the newly redesigned cabins are roomier than ever. In the crew cabin, for example, you'll see 3 inches of increased space, which may not sound like a lot, but ends up meaning impressive legroom for rear-seat passengers. It's easy to match the F-450 to your daily lifestyle. If you plan to spend most of your day at unpaved construction sites, the easy-to-clean vinyl upholstery and floor coverings are designed to make your life simpler. When you need a heavy-duty truck that tows and hauls heavy loads but also impresses the occasional client passenger, check out the F-450's high-quality leather upholstery and heated multi-contoured seats with massage.
Tech innovations make the 2017 Ford F-450 DRW one of the most impressive heavy-duty trucks on the road. Starting with the Ultimate Trailer Tow Camera System, your workday just got much simpler. This system uses seven cameras to, among other things, give you a bird's eye view of the F-450, helping you see where you have wiggle room in a tight spot. You can also use the system to keep an eye on the cargo bay as you make your way down the highway. The rearview camera makes it easier to hitch a gooseneck trailer, giving you maximum visibility.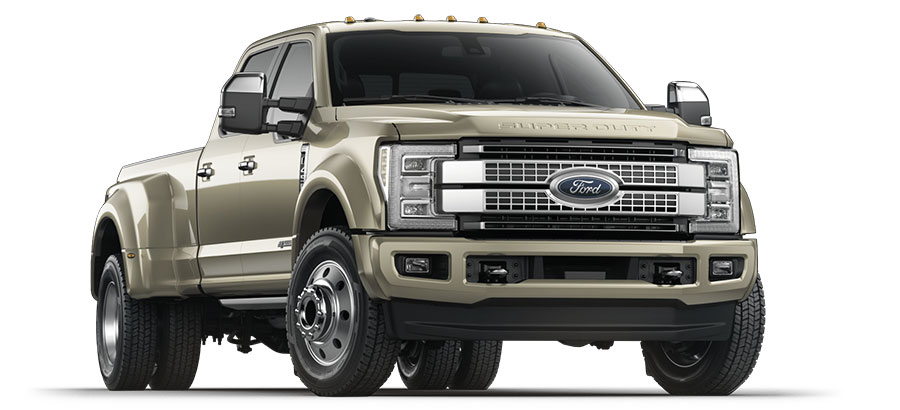 F-450 SRW Platinum
Who says your rugged ride can't be equally luxurious? The 2017 Ford F-450 DRW Platinum is your final stop for a fully loaded cabin and sumptuous details, like a leather-and-wood-trimmed heated steering wheel. If you like the sharp modern look and pristine visibility you get with LED lights, you'll love the Platinum's LED headlights, foglights, and taillights. When you're stuck in traffic after a long day at work, the F-450 Platinum's multicontoured front seats will give you a massage.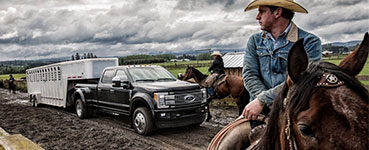 Best-in-Class Towing
When it comes to towing heavy loads, the F-450 steamrolls its competitors.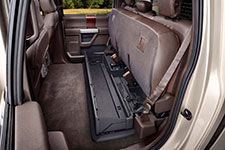 Lockable Under-Seat Storage Box
The crew cab's interior storage is the perfect place to stow valuables out of sight.

Configurations
The Super Duty offers more configurations than any other heavy-duty truck.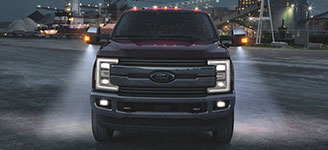 LED Lighting
With LED headlights, foglights, and roof markers, the F-450 has never looked so good.
Conclusion
The 2017 Ford F-450 DRW is the ultimate Ford Super Duty – with dual-rear wheels and massive towing capabilities, there's no better way to tackle titanic workloads. This year, the newly redesigned F-450 includes class-exclusive aluminum body panels, which improve maneuverability and overall towing and hauling capabilities, with a class-leading 32,500 towing capacity when properly equipped. Raw power meets class in this incredibly adaptable heavy-duty truck that can tackle whatever challenge you throw at it and keep you and your passengers comfortable as it does.