2017 Ford Flex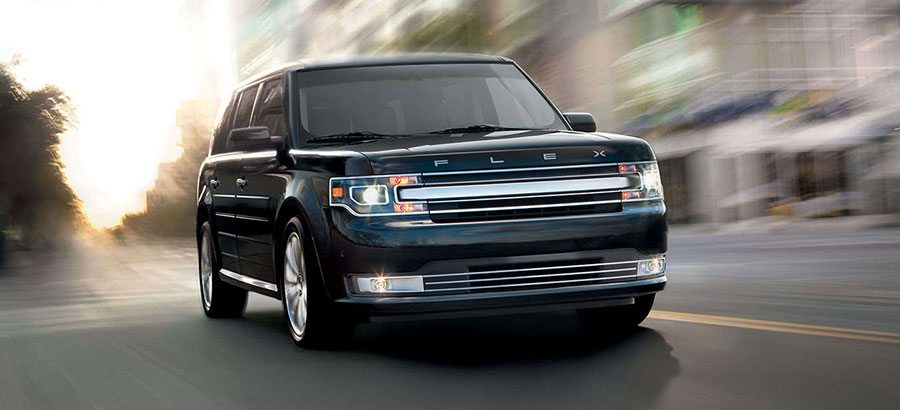 Anyone looking for a seven-seater has taken a look at everything from a minivan to a full-size SUV to a crew cab truck, and maybe even a ten-passenger van. But what are you really looking for? If you want a vehicle that offers a spacious interior with thoughtful additions, as well as a design that will set you apart in a virtual sea of popular crossovers, the 2017 Ford Flex is the vehicle for you.
2017 Ford Flex
Because gas prices have been happily low, and because the allure of the minivan has worn off among today's vehicle buyers, the crossover SUV market has been explosively popular. With carpool lines and commuter lots full of vehicles that all seem to sort of blend together, the 2017 Ford Flex takes aim at not just the crossover market, but the full-size SUV and minivan market as well-and does it with style. With room to seat seven, it offers as much seating room as a minivan but with none of the style compromise as it offers luxurious options and smart additions that keep drivers and passengers happy. Second row seating can come standard as a bench, with a 60/40 split that automatically folds to either give extra access to the third row or offer additional cargo room, or can be upgraded to reclining bucket seats like many upgraded minivans and SUVs. The third row can be stored in the floor to expand the cargo area to more than 43 cubic feet, with an upgraded option to store it with the one-touch PowerFold and Tumble option. The Flex offers exactly what you would expect in a large minivan or full-size SUV, but with a sleek exterior that screams nothing but luxury.
Some people don't mind having a vehicle that looks like everyone else's-in fact, for some people that is an attractive idea. People who like the 2017 Ford Flex are not people who want to blend in. The squared-off style of the Flex appeals to those who want to drive down the road and get attention, with chrome accents all along the body, dual exhaust tips, and grooved door panels. The design speaks sophistication and uniqueness, not run-of-the-mill or standard. Privacy glass on rear doors and liftgate windows, along with power heated mirrors with integrated blind spots mirrors, come standard and elevate the design to luxury status. The 2017 Ford Flex moves down the road with confidence, because it's designed to be completely different.
That focus on distinction comes through in the convenience features as well. One of the things we love most about the Flex is how thoughtful the features are for drivers and passengers that live busy, on-the-go lives. Four PowerPoints allow your devices-and those of your passengers-to be charging as you drive, and TEN cup holders more than match the capacity of your Flex. Grocery bag hooks and cargo floor tie downs in the cargo area mean that open cargo area can contain whatever you bring it, while remote keyless entry and illuminated entry with theater dimming lighting make it much easier to get in and out while in a hurry or under less than ideal circumstances (thunderstorm, anyone?). Even things like reading lights in both passenger rows make sure that everyone-not just those at the front of the vehicle-stay comfortable and considered during any ride. We especially love the impressive multi-panel vista roof, which offers THREE separate moonroof panels across the top of the 2017 Ford Flex, creating a sense of spaciousness that you just won't see in other vehicles in this class.
The 2017 Ford Flex feels sporty, with a six-speed Select Shift automatic transmission with a shifter button activation, to let you feel like you're driving a retro surf wagon or channel your inner race car driver, and offers 17-20 inch wheels depending on your preference. The gas mileage is about standard for a vehicle this size, averaging about 19 mpg with a range of about 350 miles before you need to fill up; you'd be hard pressed to find a 7-seater minivan that does much better. The Flex comes standard with a front-wheel drive option, but all-wheel drive is available, a good choice for those who live in typically rainy or icy conditions as it adds additional traction. The wide variety of Ford safety features also comes standard, including safety cage construction, a safety canopy system, and the personal safety system which monitors and deploys airbags in the event of a collision. Add a standard rear view camera with grid lines to help you guide your long, lean Flex out of tight spots an you've got the performance tools you need to truly enjoy your ride.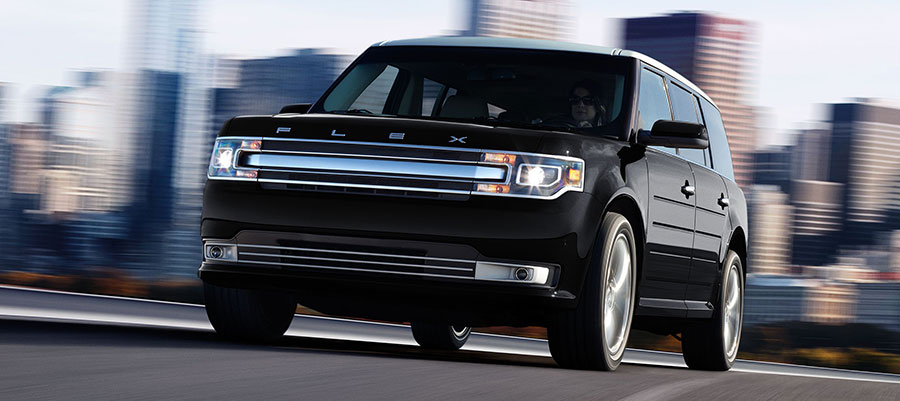 Flex Limited
The Limited edition of the Flex is the top trim, featuring EcoBoost, an automatic transmission with paddle shifters rather than a button option, all-wheel drive, and 19 inch wheels. You'll enjoy the supple leather seats and the 12-speaker Sony sound system. Upgraded wood trim, fog lamps, a battery management system, and an 110-volt outlet all round out the tricked out Ford Flex Limited.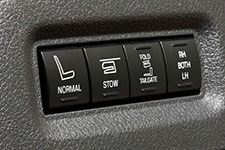 One-touch Power Fold and Tumble
Quickly fold the third row into the floor with the push of a button with this time-saving feature.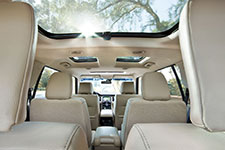 Multi-panel Vista Roof
Three rectangular panels give each row in the Flex a beautiful view of the outdoors, making the interior look as spacious as it already feels.

Thoughtful Features
Ten cupholders, three rows of reading lights, four Power Points, and illuminated entry work behind the scenes to make every trip more enjoyable for everyone.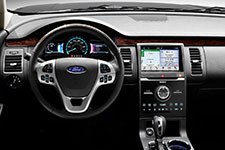 Six Speed Select Shift
Channel your inner road warrior with the shifter button option or, on the Limited, shifter paddles.