2017 Ford Flex vs Dodge Durango

The 2017 Ford Flex and the Dodge Durango are much more than typical three-row crossover SUVs – they attract rugged drivers with their towing prowess and turbocharged power. Which crossover is right for you? That depends on what kind of driver you are. Check out our comparison guide to learn more.
2017 Ford Flex vs Dodge Durango
Rugged Performance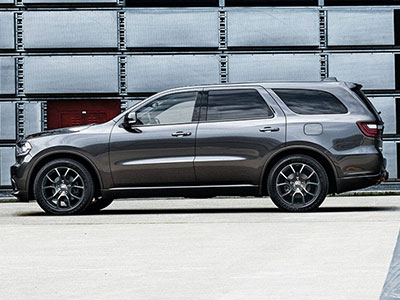 The Durango's main attraction is its rugged ride, which gets especially adventurous when you add the all-wheel-drive system with the low-range transfer case. This technology improves off-road precision, so you can take on truly rugged terrain like mountain trails and desert runs. The Durango also tows more than most, moving up to 6,200 pounds of boat to your favorite fishing spot.
The 2017 Ford Flex is designed more for on-road safety, with an all-wheel-drive system that enhances traction over icy roads. However, it does supply some rugged capabilities, like its ability to tow up to 4,500 pounds. The Flex handily hauls your Jet Skis and dirt bikes around, so fun and adventure is always just around the corner.
Interior Comfort & Convenience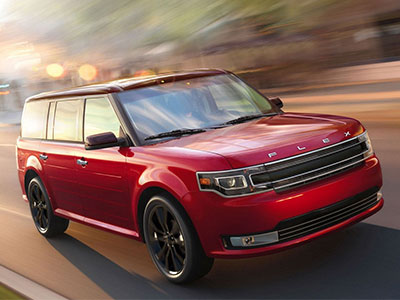 Modern drivers can't help but love the Flex's front seats, which supply wide, supportive cushioning for everyday, long-haul comfort. The Flex is also unique in that it delivers three rows of adult-friendly space, so you can transport the whole gang to the campsite in one vehicle.
The Durango is equally road-trip ready, with the head and leg room you need to make happy memories. However, with all the seats in place, the Durango has slightly less cargo space than the Flex, which may limit the supplies you can bring on your next excursion.
Safety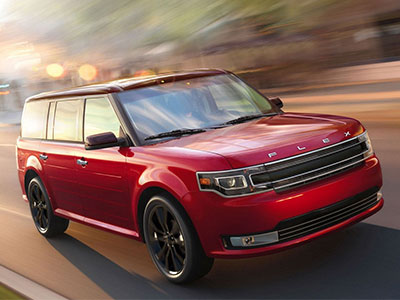 Innovative safety features set the Flex apart from other models in this segment. For example, inflatable rear seatbelts spring into action during a collision, distributing crash force to reduce head and neck trauma. The Flex's MyKey system is a prize for parents, who can use it to set speed limitations for newbie teen drivers. It effectively acts as a chaperone when your kids are out on the town.
The Durango's seatbelts don't inflate, but they'll keep you secure when it matters. Like the Flex, the Durango is stocked with airbags designed to maximize passenger protection, including full-length side curtain airbags. Both models also sport a rearview camera, so you can spot any obstacles in your path. It's the few additional options on the Flex that gives it the advantage in this category.
Technology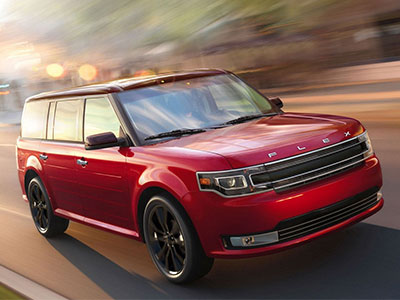 The Flex's Apple CarPlay and Android Auto capabilities put it ahead of the curve. These days, everyone has a smartphone and everyone wants to stay connected on the go. This technology lets you do just that – even while you've got both hands on the wheel and your eyes on the road ahead. Use voice controls to send hands-free texts or search through your music collection in a safe manner.
With the Dodge Durango, the central Uconnect system includes Bluetooth phone and audio capabilities, so you can make calls on the go. However, without Apple CarPlay and Android Auto to project smartphone apps directly onto your central touchscreen, you're not getting the latest in smartphone integration technology and don't have as many hands-free options.
Learn More about the Ford Flex

When you want a big crossover SUV that's well suited to the trials and tribulations of modern family life, go with the 2017 Ford Flex. Its wagon-style body is exactly what you need when you want to load a cabin full of passengers and their cargo with plenty of headroom to spare. With towing capacity as well, the Flex is the total package.