2017 Ford Fusion

The 2017 Ford Fusion is a premium mid-size sedan that's known for its world-class performance, safety standards, and tech features. Inside, the Fusion offers sleek, modern comfort and impressive passenger space. High-tech safety systems strive to keep you protected in any situation. On the road, the Fusion's powertrain options deliver ample power and maximum fuel economy. This year, the Fusion introduces an athletic new engine to amplify performance.
2017 Ford Fusion
In terms of all-around likability, the 2017 Ford Fusion is a best-in-class option. On the road, it supplies proficient power, sharp steering, and responsive handling. Choose from four engines for the performance you prefer. This year, the Fusion's turbocharged, 2.0-liter four-cylinder engine is back with 240 horsepower and 270 pound-feet of torque. You'll love how quick it gets you up to speed from a full stop. Add all-wheel drive to enhance performance in rainy or snowy weather. If you crave even greater performance, check out the all-new turbocharged, 2.7-liter V6 engine. It increases output to 325 horsepower and 350 pound-feet of torque for an incredible ride.
Besides world-class power, the 2017 Ford Fusion provides excellent safety standards. High-tech systems, including forward collision warning and blind spot alert, actively monitor your surroundings and alert you to danger. The driver drowsiness system comes in handy during long trips; it scans you for signs of inattention and lets you know when it's time to pull over and rest. Ford's MyKey system lets you set speed and stereo volume limitations for teen drivers. The inflatable rear seatbelts offer extra cushioning during a collision.
Inside, the Ford Fusion has never looked so good. Its sleek, clean-cut interior design sets a luxurious tone. Both rows of seating are big on passenger space, with ample head- and legroom for long trips. You can also count on plush, supportive cushioning and easy access to important controls. The trunk supplies 16 cubic feet of cargo space for your favorite sporting goods and everyday items like groceries.
The 2017 Ford Fusion also impresses with its modern tech lineup. Convenience features like keyless entry and ignition save you a lot of time overall. The all-new Sync 3 infotainment system links to your smartphone to deliver handy features like hands-free calling and text messaging. It also provides important apps like navigation and weather, keeping you up to date on your current surroundings. Sync 3's voice-recognition software means you can access options without looking away from traffic. The 8-inch LCD touchscreen lets you use smartphone-like gestures, including swipe and pinch-to-zoom. If you like to travel with a variety of devices, you can keep them charged via the Fusion's USB ports and 110-volt, household-style power outlet.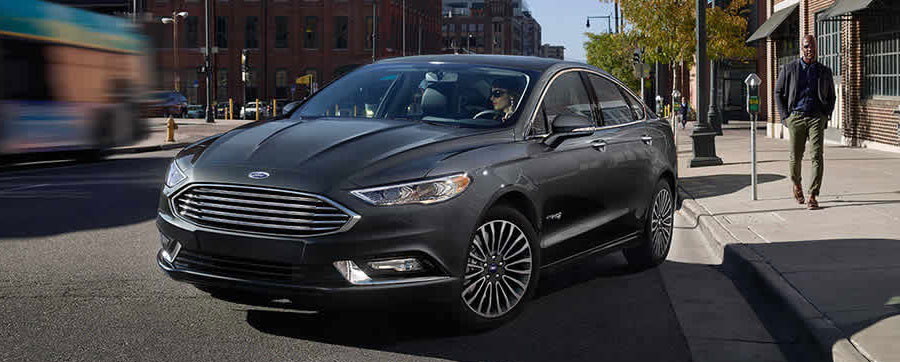 Fusion Titanium
For the last word in passenger luxury and performance, check out the Ford Fusion Titanium. In addition to coming with just about every passenger comfort and convenience feature – including leather upholstery and Sync 3 infotainment – the Titanium gives you the turbo 2.0-liter engine for premium performance.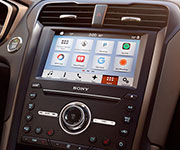 Sync 3 and Sync Connect
Infotainment features and smartphone integration for the modern driver.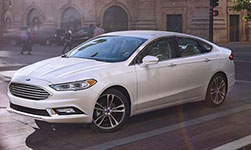 Sleek Exterior Style
The Ford Fusion has never looked so good.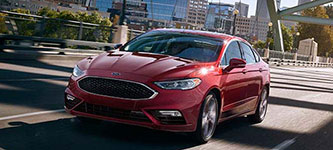 EcoBoost Power
On the road, the Fusion combines a solid performance with modern fuel economy.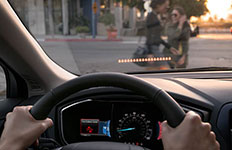 Pre-Collision Assist
If this system detects an impending crash, it actively takes steps to keep you safe.
Conclusion
It doesn't get much better than the 2017 Ford Fusion, especially when it comes to passenger protection and on-road performance. Inside, the Fusion is handsome and refined, with a long list of comfort and convenience features. You'll love the Fusion's safety suite, which keeps you protected and increasingly aware of your surroundings. Finally, the Fusion's engine lineup treats you to abundant power and excellent fuel economy. Test drive the Fusion today!