2017 Ford Fusion vs Honda Accord

Your available midsize sedan options can feel overwhelming–where should you start? If you're wise, two of the top performers will be on your list: the 2017 Ford Fusion and the 2017 Honda Accord. Take a look at this side-by-side comparison to see which vehicle is your best choice.
2017 Ford Fusion vs Honda Accord
Exterior and Interior Styling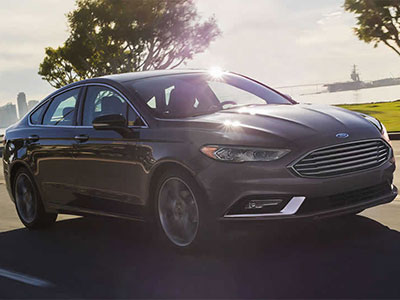 The Ford Fusion has gotten an all new look for 2017, styling that is both sleek and contemporary.Opt for two new available sport and luxury packages to give your Fusion style that is sure to be noticed, inside and out! Features like a V-6 sport grill, cooled leather seats, and 19-inch premium wheels make the Fusion really stand out in the crowd. On the inside, it's the little details that get noticed, like the rotary shifter that combines practicality with fun.
In contrast to the Fusion's new look, the 2017 Honda Accord is sticking with what has worked in the past even if it's starting to look a bit dated. The same wood grain and leather interior options and heated front and rear seats are available on the 2017 Accord, as is a sport edition with racing-inspired driving pedals, paddle shifters, and red leather trimmed seats for the Dale Earnhardt in you. Though the Accord offers some nice options, the Fusion's new look for 2017 has won us over.
Fuel Economy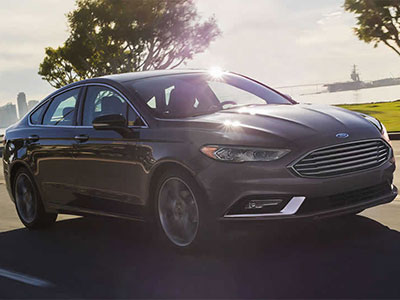 The all new 2017 Fusion offers three Ecoboost engines that boasts impressive fuel efficiency (think 21 city and 32 highway miles per gallon!). All Fusion models come with automatic stop-start technology, which silently turns the car off and on when stopped to improve fuel efficiency even more. When you choose to engage EcoSelect and EcoCruise, your Fusion adapts to the conditions to be even more effective and efficient. It's hard to beat this layered approach to fuel efficiency.
Hondas are known for their decent gas mileage, and the 2017 Honda Accord performs about as well as you might expect. We're fairly impressed by the 21 city and 33 highway mpgs the Accord gets, but even that performance can't rival the Fusion's. Better fuel efficiency, along with more options to increase that efficiency, give the Ford Fusion the advantage in this category.
Technology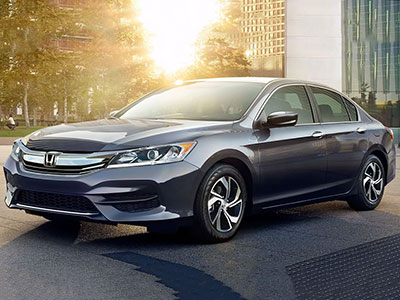 The 2017 Ford Fusion has all the technology you crave to keep you connected from the driver's seat. With smartphone enabled features like SYNC and Sirius, you've got everything you need for communication and entertainment right at your fingertips. With an easy-to-use and easily accessible 8-inch touchscreen, staying connected has never been easier.
The 2017 Honda Accord offers a few extras in the tech category that we really like. The available remote engine start can be a huge advantage in challenging weather, and the available satellite-linked navigation system can help get you to your destination on time. These options are layered on top of the standard Apple CarPlay and Android Auto connectivity that allows your smartphone apps and information to be projected onto your center stack's 7-inch touchscreen. The extra perks and layered technology give the Honda Accord the edge here.
Safety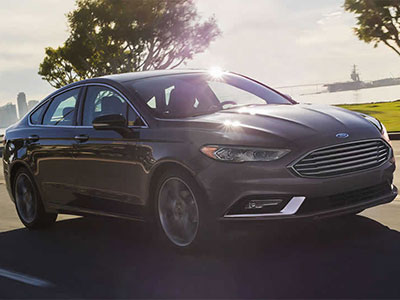 The 2017 Ford Fusion gives drivers a host of safety features, including pre-collision assist with pedestrian detection and a brand-new enhanced active park assist with parallel and reverse perpendicular parking. Inflatable rear seat belt gives you an extra layer of protection in the event of an accident while intelligent all-wheel drive offers you maximum traction in all driving conditions. Both cars get five stars with the NHTSA and the Fusion was named a 2016 IIHS Top Safety Pick when equipped with optional front crash prevention options.
Both the Ford Fusion and the Honda Accord offer both a lane keeping and an adaptive cruise control system to keep you safer. The Honda also offers a collision mitigation system which senses if you are too close to the vehicle in front of you and applies the brakes if a collision is imminent and Honda sensing technology which alerts you to things you might otherwise miss. For its extra options and Top Safety pick distinction, we're giving the 2017 Ford Fusion the nod in the safety category.
Learn More about the Ford Fusion

Overall, the 2017 Ford Fusion is the best in a class of great vehicles. Side-by-side with the Honda Accord, the Fusion offers the best styling, smartest fuel economy systems, and the best safety record. You can't go wrong with the Fusion, whether you're shuttling family, friends, or clients around town.