2017 Ford Fusion vs Nissan Altima

When looking for a mid size family sedan, do you want a strong signature look or all the current technology? Do you want better gas mileage with the option for electric or hybrid or a bigger engine? Are you willing to pay more to have the latest safety features? Let's put these two top sedans side by side to find out.
2017 Ford Fusion vs Nissan Altima
Safety Features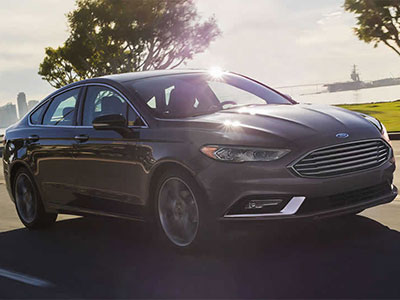 The 2017 Ford Fusion offers drivers a host of features to enhance safety and convenience, including options like enhanced park assist, that takes the hassle out of parallel parking by practically doing it for you, and intelligent all-wheel drive to keep your vehicle stable and secure no matter the weather. We're fans of the inflatable seat belts as well, which helps to minimize the damage in the event of an accident.
The Nissan Altima also offers drivers its own set of perks, including a dynamic rear view back up camera with grid lines (a standard offering) as well as the group of Nissan's Intelligent Safety Shield Technologies: blind spot warning, predictive forward collision warning, and forward emergency braking–but they come at a steep price. On the safety feature package alone, we give the edge here to the Ford Fusion.
Styling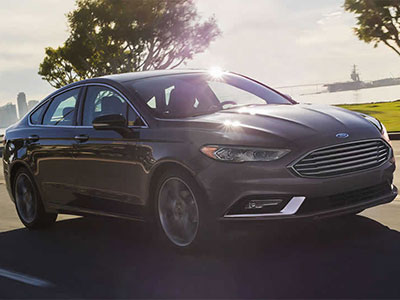 The Ford Fusion has gotten a sporty redesign for 2017, including LED running headlights and a smaller front grill to give it a sleek look. Inside, the new rotary style gear shift opens up the center console area to create a cleaner, more linear look to the cabin. Opt for the V-6 model and you'll get the sport grill, 19-inch wheels, and leather interior.
The 2017 Nissan Altima has a signature look, sleek and contemporary. You notice the Altima, and not just because of its available LED headlights and taillights. The Altima, from the comfortable seats to the ergonomically designed interior consoles, is custom designed to maximize driver comfort and convenience. The thoughtful nature of the Altima's design is impressive, but it's hard to beat the brand-new look of the Fusion.
Efficient Performance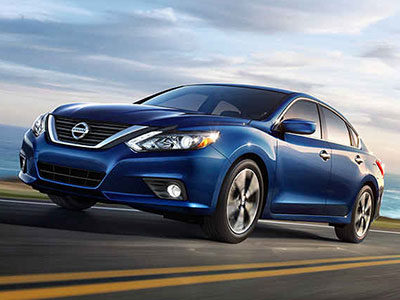 The all new 2017 Fusion offers 3 Ecoboost engines that give you solid fuel efficiency. Fusion base models get 21 city and 32 highway mpgs, while hybrid options of various types can more than triple that efficiency. To help save with fuel costs, the Fusion is equipped with automatic stop-start technology, which turns the vehicle off in certain situations, and you can increase your vehicle's responsiveness to conditions by engaging the EcoSelect and EcoCruise option.
The Nissan Altima offers 2 engines across 6 trim levels, a smaller 4-cylinder or the more powerful V-6. The Altima also offers a new fuel saving technology in the 4-cylinder models, active grille shutters, that automatically close at higher speeds to increase aerodynamics. The Altima, already a heavyweight in fuel efficiency, now boasts a cool 27 city 39 highway MPG. That alone gives the Altima the edge.
Technology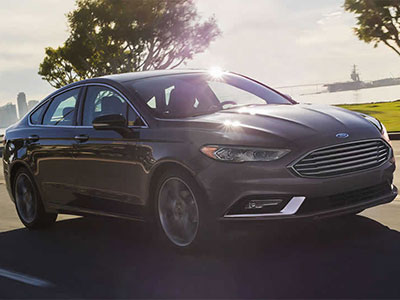 Both sedans have comparable features in the technology department, but the Ford Fusion stands out with a bright 8-inch touchscreen display front and center. Easy smartphone compatibility with SYNC technology and SiriusRadio help you meet your connectivity and entertainment needs. Use the wisely placed USB ports, right inthe center console, to quickly recharge devices on the go.
Nissan offers NissanConnectSMServices Powered by SiriusXM®, where you can choose what plans and services you want to activate (like remote start access right from your phone to accident alert system in the event of a collision). There's a small but noticeable display screen on the instrument panel right behind the steering wheel that displays driving directions and caller ID so you don't have to take your eyes off the road. It's not as sophisticated as the Ford system, but it will help you stay connected on the go.
Learn More about the Ford Fusion

In a field of strong contenders, the 2017 Ford Fusion takes the lead with its sporty re-design, multiple trim levels, and even multiple hybrid options along with powerful performance and efficiency. Combine that with a price tag that won't entirely bust your budget, and you've got a sedan that works overtime for you.