2017 Ford Super Duty

The 2017 Ford Super Duty is a heavy-duty pickup truck that means business, providing substantial towing and hauling capabilities, high-techs safety aids, and premium passenger comfort. This year, these trucks deliver new safety features designed to maximize on-road protection. Innovative features, like the trailer reverse guidance system, help you get the job done. Inside, cabin options are roomy and stylish, making you feel right at home.
2017 Ford Super Duty
The 2017 Ford Super Duty is all about power and performance. The new 6.2-liter gasoline V8 engine delivers 430 pound-feet of torque to tow massive trailers. For even greater output, check out the 6.7-liter diesel V8 engine. Rated for 440 horsepower and 925 pound-feet of torque, there's hardly anything the Super Duty diesel can't handle. Add a fifth-wheel setup and dual rear wheels, and the diesel Super Duty can tow up to 32,500 pounds. When you choose four-wheel drive, the Super Duty makes it easy to travel down your favorite off-road trails. New adaptive steering technology sharpens steering feel at low speeds.
This year, the 2017 Ford Super Duty introduces a wealth of high-tech safety features. Driver aids, like lane departure warning, monitor your surroundings and alert you to potential problems. The forward collision warning system will automatically prime the brakes if it senses an impending crash. Seven new cameras help you navigate cramped spaces. The rearview camera maximizes visibility as you back out of unfamiliar lanes. Four of these cameras combine forces to create a 360-degree, bird's-eye-view of the Super Duty, which comes in handy as you back into parking spaces.
Choose from three different cabin options for the space you crave – the two-door regular, four-door extended SuperCab, and four-door crew cab. The latter two offer roomy backseat space. You can also fold the rear seats flat to create extra interior cargo space. Both rows of seating provide ample head- and legroom for long-term comfort. Upscale features, like heated and cooled seats, break up your workday with a bit of luxury. Pair your Super Duty cabin with one of two bed sizes – 6.8 and 8 feet – for the bed space you require.
The Super Duty is also home to modern tech features designed to keep you connected throughout your travels. The new Sync 3 infotainment system includes a clear, responsive touchscreen and upgraded voice control technology. You can use it to make hands-free calls and or get turn-by-turn directions. In back, the Super Duty's LED cargo box lighting helps you load and unload items at any hour.

Super Duty Platinum
For premium interior luxury and style, check out the Super Duty Platinum. Its handsome, two-tone leather upholstery sets it apart from other models. The Sync 3 infotainment system treats you to smartphone integration and turn-by-turn navigation. Once you use the remote tailgate release, you'll wonder how you ever lived without it.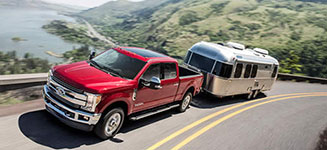 Best-in-Class Conventional Towing
When you need to move heavy trailers, the Super Duty leads the way.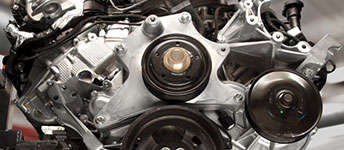 Best-in-Class Diesel Horsepower
The Super Duty gets the job done like no other truck in its class.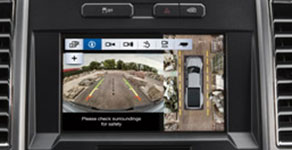 360-Degree Camera
Use this top-down view to help you ease the Super Duty into parallel spaces.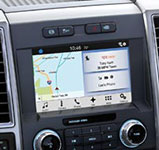 Sync 3
Infotainment technology combines smartphone integration with turn-by-turn navigation.
Conclusion
When you require major lifting power, there's no better option than the 2017 Ford Super Duty. In addition to premium towing and hauling capabilities, these trucks introduce new levels of passenger comfort and infotainment technology. They're also big on safety, delivering brand new driver aids that monitor your surroundings and help you avoid careless mistakes. In action, there's hardly anything your Super Duty can't do. Travel through rugged terrain and tow heavy loads in style. Take the Super Duty out on a test drive today!