2017 Ford Transit vs Volkswagen Transporter

The 2017 Ford Transit and the Volkswagen Transporter are two of the most coveted commercial vans on today's roadways. These models are known for their easy upfitting options, modern passenger comfort, and innovative safety gear. Of course, you might still be wondering which model will best meet your needs. That's why we've created this four-category guide – read it to learn more about these commercial vans.
2017 Ford Transit vs Volkswagen Transporter
Passenger Comfort & Convenience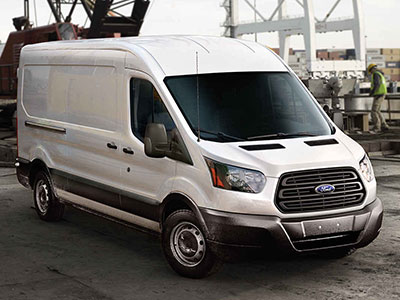 If you're shopping for outstanding passenger comfort, test-drive the 2017 Ford Transit Wagon before all else. Thanks to its wide-ranging body styles, the Transit seats between eight and 15 passengers – and does so with head- and legroom to spare. The Transit also douses you in upscale features, such as leather upholstery, for maximum comfort.
However, the Volkswagen Transporter Shuttle was also designed for extensive passenger comfort. You can check out a range of configurations, which seat between five and nine passengers. With so many options, it's easy to strike an excellent balance between cargo space and passenger accommodations.
Tech Features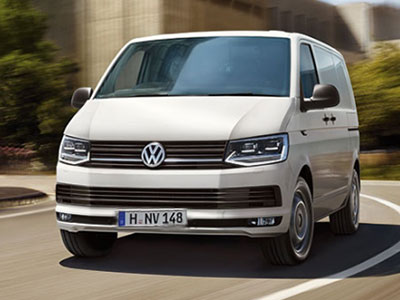 Here, we like the Volkswagen Transporter. The central infotainment system helps you stay connected, because it's loaded with smartphone integration options, thanks to Apple CarPlay and Android Auto technology. The Transporter also helps you get around town, with its excellent turn-by-turn navigation system.
In the technology department, however, the 2017 Ford Transit remains a crowd favorite. With the new Sync 3 infotainment system, there's hardly anything you can't do. Use it to send hands-free text messages or stream your favorite audio options. Sync 3 includes a responsive, 8-inch touchscreen and handy voice controls, so you can stay safely plugged in to the outside world.
Power & Performance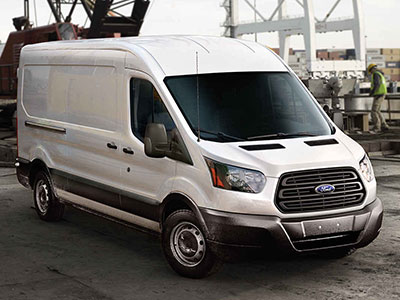 On the road, the 2017 Ford Transit can really move. It blends seamless, responsive power with world-class performance. Properly equipped, the Transit can tow max loads of 7,500 pounds. You'll also love its impressive engine options, which include a turbo diesel for an excellent combination of torque and fuel economy.
For the Transporter, power is obviously a priority. That's because it's designed to move maximum loads. Depending on configuration, the Transporter can tow up to 2,500 pounds. This van also combines power with fuel economy. Its diesel engine options come with start-stop technology, which helps you conserve fuel when you're stopped in traffic.
Utility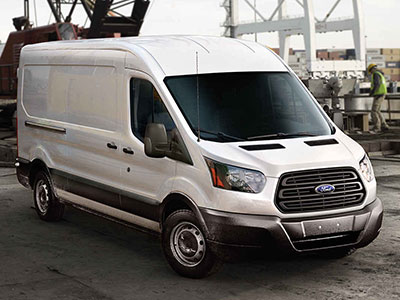 If you require upfitting options, you'll find no shortage for the 2017 Ford Transit. You can transform this commercial van into just about any specialized vehicle you imagine – from a mobile toolbox to a swift ambulance. If you choose, you can even use the Ford Transit as a cushy – yet incredibly affordable – family hauler.
Of course, the Transporter is also highly configurable. Like the Transit, it provides a wide range of body styles – including three different roof heights. This means that you can tailor the Transporter to suit your unique needs.
Learn More about the Ford Transit

Although these two models have quite a bit in common, the 2017 Ford Transit leaves the competition in the dust. In fact, you'll find that this commercial van leads the segment in many ways. For starters, you can choose from a wide range of configurations for the passenger space you require. The Ford Transit also supplies an impressive range of infotainment features to keep you connected on the go. Thanks to innovative safety technology, you can spot danger before it becomes an issue. Finally, the Transit delivers the power you need to tackle your daily workload. Take the Transit out for a test drive today!