2019 Ford Edge vs Hyundai Santa Fe
2019 Ford Edge vs Hyundai Santa Fe

Inventory
The 2019 Ford Edge and Hyundai Santa Fe are two of the roomiest, comfiest crossovers in the segment. Both can tow a pretty big boat and coast down light trails with ease, upping your weekend adventure quotient. So how do you know which to choose? That's where our comparison guide comes in.
Travel in Style: 2019 Ford Edge
When it comes to passenger comfort, the 2019 Ford Edge is the total package—a smooth ride, supportive seating, plenty of cabin space. It's the kind of midsize crossover that you want to take everywhere, whether you've got a long commute or a long list of weekend adventures on your bucket list.
The Hyundai Santa Fe is also noted for its comfortable ride; this crossover glides over rough pavement like it's not even there. This newly redesigned model is even longer and wider, which, of course, means more passenger space. However, the seats err on the side of firm, which can get old after a few hours on the road.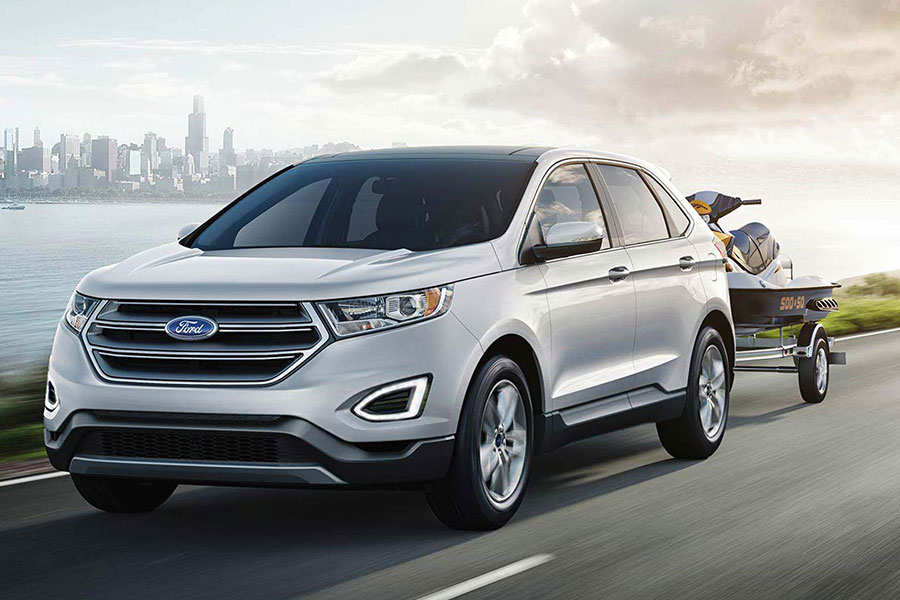 Sporty Performance + Refined Ride: 2019 Ford Edge
The midsize Edge delivers the best crossover performance, giving you sporty all-wheel drive for a cruise down your favorite trail and a smooth, refined ride back on the pavement. The Edge even tows up to 3,500 pounds, so you can take a small boat along on your next adventure.
As with the Edge, shoppers can add all-wheel drive to any Santa Fe trim. That means a little extra traction when you need it, such as on a dirt road or wet pavement. And the Santa Fe can also tow up to 3,500 pounds, but only if you pay extra for the top-trim Limited and Ultimate models. Although the Santa Fe is no slouch, the Edge gives you more in the way of acceleration, thanks to its more powerful engine options.
Savviest Tech Lineup: 2019 Hyundai Santa Fe
Because the Hyundai brings you more in the way of standard features, the Santa Fe is our top pick for technology. Each of these crossovers comes with a fully loaded infotainment interface, including complete smartphone integration with Apple CarPlay and Android Auto. This is technology that smartphone addicts can't live without; it even gives you access to your phone's voice controls. We're also fans of the Santa Fe's four standard USB charging ports. Let no device go uncharged!
While the Ford Edge does come standard with some cool stuff, like a Wi-Fi hotspot, this crossover only gets one standard USB port and you have to pay extra for Apple CarPlay and Android Auto. That said, we are big fans of Ford's Sync 3 infotainment gear, which supplies a responsive touchscreen interface with crisp, clear graphics.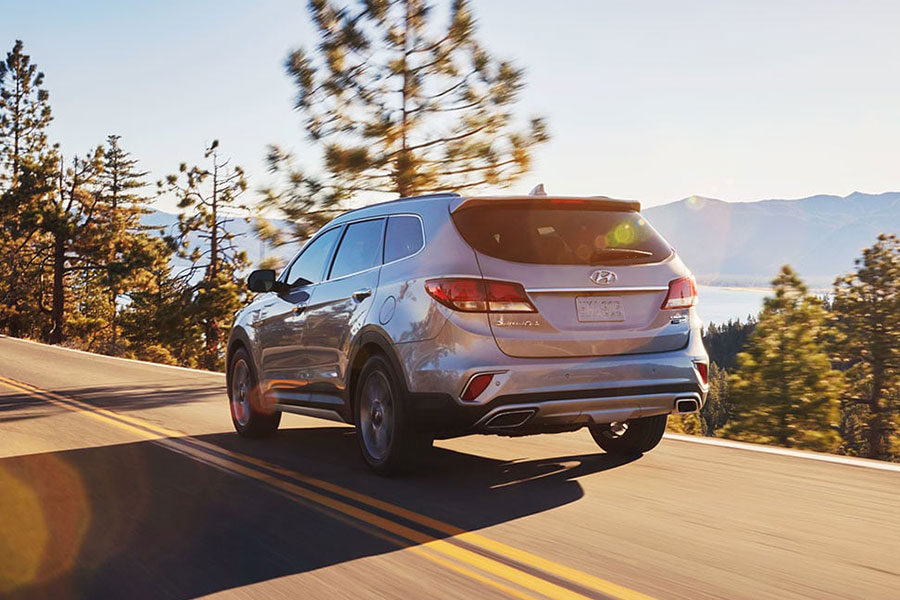 Thriftiest Cruiser: It's a Tie!
Both the 2019 Ford Edge and Hyundai Santa Fe combine sporty cruising with modern fuel economy, earning up to 22 city and 29 highway miles per gallon. Either crossover gives you the thrifty commute you seek, along with the sporty power you crave.
If the Hyundai Santa Fe is a good option, the 2019 Ford Edge is a great one. Ford's midsize crossover does double duty as a comfy around-town runabout and a fun-loving weekend adventurer.