2019 Ford Edge vs Subaru Forester
2019 Ford Edge vs Subaru Forester

Inventory
What does buying bigger get you? That's what we're going to demonstrate in this comparison guide between the 2019 Ford Edge and the Subaru Forester. Both are crossover SUVs from leading manufacturers, but they are in two different classes. The Edge is a midsize while the Forester is a compact. Accordingly, the Edge is seven inches longer and five inches wider than the Forester though they both have the same height. Is a bigger SUV a better SUV? Let's find out in this comparison guide.
Cabin Space: 2019 Ford Edge
The obvious difference here is that of size outside and, we expect, inside. And true to expectations, the 2019 Edge is bigger on the inside. There's two extra cubic feet of storage space on the Edge compared to the Forester. And there's more head- and legroom in the back seat of the Edge as well. Finally, though the Forester curiously has more cargo room when all the seats are down, the Edge has more storage space when those seats are in use. And if you have a family of more than two, those seats are going to be in use. The 2019 Edge has 39.2 cubic feet of storage compared to the 35.4 cubes in the Forester.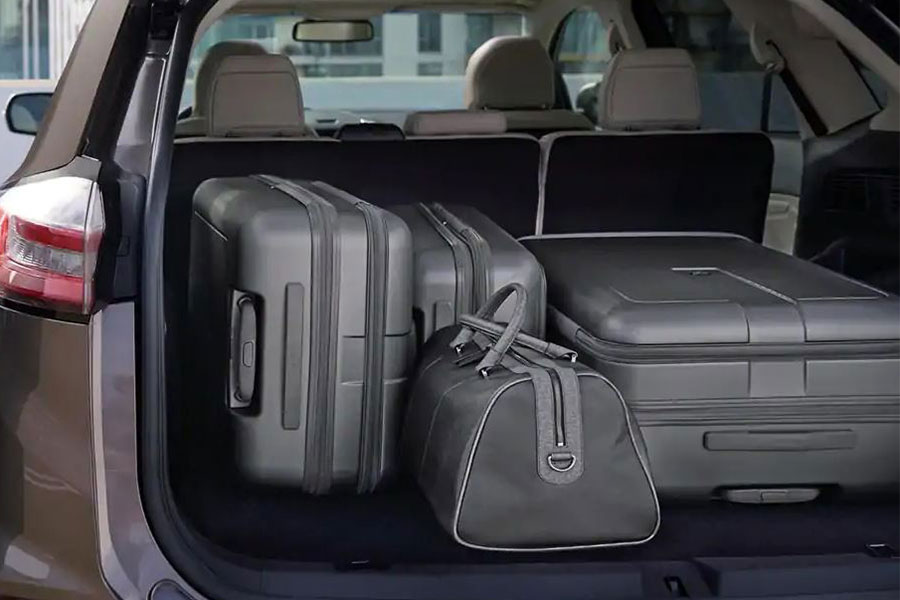 Engine Options: 2019 Ford Edge
More metal means more power necessary. The 2019 Ford Edge is more than up to the challenge. There's a base engine, a 2-liter turbocharged inline-4 engine, makes 250 horsepower and 275 pound-feet of torque. But Ford is just getting started. Because the second engine is a 2.7-liter twin-turbocharged V6 delivering a heart-pounding 335 horsepower and 380 lb-ft of torque.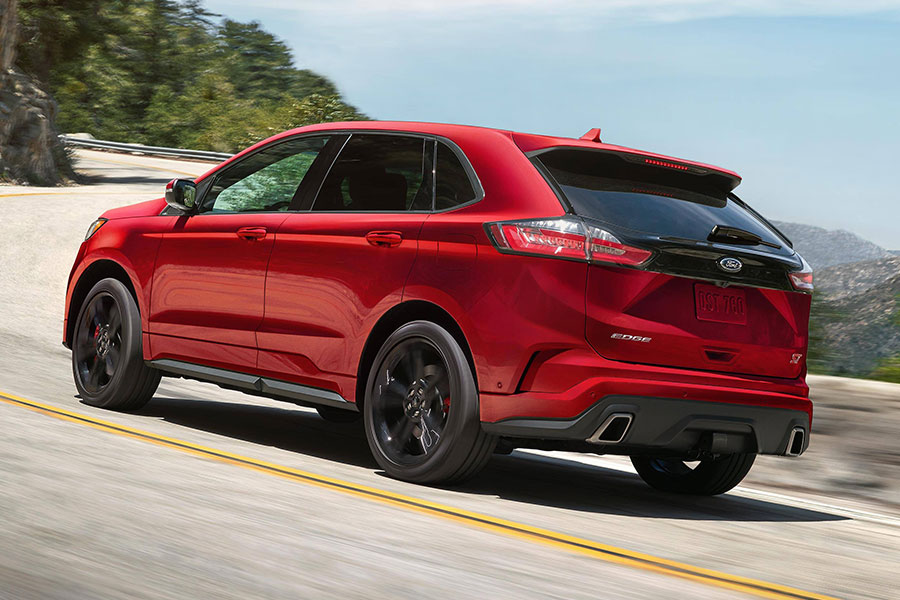 The Ford Edge wins this category almost by default because the Subaru Forester offers only one engine on all of its trim levels. We're talking about a 2.5-liter flat-4 engine generating 182 horsepower and 176 pound-feet of torque. Not only is that worse than the Edge's optional engine, the Forester engine pales in comparison to the Edge's base as well. Now, obviously, the Forester doesn't need as much power to move since the Subaru is about 500 pounds lighter. But looking at acceleration, the Edge handily wins anyway. The Edge goes zero to 60 mph in 6.1 seconds while the Forester really lags, getting there in 9.6 seconds.
Towing Capacity: 2019 Ford Edge
On a final note, the Ford Edge is not only faster than the Forester. The Edge also offers more in terms of work ethic. The 2019 Edge is slated to tow up to 3,500 pounds, which is a hefty amount for a midsize SUV. On the other hand, the 2019 Forester can only tow 1,500 pounds maximum. If you were hoping to move your boat or RV, we recommend the Edge over the Forester. And the 2019 Ford Edge is our overall recommendation too.