2019 Ford F-150 vs GMC Sierra 1500
2019 Ford F-150 vs GMC Sierra 1500
Full-size trucks like the 2019 Ford F-150 and GMC Sierra do a lot more than tow and haul serious weight. These days, full-size trucks offer high-tech safety features, all the latest infotainment gear, and even high-end luxury. Both definitely deliver the goods, but which is the best option? Our comparison guide takes a close look at these popular pickups.
Most Adventurous Truck: 2019 Ford F-150
For a powerful, capable ride into the wilderness, go straight for the 2019 Ford F-150 and its off-road-ready option, the Raptor. This truck is as strong as the F-150 gets, thanks to a high-output version of its top-of-the-line turbocharged 3.5-liter V6 engine. This powerhouse generates 450 horsepower and 510 pound-feet of torque for your tours into off-road terrain. The Raptor is also loaded with adventurous gear, everything you need to slug through muddy riverbeds and scale mountains. That means a reinforced frame, a special four-wheel-drive system, upgraded tires, and Fox shocks.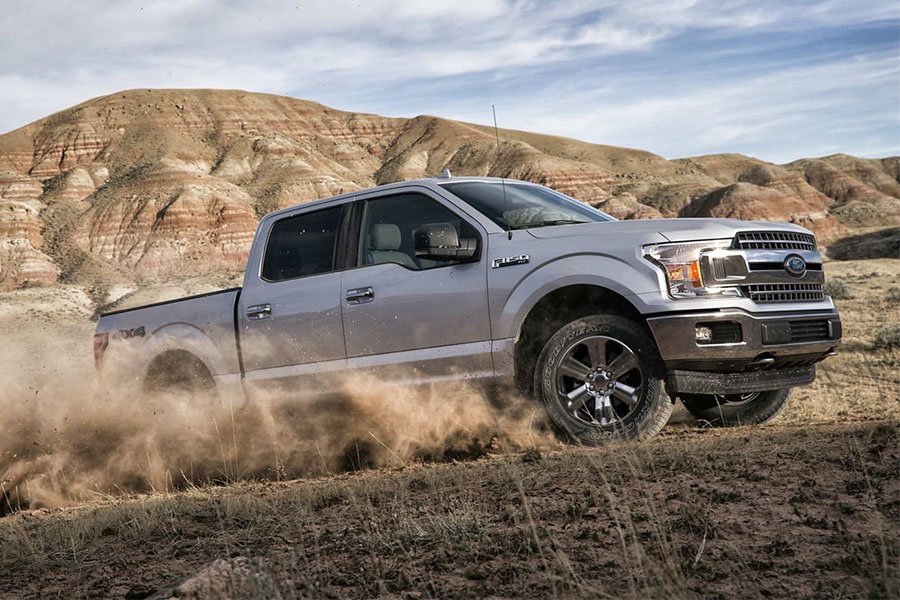 This year, the GMC Sierra 1500 is rolling out a new off-road-ready truck: the AT4. This trim too, gives you rugged specs, like a locking rear differential and extra skid plates. However, the AT4 doesn't come standard with the Sierra's most powerful engine. This engine is an option, but even when you add it, this 6.2-liter V8 can't match the Raptor with its 420 horses and 460 pound-feet of torque.
Endless Options: It's a Tie!
Both the 2019 Ford F-150 and GMC Sierra go from workhorse to luxury liner, delivering everything in between along the way. Whatever kind of truck floats your boat, these brands deliver the goods. With three cabin options on offer-regular, extended, and crew-these full-size trucks have a little something for every kind of posse. Multiple bed sizes are also available to cater to your hauling needs. If you prefer to skip the frills, each of these full-size trucks has a little something in store for you. Get the F-150 XL or the Sierra base model for a sturdy, capable workhorse. These trucks get the job done without messing with your budget.
Highlights from the F-150 lineup include the aforementioned off-road-ready Raptor model and the insanely luxurious Limited. The latter is fully loaded, with everything from the line's most powerful engine to upgraded leather upholstery and front seats with massage functions.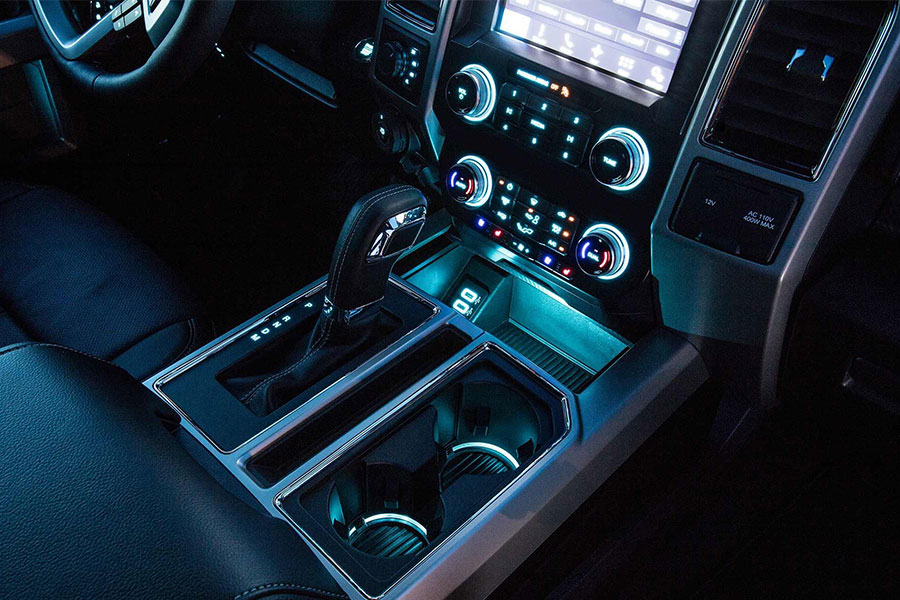 The Sierra 1500 also provides a high-end luxury truck with the Denali trim. If you're into leather upholstery and high-tech conveniences, the Denali delivers the goods.
Tows More: 2019 Ford F-150
To move tow loads-whether you've got a giant family camper or a couple of horses to cart around-there's no getting around the fact that you need Ford's full-size truck. With the right configuration and the proper equipment, the Ford F-150 can tow up to 13,200 pounds. The Sierra, in contrast, maxes out at 12,200 pounds.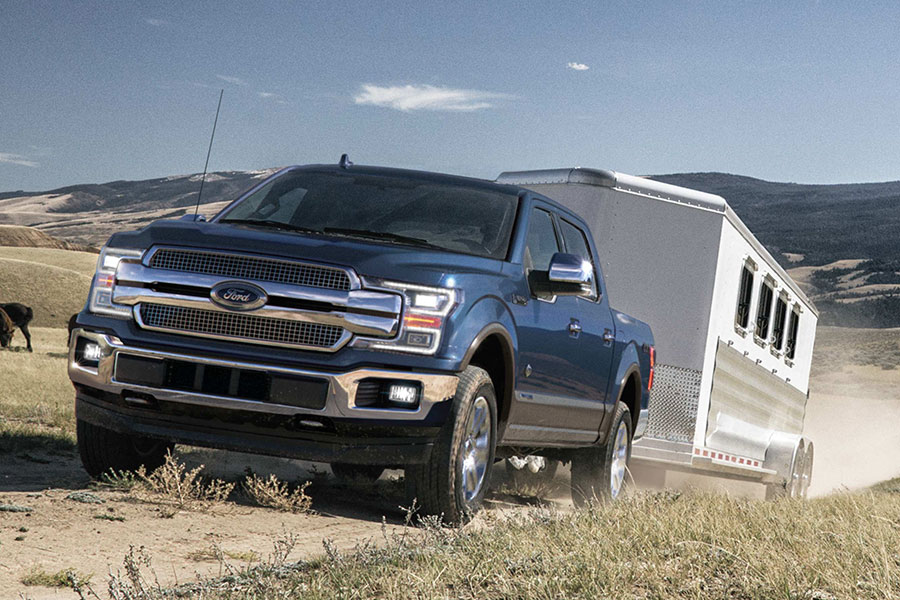 Savviest Gear: 2019 Ford F-150
Ford's full-size truck is pretty handy, making the F-150 our pick for best utility features. It's got items you won't find anywhere else, including the Pro Trailer Backup Assist system. With this system, you can avoid jackknifing as you back your trailer into the driveway. This truck offers an automated parallel parking system, so you don't have to worry about maneuvering this beast into a tight spot.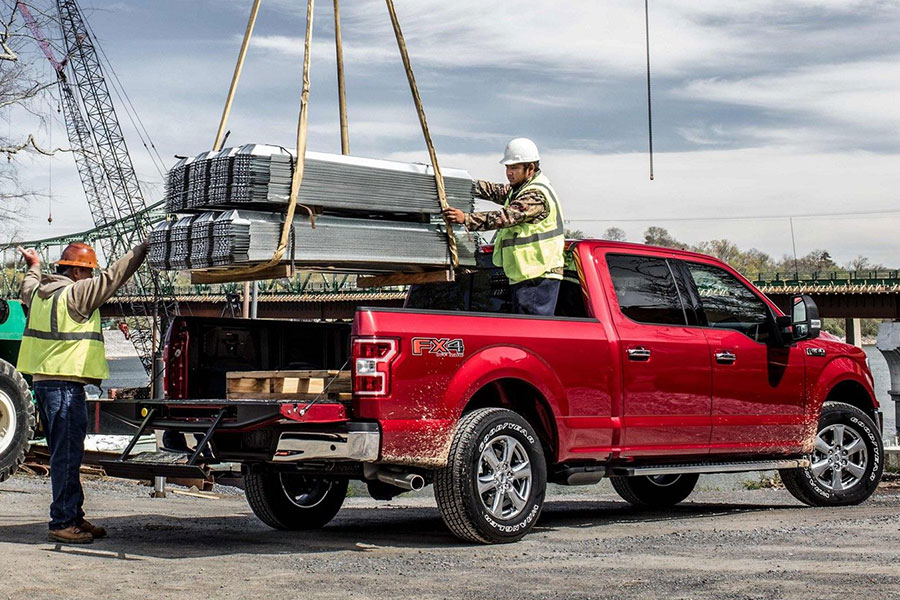 Back on the GMC Sierra, you'll find all the usual truck utility features. That means a Max Trailering package to hook you up with everything you need to move heavy trailers. This package also means a series of cameras to help you hook up a trailer or back into a busy parking lot.
If it were up to us, we'd choose the 2019 Ford F-150 every time. Even in this highly competitive segment, Ford's full-size truck stands apart from the pack with its innovative utility features, impressive workhorse performance, and adventure-ready ride. Ford's beloved truck more than earns its place as America's best-selling vehicle.