2019 Ford Flex
2019 Ford Flex
Few midsize sport utility vehicles have this much class. The Flex can easily replace your minivan, seating seven people on three rows. But this Ford rides low and makes passenger-hauling look good. The Flex is stylishly boxy, sporty yet classy, and modern with discernible nods to Ford's other greats. There are no major changes for 2019, so let's see the best features that carry over from last year.
How Big Is the Flex?
The Ford Flex is in the middle of its class for overall length, but the Flex feels bigger on the inside than it looks. We're talking seven people on three rows with enough room to fill all those seats with adults. Not everyone likes the Flex's appearance, but that cool, boxy look means the Ford actually uses all of its available space. In the back you have 20 cubic feet of space, room enough for up to 15 shopping bags. Fold the rows down, and you get a show-stopping 83 cubic feet of cargo space. Because Ford hasn't lopped off the corners, you can really use all of those cubes to their utmost.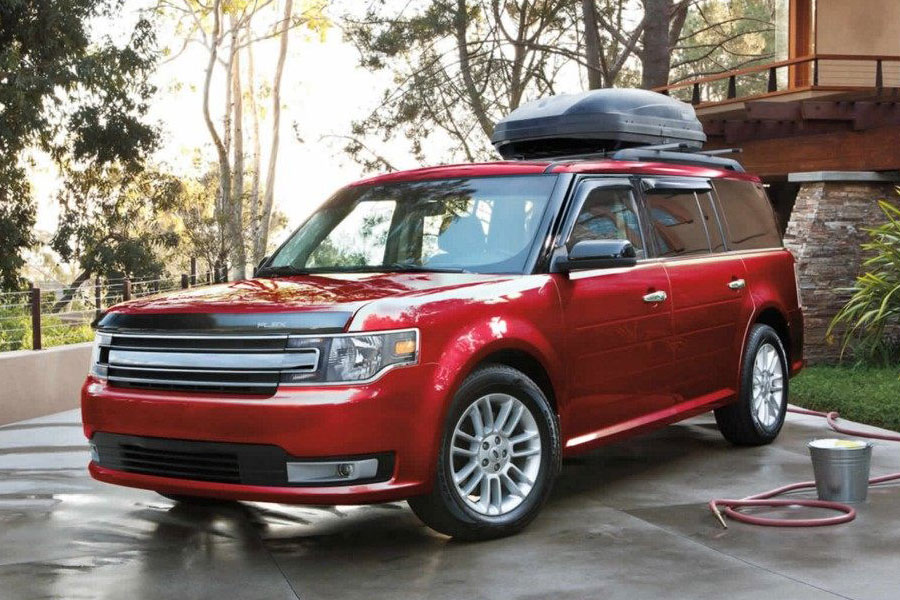 How Powerful Is the Flex?
If you travel light, the base engine, a 287-horsepower V6, should do you just fine. But if you like power, we recommend upgrading to the 365-horsepower, twin-turbocharged V6 EcoBoost engine. Then you'll accelerate with the best of them, even with a car full of passengers or cargo. You'll be surprised with that kind of power, the Flex still provides a pretty smooth ride. And despite appearances, this Ford is plenty maneuverable and takes corners better than expected.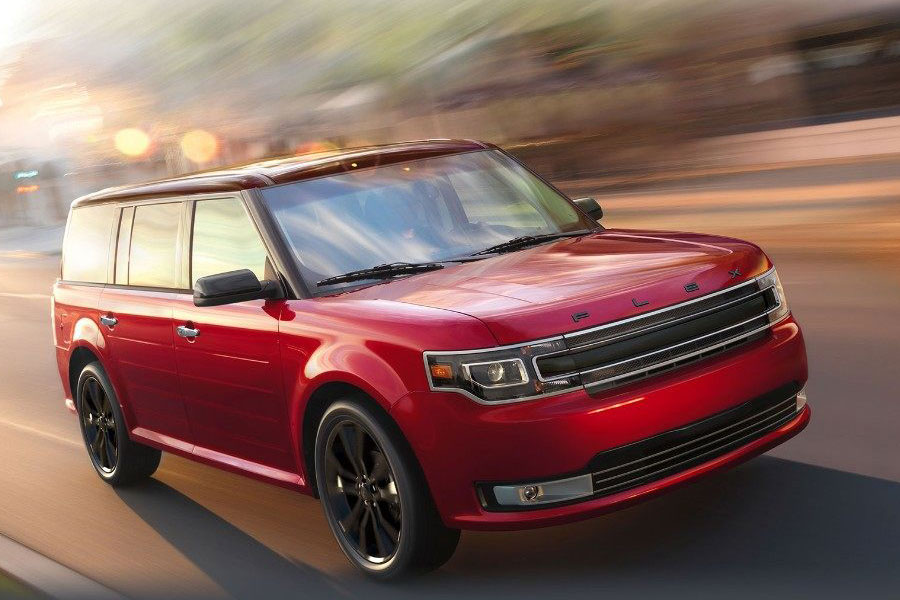 What Are the Flex's Trim Levels and What Do You Get In Each?
The 2019 Ford Flex comes in just three trim levels: SE, SEL, and Limited. The base trim starts at $30,575 and comes standard with rear parking sensors, rearview camera, Ford's MyKey system, and the SYNC smartphone integration system, which comes with USB port, Bluetooth, and voice command recognition. Satellite radio is optional.
The SEL is the first trim that offers all-wheel drive (for an extra $1,950), so we recommend this one if it's in your budget. The Flex SEL starts at $33,290, which gives you all the standard swag, plus proximity key entry, push-button start, two more USB ports, dual-zone automatic climate control, heated front seats, and satellite radio. The other reason to upgrade to SEL is the SYNC 3 touch-screen infotainment system. It's more intuitive and an all-around better system than regular SYNC. On top of that, the Flex SEL comes with Siri Eyes Free iPhone integration, Apple CarPlay, and Android Auto.
Finally the Limited trim starts at $38,790 gives you power liftgate, three-prong power outlet, leather seats, power-adjustable front seats, 12-speaker Sony audio system, HD Radio, voice-controlled navigation, blind spot monitoring, and rear cross traffic alert. Unfortunately, the only way to get the upgraded engine is to come to this trim. There are lots of additional options at this trim level, so shop around and get what you want, whether that be panoramic sunroof, all-wheel drive, second-row bucket seats, or the complete 301A Equipment package.
No matter how you dress it up, the Ford Flex is a spacious, powerful midsize SUV that looks nothing like what you expected from this class.