2019 Ford Transit Connect
2019 Ford Transit Connect
The versatile 2019 Ford Transit Connect serves a wide range of businesses with its creature comforts, cargo space, and modern tech features.
What's New for the 2019 Ford Transit Connect?
There's a lot to like about this new edition of Ford's compact commercial van. Now, shoppers can choose between new gasoline and diesel engine options for the towing and hauling performance that best suits their daily needs. Most trim models come standard with Apple CarPlay and Android Auto, smartphone technology that gives you the power to stay connected without every looking away from the road. The forward collision warning system with pedestrian detection is now standard equipment. In addition to increasing vigilance, this technology helps drivers avoid head-on accidents.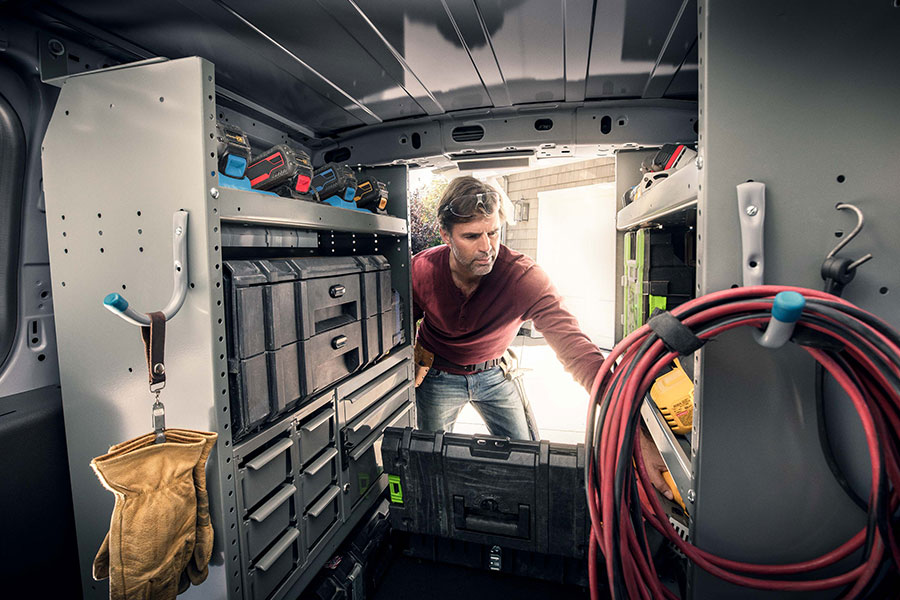 How Can I Configure My 2019 Ford Transit Connect?
This new model is available as either the two-seat Cargo Van or the three-row, passenger-friendly Wagon. Both offer either the regular or long wheelbase. The latter provides extra passenger or cargo space, depending on whether you select the Cargo Van or Wagon. On both sides of each model, you'll find sliding doors, so it's always easy to load or unload this compact commercial van. In addition to the 2.0-liter four-cylinder engine, shoppers can now choose the 1.5-liter turbodiesel engine. The turbodiesel is helpful for towing and hauling additional weight, and Ford reports that it should return 30 mpg on the highway.
How Much Can this Compact Commercial Van Tow?
Depending on configuration and equipment, the 2019 Ford Transit Connect tows up to 2,000 pounds. With that kind of utility, it's easy to lug a trailer full of extra business supplies or even a small family boat, depending on how you plan to use this versatile compact van.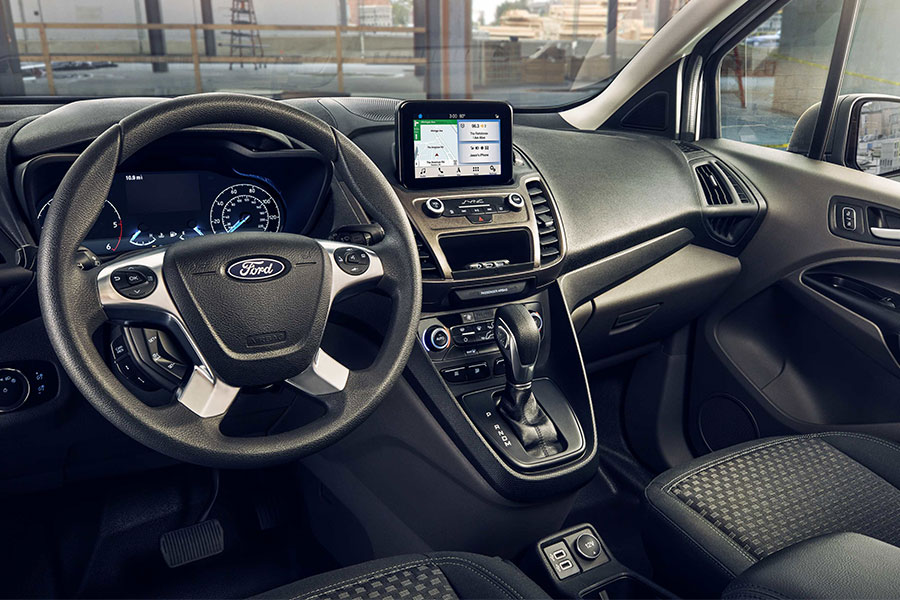 How Does the 2019 Transit Connect Wagon Compare to a Compact Minivan?
This year, Ford has spruced up the Transit Connect Wagon so much that it more than holds its own in the compact minivan segment. If you're looking for an affordable version of family-friendly travel, you should definitely give this model a test drive. With the long wheelbase, the Wagon seats up to seven passengers. Unlike most minivans, where space is often tight in the third row, the Wagon supplies adult-friendly accommodations in all three rows.
As far as modern comfort and convenience is concerned, the Transit Connect outshines other commercial-oriented vans, offering everything you can find on one of Ford's family-friendly crossovers. These options include an optional wireless charging pad to keep your compatible device ready for action. The Sync 3 infotainment system supplies Apple CarPlay and Android Auto smartphone integration technology. Use these features to interact with your smartphone without ever looking away from the road.