F-150 FAQ Page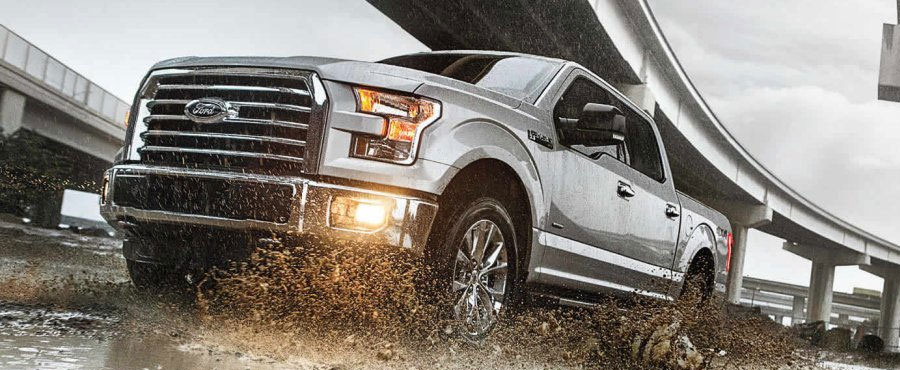 The Ford F-150 is America's bestselling truck, but many buyers still have a lot of questions about what an F-150 can do and how it can fit into their lifestyle. If that describes you, or if you've been interested in the Ford F-150, take a look at some of these frequently asked questions and see if they answer some of your concerns as well.
IS AN F-150 AS SAFE AS A CAR?
According to government crash test safety ratings, the F-150 is one of the safest vehicles on the road. Not only did it receive the highest crash test rating, Ford also equips its F-150 with an impressive array of safety features.
I WANT A TRUCK THAT I CAN ACTUALLY USE ON TOUGH TERRAIN, NOT JUST ONE I CAN DRIVE IN TOWN. CAN THE F-150 DO THAT?
If you want the adaptability to be able to not just commute from home to work but also take on challenging terrain, haul large loads, and tow equipment, the F-150 is a fantastic option. We'd recommend that you take a look at the Raptor model if you're interested in using the F-150 in difficult terrain.
IS THE F-150 FUEL EFFICIENT? I'VE HEARD TRUCKS ARE GAS GUZZLERS.
While trucks of the past may have been less fuel efficient, Ford has been working hard on this issue. With ECOBoost and the use of aluminum body panels, the newer models of the Ford F-150 are much more fuel efficient than they once were.
AREN'T F-150S MUCH HARDER TO DRIVE BECAUSE THEY ARE SO HEAVY?
We're guessing you haven't driven an F-150 lately, because Ford has worked to reduce the weight of the vehicle by using aluminum body panels. What does that mean for you as a driver? Less weight means more agility, and a much better driving experience. When you add features like backup help to that agility, you have a truck that's fun and easy to drive.
I WANT LUXURY FEATURES. CAN THE F-150 PROVIDE THAT?
Yes, absolutely! Driving a truck shouldn't limit your options, and the F-150 King Ranch emphasizes this fact. How about leather interior, mahogany trim, a heated steering wheel, touchscreen entertainment system, and a reverse backing system? Those are just a few of the features you can find in the King Ranch model.
I DON'T KNOW IF A TRUCK WILL WORK FOR OUR GROWING FAMILY. CAN THE F-150 MEET OUR NEEDS?
Absolutely! One of the things that a truck can do that a car and an SUV cannot is handle a variety of cargo. Whether you want to carry couches or bags of soccer gear, the F-150 truck bed can handle it and you won't have to worry about damaging the interior. The F-150 can also accommodate 5 passengers, which is the same as many cars and crossover SUVs. In fact, we think that a truck like the F-150 may be better for a family than an SUV