2022 Ford F-150 Lightning
ALL ELECTRIC. ALL F-150.
F-series is America's best-selling truck for 44 years* for a reason. And now, it's charging into the future with the all-new, all-electric 2022 Ford F-150 Lightning. It's the first ever F-Series that's gas-free and offers more purposeful technology, an elevated driving experience and trusted Built Ford Tough capability. Offering an ingenious array of connected, intelligent features with over-the-air Software Updates to help ensure your truck can get even better over time.
*Based on 1977-2020 CY total sales.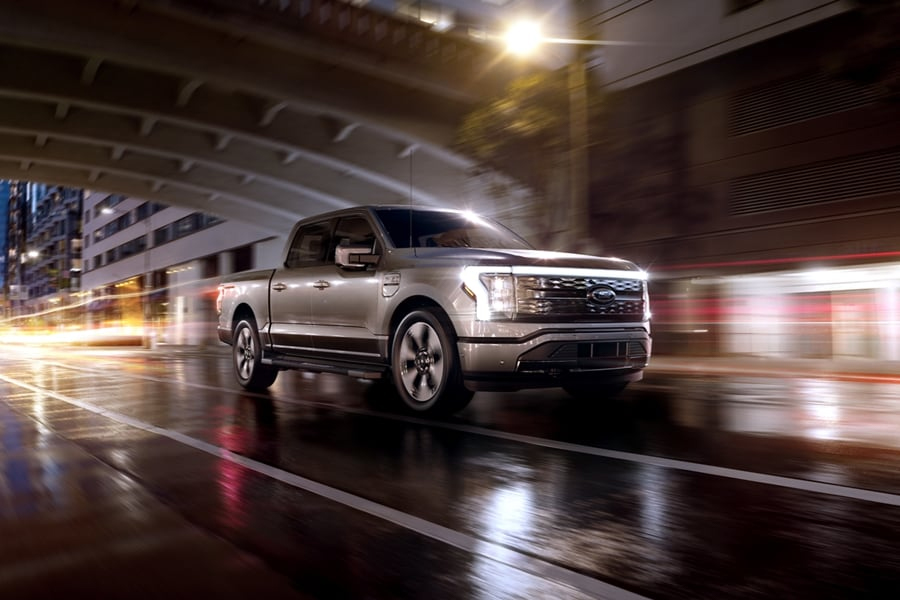 100% ELECTRIC
We went beyond building an all-electric F-150. We created the smartest, most connected F-150 Ford has ever built, packed with all of the advantages that zero-emissions propulsion offers – from nearly instantaneous torque to Ford Intelligent Backup Power, connected services to intelligent range, it's a strong, capable look at what's to come.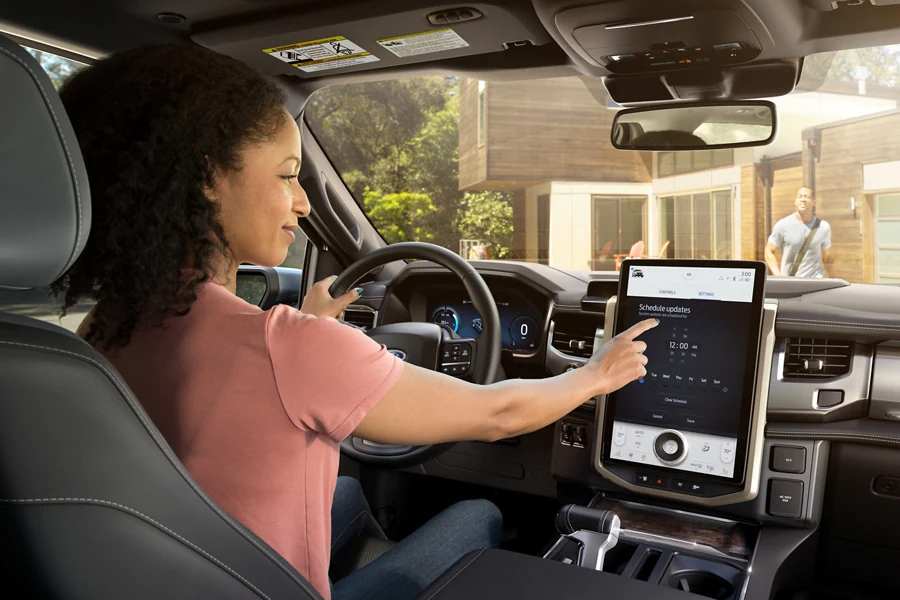 ADVANCED TECHNOLOGY
We've created a wide array of advanced technologies that can help improve the performance of your truck and your business. Including over-the-air Software Updates, powerful charging solutions and FordPass™ Integration that not only allows remote access to your truck and communication with a Ford Charge Station Pro at home for seamless access to public charging.
*At purchase, the FordPass Connect modem is connected and sending vehicle data (e.g., diagnostics) to Ford. To disable, or for more information, see in-vehicle connectivity settings. Learn more at FordConnected.com.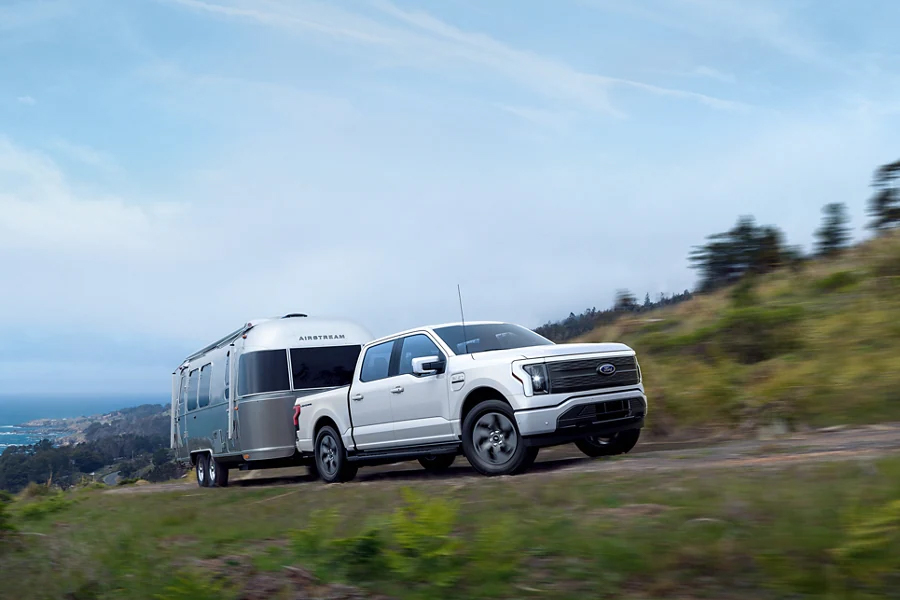 BUILT FORD TOUGH
The all-electric F-150 Lightning is a purpose-built, must-have truck for serious work and recreation. And because we take the words "Built Ford Tough" seriously, we torture-tested it and put it through the same paces that all F-150 trucks go through. So you can be confident the F-150 Lightning will live up to the standards you have come to expect from F-150.
---
FORD INTELLIGENT BACKUP POWER
Be prepared for what nature throws at you with the 2022 Ford F-150 Lightning. Available Ford Intelligent Backup Power, enabled by the 80-amp Ford Charge Station Pro, allows you to use your truck as a backup power source to your home during a power outage. * The power transfer can be triggered automatically or manually based on customer preference.
*When home is properly equipped and home transfer switch disconnects home from the grid.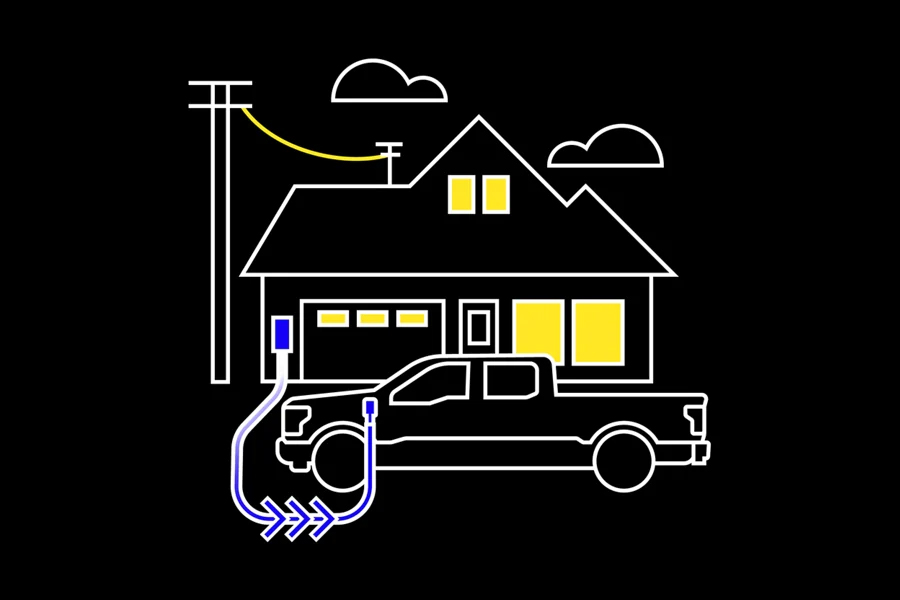 TRUCK CHARGES UP
You get home and plug in your truck with the available 80-amp Ford Charge Station Pro. The F-150 Lightning charges using power from the grid.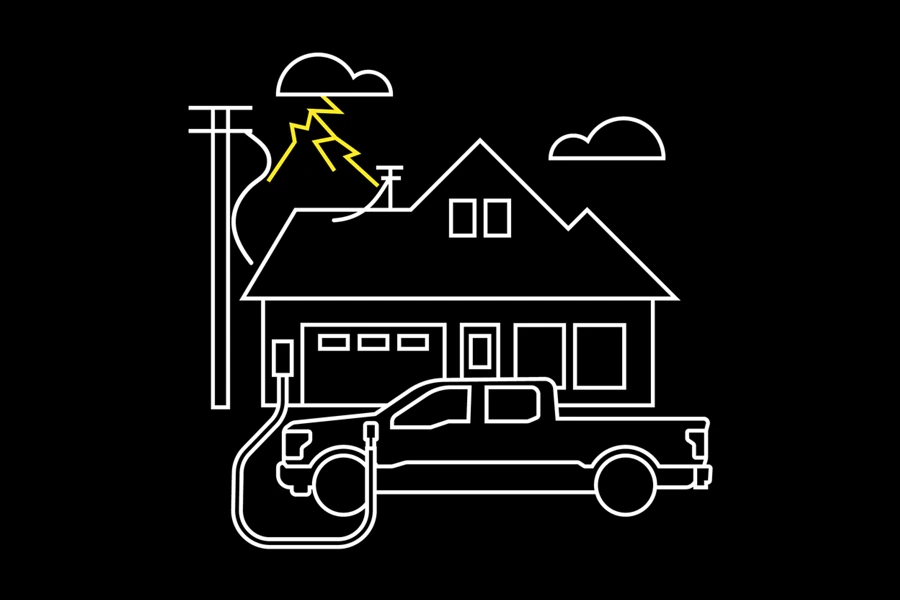 GRID GOES DOWN
But what happens when the power gets knocked out by a storm? No problem. The Ford F-150 Lightning is there to help. You can set Ford Intelligent Backup Power to automatically or manually kick in and power your home just like a generator. *
*When home is properly equipped and home transfer switch disconnects home from the grid.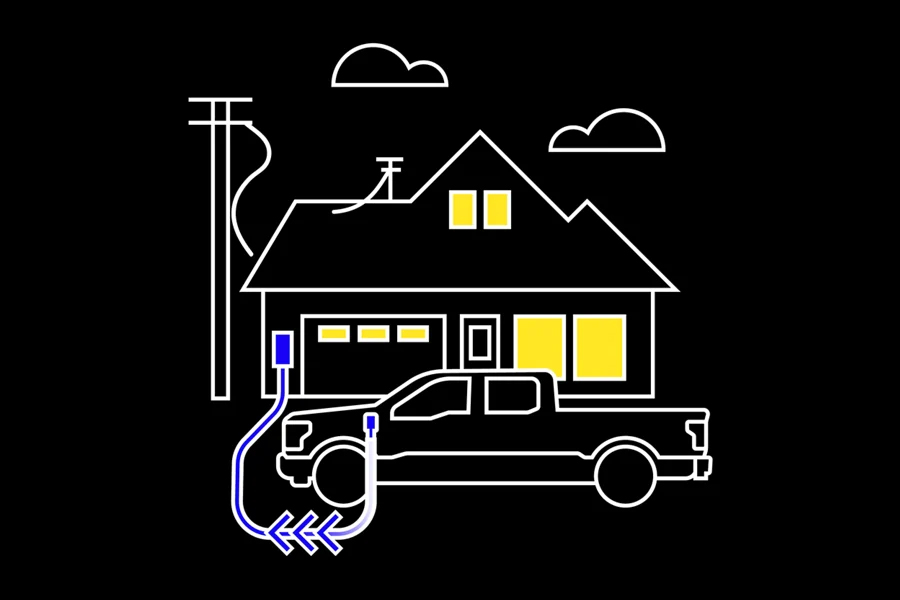 F-150 LIGHTNING GOES TO WORK
With the ability to off-board up to 9.6 kW of peak energy, F-150 Lightning can provide full-home power for up to three days, or as long as ten days if power is rationed. *
*When home is properly equipped and home transfer switch disconnects home from the grid. Based on 30 kWh use per day using the F-150 Lightning with the extended-range battery. Your results may vary depending on energy usage.
---
IMPRESSIVE RANGE AND CHARGING SOLUTIONS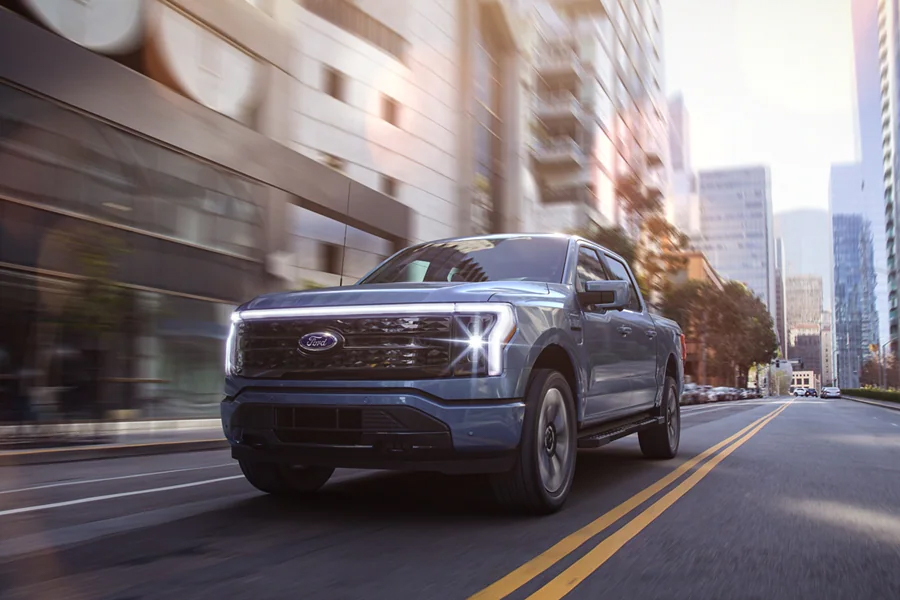 TARGETED EPA-ESTIMATED 300-MILE RANGE
The Ford F-150 Lightning comes with a standard-range battery that offers a targeted EPA-estimated range of 230 miles. * Or choose the available extended-range battery that offers a targeted EPA-estimated range of 300 miles. *
*Excludes Platinum models. Based on full charge. USA EPA-targeted range reflecting current status based on analytical projection consistent with US EPA combined drive cycle. Actual range varies with conditions such as external environment, vehicle use, vehicle maintenance, lithium-ion battery age and state of health. Final EPA-estimated ratings available in 2022 calendar year.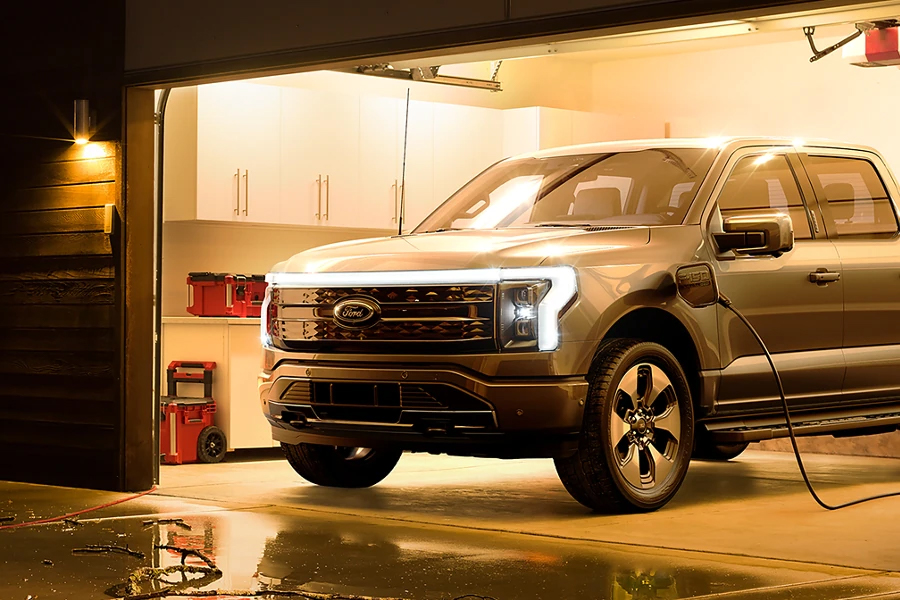 WE'VE GOT CHARGING COVERED
Backed by the largest public charging network in North America,* we are offering an ecosystem of charging solutions to meet all your charging needs. Whether you're on the job, on the road or at home, we have you covered. The extended-range battery comes standard with the 80-amp Ford Charge Station Pro. This allows a peak charging power of 19.2 kW enabled by the battery's dual onboard chargers which means a full charge overnight. * Like all Ford electric vehicles, every series comes with the 32-amp Ford Mobile Charger which allows you to charge from a traditional 120V or 240V outlet. No special stations required.
* Based on original equipment manufacturers(OEM)/automotive manufacturers that sell all-electric vehicles and have publicly announced charging networks. Department of Energy data used. FordPass™, compatible with select smartphone platforms, is available via a download. Message and data rates may apply.
---
AVAILABLE SYNC 4A WITH 15.5-INCH PORTRAIT TOUCHSCREEN
SYNC® 427 Technology combines hardware and software that delivers features designed to keep you connected to the people, places and apps that matter most. SYNC 4A with the 15.5-inch portrait touchscreen and enhanced voice recognition is standard on LARIAT and Platinum models. It offers impressive features including voice access to your favorite apps, connected navigation, cloud-based connectivity and more.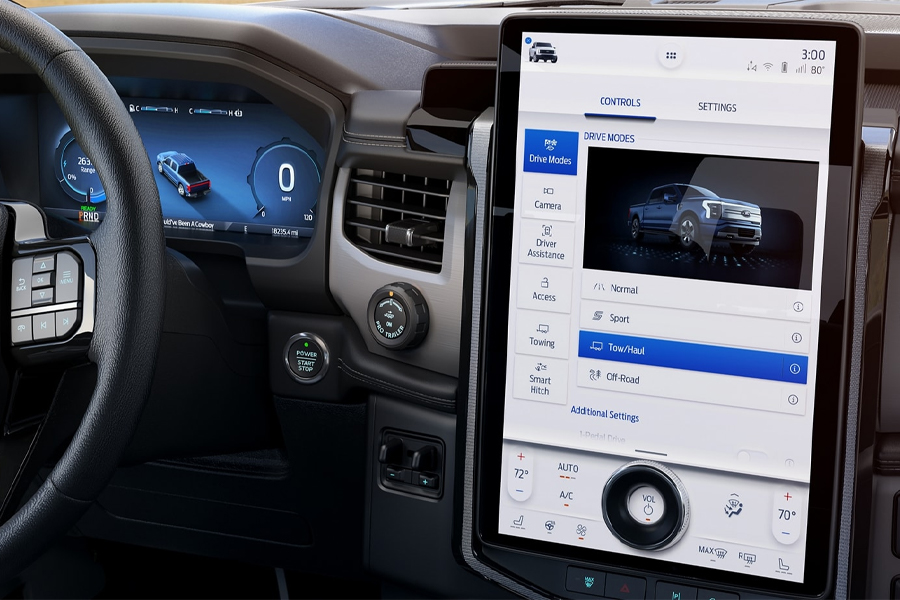 ---
ADVANCED TOWING & HAULING TECHNOLOGY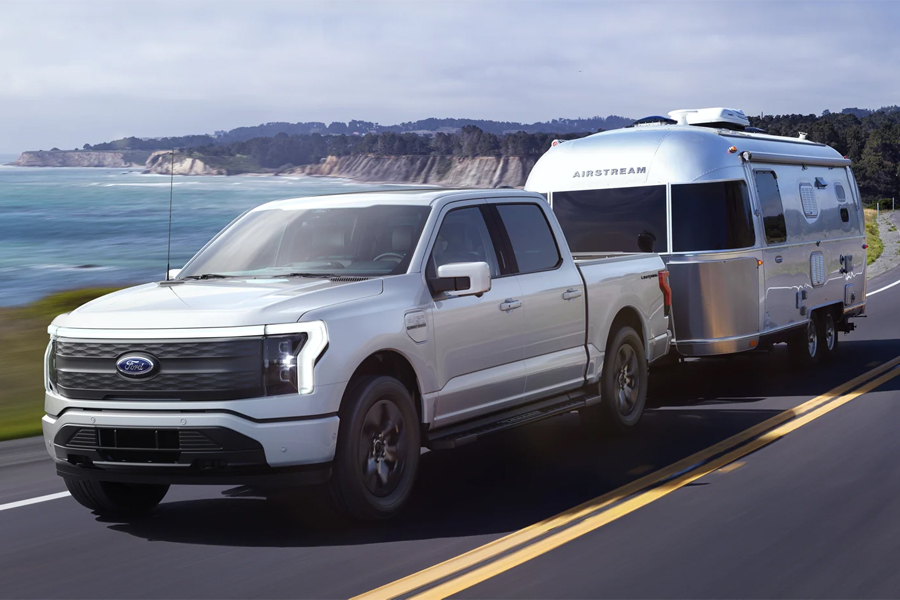 Work or recreation, we know you've come to rely on the ability of F-150 to be in it for the long haul. That's why we equipped the F-150 Lightning with smart technologies designed to make it easy to hook up your trailer and control it. Plus it has smart technologies that help keep you informed on what you are towing or hauling.