Used Ford Explorer

The Ford Explorer is a roomy and powerful full-size SUV. It's the SUV people think of when they picture a sports utility vehicle that's family friendly. There may have been SUVs before the Explorer, but it was the first large SUV to offer mainstream appeal to the average driver. Over the years, the Ford Explorer has lived up to its reputation for comfort, affordability, versatility, and style.
Used Ford Explorer

The fifth generation Ford Explorer is a big three-row SUV that can transport up to seven passengers. The line offers four trims: the base model, midgrade XLT, luxurious Limited, and powerful Sport.
Drivers on a budget can expect to find the base model very well equipped. Stability control is standard for all Explorers, helping drivers better control this large SUV. A plethora of airbags helps to guard against unexpected collisions.
Higher trims come with plenty of luxury, including stylish leather seating for added comfort and rearview cameras to make parallel parking simple. The Sync voice command system allows drivers to access infotainment options without looking away from the road. Drivers who can't keep track of keys will appreciate the keyless entry and ignition features. Blind spot and collision warning systems help solidify driver defenses.
Depending on the trim, the Explorer offers a wide range of options. A rear-seat entertainment system keeps kids happy during long trips. An automatic parallel-parking system helps drivers slide this large vehicle into tight spaces.
The Explorer comes standard with a 3.5-liter V6 that generates 290 horsepower. An optional 2.0-liter turbocharged four-cylinder makes 240 horsepower and offers heightened fuel efficiency. Front-wheel drive is standard, and all-wheel drive is available for the V6 models. All model engines, including that of the Sport, are paired with a responsive six-speed automatic transmission. The Sport model contains a special engine – a turbocharged version of the V6 that generates 365 horsepower. All-wheel drive is standard for the power-driven Sport.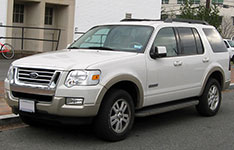 Ford gave the Explorer a substantial makeover in 2006, revising both its interior and exterior looks, improving its frame, and enhancing its safety features. The V6 still generated 210 horsepower, but the V8 now made 292 horsepower and was paired with a six-speed automatic transmission.
Upgraded safety equipment included front-seat side airbags to guard against unexpected collisions. Stability control became standard for the entire Explorer lineup, helping drivers avoid unexpected imbalance on the road.
In 2008, voice-activated Sync allowed drivers to access their phones and music without taking their eyes off the road. In 2009, a revised navigation system gave drivers improved turn-by-turn directions.
The fourth generation Explorer is a popular pick, in part because of its superb ride and handling capabilities. Like those before it, these Explorers offered plenty of space for big families. The V8 engine provided ample power to tow heavy loads.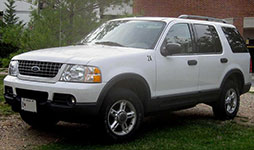 When the third generation Explorer hit the market, it was initially offered as the XLS, XLT, and more upscale Limited and Eddie Bauer trims. A longer wheelbase and independent rear suspension created a spacious third-row seat and, at the same time, improved handling and overall performance. The available engines – a 210-horsepower V6 and a 4.6-liter, 239-horsepower V8 – were paired with a five-speed automatic transmission.
In 2003, the XLS Sport and NBX (No Boundaries Experience) trims were introduced. The NBX offered all-terrain tires for sporty, off-road trips. An optional off-road package added a hardier suspension for increased performance over rough terrain.
The Explorer lineup experienced some equipment changes in 2004, but stability control was now available for all models, rather than limited to V8 Explorers. That same year, the upscale Eddie Bauer and Limited editions began to offer optional quad bucket seating, creating a more comfortable second row. In 2005, the stability control system was upgraded to include roll stability control, an important safety feature that guarded against the risk of rollover.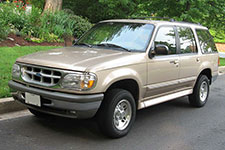 The second generation Ford Explorer is a solid choice for used car shoppers. Available trims included the XL, XLT, Eddie Bauer, and Limited. A two-door model, known as the Sport, was also released.
Throughout most of its run, there were three engine options available: a standard V6 that produced 160 horsepower, a 5.0-liter V8 that produced 210 horsepower, and, beginning in 1997, an optional V6 that produced 210 horsepower.
These Explorers provided athletic utility and a roomy interior.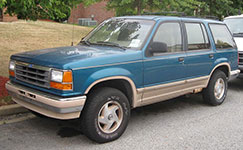 The Ford Explorer debuted for the 1991 model year, effectively replacing Ford's Bronco II. The Explorer had instant appeal, and it wasn't long before this model defined the entire vehicle class.
Based on the Ford Ranger pickup, this new SUV offered a coveted combination of style, utility, and space. This first generation offered both a four-door model and a less auspicious two-door model. In the beginning, only XLS and XLT trims were available, but, in 1992, the now-famous Eddie Bauer edition was unveiled, followed shortly afterward by the Limited model.
Originally, a 155-horsepower V6 engine powered the first generation lineup. Beginning in 1993, engine horsepower increased to 160 and antilock brakes became standard equipment.